Do you ever just get a hankering for something, but your budget has other ideas? I am a huge fan of Panera's Frontega Chicken Panini, but I can't usually justify the cost as often as the craving strikes. As a result, I recently tinkered in the kitchen until I could come up with my own version that is nearly perfect, if not better! May I introduce the Spicy Pesto Chicken Panini!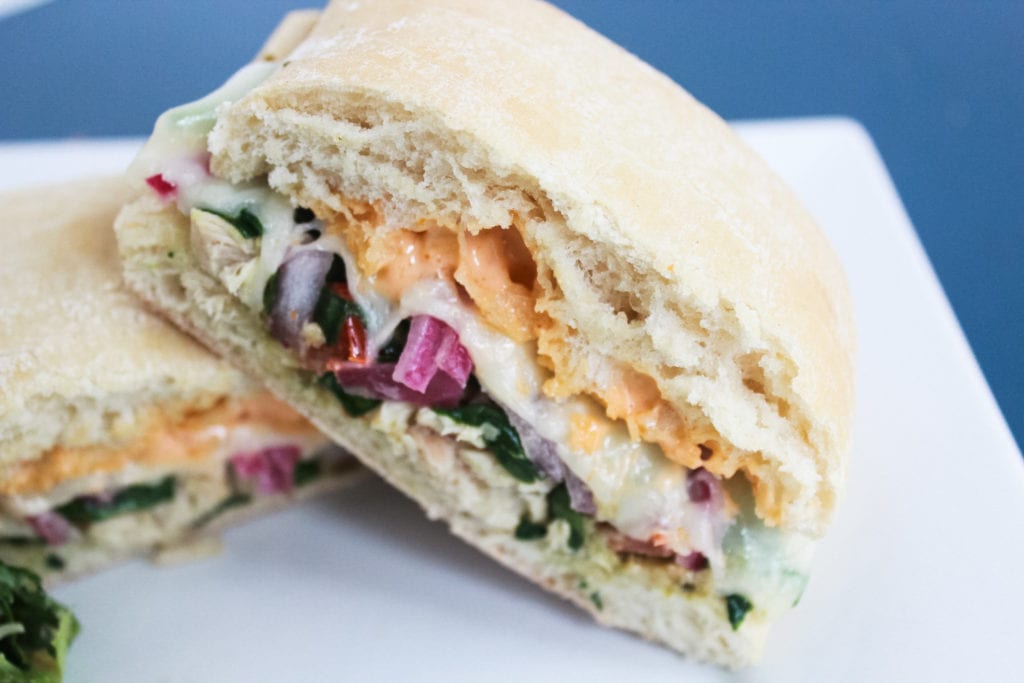 This is one of those meals that has now made it onto our regular rotation, not only because it's delicious, but also because it's quick and easy. Only nine ingredients and it's ready in about 15 minutes! This recipe is customizable to your tastes. I've listed the basic ingredients and you can make as many paninis as you need and add as much or as little of each ingredient. Like more chicken? Go for it. Prefer more veggies? Make it exactly how you want.
I like to save Spicy Chicken Pesto Paninis for busy nights so I don't have to put a lot of effort into dinner. As much as I'd like to just run through the drive-thru after a long day, when you're living on a budget sometimes #tiredmomsstillhavetocook.
On this note, my husband has been requesting that I include more meals in our monthly meal plan that are easy enough for him to whip up so that he can help me out when I've had a long day. Ummmmmm… yes please. #ipickedawinner. Only problem is that I'm a bit of a foodie, so I'm not a huge fan of the basic types of things that he can cook. Enter Spicy Pesto Chicken Panini. Easy enough for the hubs, but delicious enough for this mamas picky taste buds. Win-win!
As a side note: I personally prefer this sandwich with pickled onions, but it tastes great with just plain old red onions too. If you decide to pickle your onions then just know you'll need more than nine ingredients, but it will be worth that extra flavor punch when you take your first bite.
Spicy Pesto Chicken Panini
Panera's Frontega Chicken Panini copycat recipe
Ingredients
Ciabatta bread

provolone cheese

spinach

chopped

tomatoes

diced

red onion

sliced

chicken breast

diced (I used rotisserie)

pesto paste

or fresh pesto if you prefer

mayo

sriracha
Pickled Onions (optional)
red onion

sliced

3

Tbsp.

vinegar

1

Tbsp.

water

1

tsp.

sugar or honey

1/2

tsp.

salt
Instructions
Mix up some sriracha and mayo to your preferred level of spicy and set aside.

Lay your bread out on a baking sheet (tops and bottoms) and spread pesto paste on the bottom of the bread.

Add chicken, spinach, tomato, onion and provolone cheese.

Bake for about 5 minutes (tops off) until cheese is melted.

Remove from oven and carefully dress the top bun with the spicy mayo. Place the top bun on top of the sandwich, then return to the oven for another 5 minutes or until the bread begins to brown lightly on top.

Remove from oven and serve hot! Enjoy!
Pickled Onions
Mix marinade; pour over sliced red onions and let sit for at least 5-10 minutes, stirring occassionally. Serve.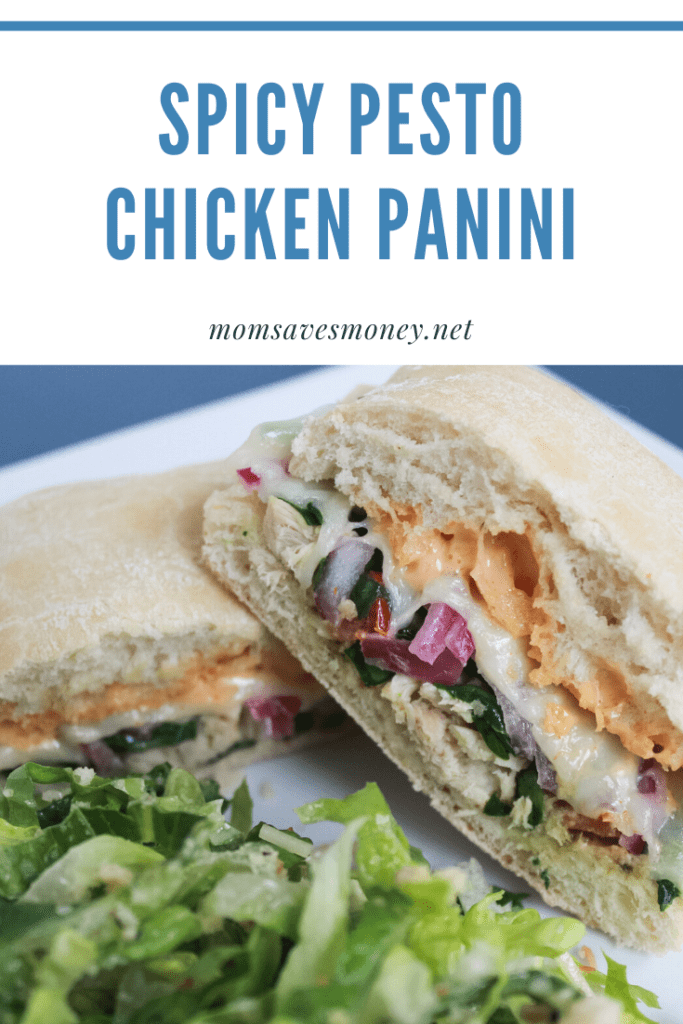 Jenny is a wife and stay at home mother of two. She loves good food, and enjoys experimenting in the kitchen. When she's not busy chasing kids, you can find her digging into a good book, enjoying the great outdoors, and trying not to kill her houseplants.