Disclosure: Complimentary service provided for this review. However, all opinions expressed are mine.
As a mom of three kids, I rarely take time to pamper myself, but I know I really should. Recently, I took time while the kids were at school to visit Bodybrite in West Omaha for an oxygen therapy facial. It was AMAZING! The oxygen therapy facial uses pure oxygen combined with herbal serums to activate cell and collagen production and reduce wrinkles and fine lines.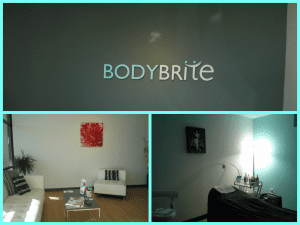 The entire facial was very relaxing. The esthetician started with a thorough face cleanse and then added the special serum with a gentle facial massage. She then used a machine that injected oxygen directly into my skin. After that, she used an even more intense oxygen filler.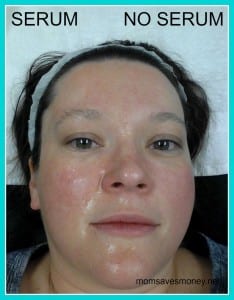 After the treatment, my skin felt incredibly moisturized and refreshed. I also noticed a slight decrease in fine lines, especially on my forehead and my skin seemed lighter and healthier. If you suffer from acne, the oxygen facial will also help strengthen skin against acne-causing bacteria. Here are the before and after pictures with NO makeup! I can see a difference in the after picture.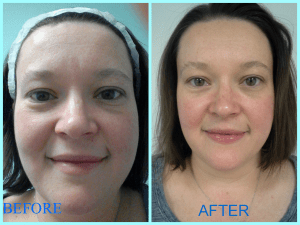 For maximum results they recommend one session per week for six weeks and then once a month for maintenance. The esthetician said that if that's not feasible for you, then at a minimum, get a facial every time the weather changes or four times a year.
BodyBrite offers individual sessions or you can purchase six sessions at a discount. Other services they offer include permanent hair removal using intense pulsed light, teeth whitening and skin rejuvenation. If you get hair waxing at a salon regularly or pay for expensive razors, the permanent hair removal is a great option that will save you money in the long run.
If you decide to check out BodyBrite make sure to mention Mom Saves Money website to get 10% off your first single session. Also, check out the BodyBrite West Omaha Facebook page for more specials.
Check out BodyBrite reviews from other Omaha bloggers:
Sensory Mama Saving Cents – teeth whitening
LPO beauty – IPL hair removal
Coolest Mommy – IPL hair removal
GIVEAWAY
Two lucky winners will each recieve a FREE service of their choice from BodyBrite Omaha. Note: You MUST have the service done in Omaha. Easy entry with the Rafflecopter form below.