We're getting close to the end of our series on saving money at the store!  See previous posts: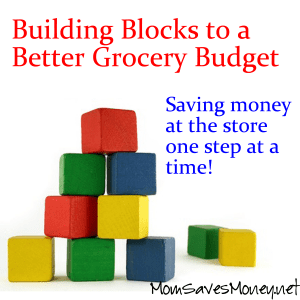 Building Block 6: Add in coupons
"Finally!" you're thinking.  "Now she's going to talk about coupons!  Finally!"  Yeah, it's time to talk coupons.  Because I think coupons are great.  Wonderful.  Fabulous!  I love giving other those little pieces of paper or swiping that loyalty card that has coupons loaded. Coupons are an easy way to save a few dollars.
But that's just the point – coupons are limited.  Practically speaking, it's not always the easiest to get an unlimited amount.  And some products limit the number of coupons you can use each trip.  And they expire.
So where do coupons really shine?  When you use them when things are at their rock-bottom prices.  A recent example:
Kelloggs Frosted Mini-Wheats are normally $3.49 at the store I shop at.
I have a coupon for $.50 off 1 box, making them $2.99.
But every so often, they go on sale for $1.99/box. If I buy them then AND use my coupon, it's like paying $1.49/box.  That's 60% savings!
Coupons don't always line up with the rock-bottom sales prices, but they often do.  If you really need an item and you can't price match it anywhere for a lower price, then buy all means, use your coupon.  50 cents is still 50 cents.  They just really shine when combined with really good sales.
Make sure you can use that item though.  Unless it's free, if you aren't going to use that item, give the coupon to someone else.  Leave it on the shelf.  Don't spend $4.00 on a gallon of milk you don't need just to save $.50 by using your coupon.
Look for coupons everywhere!  On boxes of items you've bought.  On websites.  In the stores.  Find a good way to organize them.  Just like menu planning, the best way to organize them is the way that works for you.  A coupon is worthless if you can't ever find it!
Sites like this one are great for finding coupons.  Using Nicole's grocery list tells you when sales match up with coupons – that's the best information that you need! And, if you really want to up your couponing game, check out Nicole's amazing book 'The Extraordinary Art of Couponing'.
Where do you like to find coupons?
Jayme is a wife to 1 and, so far, a mother to two little boys. She coupons, but isn't super extreme about it. She price matches and loves it! While she likes to cook, she's in the stage of life where simple is usually better! She never knows how many hands she'll have free at dinner time! You can find her at No Regrets Living.