Wow – it's mid-July already. Where has the year gone?  I saw that Aldi's had grapes on sale – I think I'm going to get some and freeze them; they taste delicious that way!  Take a look at what's on sale this week and make sure to menu plan.  Here are some ideas to get you started!
Main Dishes
Oven Baked Barbeque Chicken Thighs – Looks easy and makes great use of the thighs on sale this week.
Spaghetti Pie – Speaking of pasta being on sale, try this Spaghetti Pie.  I've heard of people adding pepperoni to it and calling it pizza pie!
Pull Apart Pizza Bread – So easy and looks yummy.  I bet kids would get a kick of tearing of a piece for dinner!
Homemade Fettuccine Alfredo – With pasta on sale, this would be a good week to try a new recipe. This one claims to be like Olive Garden's version, which is very tasty!
Chicken Enchiladas – I just made a batch of these for my freezer since they freeze so well!
I was in my mid-20s before I had ever heard of "Dump Cake".  The gal who was telling me about it was shocked that I didn't know.  So she let me in on the secret.  Just in case you hadn't heard of it, here's the recipe!
It couldn't be simpler – just a few ingredients dumped into a 9×13 pan and baked.  Really, it doesn't get any easier!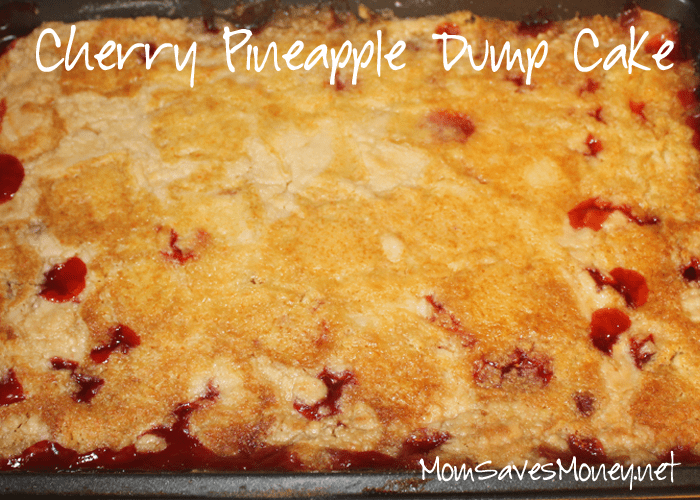 Cherry Pineapple Dump Cake
Ingredients
1

(20 ounces) can crushed pineapple, undrained

1

(21 ounces) can prepared cherry pie filling

1

box yellow cake mix

2

sticks of butter, each cut into 12 slices
Instructions
Preheat oven to 350 degrees F (325 for glass baking dish). Grease a 9x13 baking pan.

Dump undrained pineapple into the baking dish and spread it out evenly.

Using a spoon, dump globs of cherry pie filling on top of the pineapple.

Sprinkle the cake mix evenly over the cherry and pineapple layers.

Cut butter into slices with a butter knife and place slices evenly over cake mix.

Bake for one hour.

To serve, scoop cake out with a large spoon like a cobbler, and dump it on a nice plate. A scoop of vanilla ice cream dumped on top is delicious! Serve warm or cold.
Jayme is a wife to 1 and, so far, a mother to two little boys. She coupons, but isn't super extreme about it. She price matches and loves it! While she likes to cook, she's in the stage of life where simple is usually better! She never knows how many hands she'll have free at dinner time! You can find her at No Regrets Living.