Ahoy mateys!  I have a meal to share today that's not just good for marines, but for us land dwellers too.  Meatball submarine sandwiches!  You can make them at home with very little effort – even less effort than getting in your car, putting on your seatbelts, opening the garage door, turning on your car, putting it in reverse, going down the driveway, driving to the nearest sandwich shop, ordering your meal.  Then you have to do all of that all over again to get home.  (Man, when you detail it all out like that — driving to the sandwich place really does seem like a lot of work!)  So, yeah, make them at home.
I love several things about meatball subs.  I love the meatiness of them.  I love the Italian-flavors of them.  I love the cheesiness of them.  I love the ease of them.  I love how you can make 12 of them almost as easily as you can make 1 of them.  It makes it fabulous recipe for a birthday party, football game watching, Sunday dinner or even a weeknight dinner.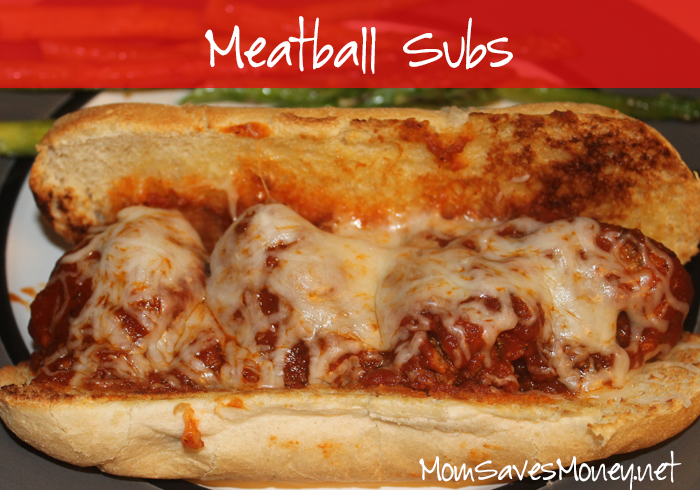 Now, I like to make my own meatballs because it's so easy to do and I get all the flavors that I want.  And because I always have a few dozen in the freezer, it's easy for me to use.  But you don't have to.  Ain't nothing wrong with using store bought one if you have a brand that you love.
And I also like to make my own spaghetti sauce.  Again, because it's easy to do and I get the flavor that I want.  I usually have some in the freezer, but if I don't, it's no big deal. I whip up a batch real quick, put in the meatballs and let it simmer for several hours.  But, again, you don't have to.  If you have a store bought version that you love, use it!  Ain't nothing wrong with that.
Easy Meatball Sub
Ingredients
Meatballs, cooked - about 4-5 per sandwich, depending on the size of your meatballs

Spaghetti sauce - 1 store-bought jar will get you about 4 sandwiches

cheese - shredded mozzarella or provolone

Buns - I use Rotella Braut buns because I love the "sturdiness" of them

butter

garlic powder (optional)
Instructions
Preheat your oven to 425 degrees.

Warm up your meatballs and sauce. Although you'll be baking these sandwiches, it's better if your ingredients are already warm. If I'm using my own meatballs and making my own sauce, I just let it all simmer together in the slow cooker for a few hours. If I'm using store bought ingredients, I combine it all into a pot on the stove and let it heat up for a few minutes.

Butter the insides of your bun. Sprinkle with garlic powder, if desired.

Place on a cookie sheet with the buns open. Bake for about 5 minutes just to brown the buns.

Place meatballs on the buns. If using really big meatballs, you can slice them in half. That makes it easier to bite into - especially for kids.

Make sure the meatballs have some sauce - not too much, but you don't want the sandwiches dry either.

Sprinkle sandwiches with cheese.

Press sandwiches together and bake for another 5 minutes to melt cheese. You can bake on the cookie sheet or press the sandwiches side-to-side in a 9x13 baking pan.

Serve!
Notes
You can easily make this a freezer-friendly meal by making the insides of the subs ahead of time, freezing them. Then when you need to serve, just heat up and bake the sandwiches!
Jayme is a wife to 1 and a mother to three little boys (soon to be 4 this summer!). She coupons, but isn't super extreme about it. She price matches and loves it! While she likes to cook, she's in the stage of life where simple is usually better! She never knows how many hands she'll have free at dinner time! You can find her at No Regrets Living.