Lots of meat is on sale this week – stock up those freezers!
Main Dishes
Chicken Tacos – We had these this week and I used the leftover chicken in a small pan of chicken and green chile enchiladas and for chicken nachos.  If I would have had more leftovers, I would've tried to make a chicken version of taco soup!  I love it when you can make 3-4 meals out of 2 pounds of chicken.  It saves money, for sure, but it also saves time!
Sausage & Veggie Packets – I plan on stopping by Bag N Save for some smoked sausage.  With all the veggies on sale, this looks easy and tasty and a great fit for dinner!
Brunch Casserole – Breakfast for dinner?  Brunch for dinner?  If it involves sausage and eggs, I'm in!  Bakers has eggs for $1!
Honey Baked Balsamic Chicken Thighs – My husband has an aversion to bone-in chicken, but this recipe looks so good, he might make an exception.  Drool…
One Pot Mexican Skillet Pasta – With ground turkey on sale, maybe experiment using turkey instead of beef in some recipes.  For this recipe, she started with turkey and it looks easy and wonderful!
I love spaghetti with meatballs.  Usually when I make spaghetti sauce, I pull out some meatballs from the freezer and let it all meld together in a crockpot, on low, for a few hours.  Makes the sauce even better.  Makes the meatballs even softer and moist.  I dream about things like these.
Making your own meatballs is easy!  I made about 4 dozen a couple of weeks ago and that will make for several meals for my family.  They're just sitting in the freezer waiting for their time to shine!  These are perfect for spaghetti, meatball subs, as a pizza topping, or in a panini!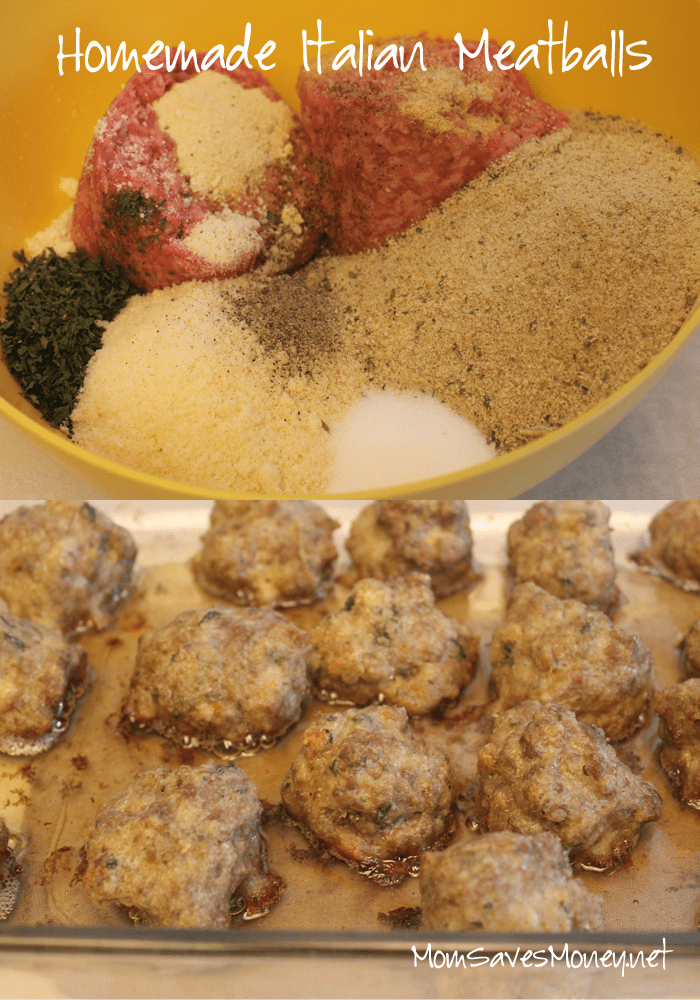 Homemade Italian Meatballs
Ingredients
1

pound

hamburger

1/2

tsp

garlic powder

1/2

cup

parmesan cheese

dash of pepper

1/4

cup

fresh chopped parsley

(4 tablespoons dried parsley)

1/2

tsp

onion powder

3/4

cup

bread crumbs (regular or Italian)

1 1/2

tsp

salt

3

eggs
Instructions
Mix all in large bowl and roll into balls (about 2 inches across).

Place in 9×13 pan. Bake at 350 degrees for 1/2 hour or until browned.

Note: Make sure your meatballs are about the same size so that they cook at the same rate.
Notes
Freezer instructions: Bake as normal, then when cool, place in a freezer bag. When ready to serve, just defrost and then re-heat. If I'm simmering them in sauce, I just stick them in the crockpot frozen since my sauce will heat for several hours.
Jayme is a wife to 1 and, so far, a mother to two little boys. She coupons, but isn't super extreme about it. She price matches and loves it! While she likes to cook, she's in the stage of life where simple is usually better! She never knows how many hands she'll have free at dinner time! You can find her at No Regrets Living.