I love Stuffed Peppers!  Don't you?  They're not too complicated to make (although they do have a few steps to them), but they aren't the most young kid-friendly.  For a couple of reasons: They're a little difficult to cut even if the pepper is tender AND 1 pepper might be too much for a young kid.  So you likely end up emptying the pepper to split the serving or wasting food.  And that ain't good.
But what if you could get all the flavors of stuffed peppers without actually having to stuff a pepper?  Stuffed Peppers are a great company-friendly meal.  Great for when friends gather for drinks or come over for mini double date night.  But not the most practical for "gotta eat dinner as a family before heading out to soccer practice" evening that is so common amongst families.
Know what is practical for that?  Stuffed Pepper Casserole!  All the same flavors without most of the work.  Easy to serve to the whole family – everyone can take as much or as little as they want (you know, in case you're like me and serving a 40-year-old husband AND a 4-year-old preschooler at the same time).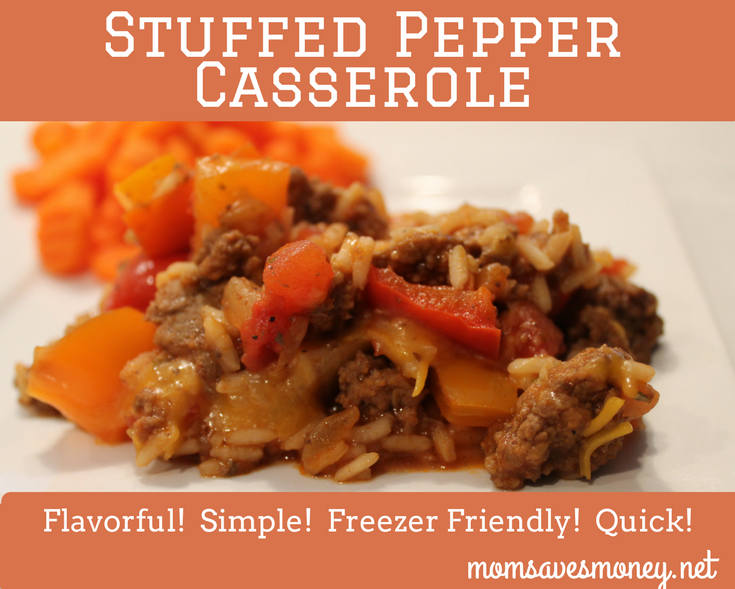 And in the tradition of being friendly for the whole family, it's also freezer friendly – which is great for me, Mom!  To make it, it's just a few simple steps.  It's even easier if you have hamburger already cooked in the freezer. And most of the time is passive – meaning, it simmers on the stove while you can be doing other things.  Like making a side salad.  Or signing papers from that day of school.  Or making sure Mr. 8-year-old has his soccer cleats ready to go.  Or to quiz Miss-Almost-16 on what her plans are for that night.  Or catching up with Mr. Wonderful on how his day went.
No doubt about it, this is a favorite in our house!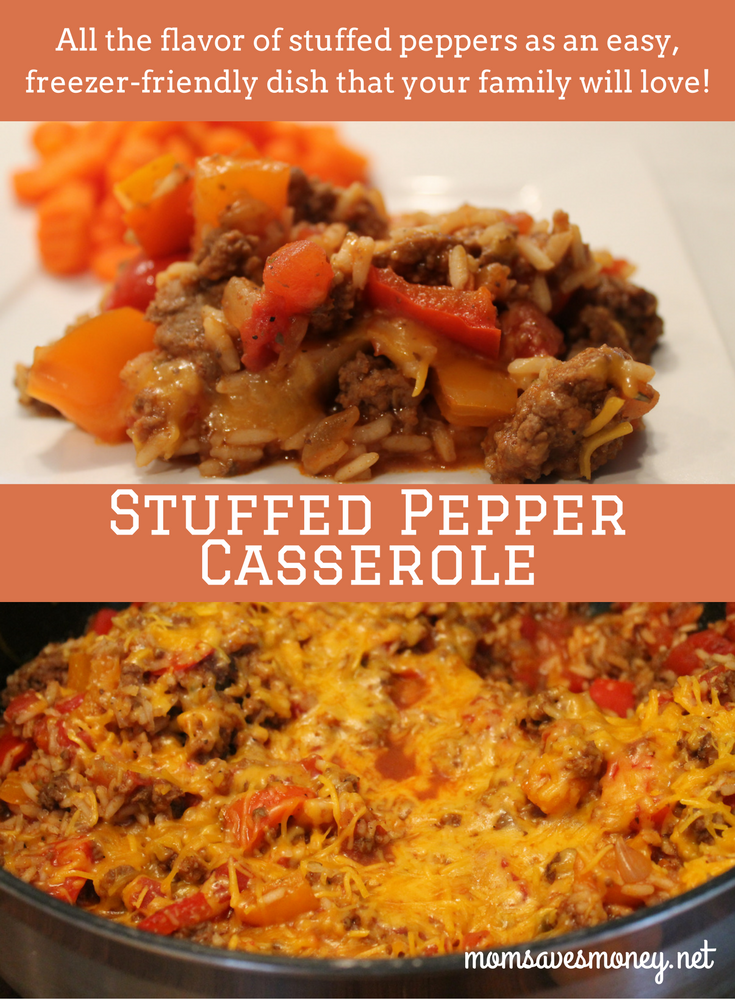 Stuffed Pepper Casserole
Ingredients
olive oil

1

lb

ground beef

2

cloves

garlic, minced

1

medium onion, diced

3

bell peppers, seeded and cut into large pieces

2

cups

beef broth (or 1 can of broth)

14.5

oz

can petite diced tomatoes, undrained

8

oz

can tomato sauce

2

beef bouillon cubes (2 teaspoons)

2

tsp

Worcestershire sauce

1

tsp

Italian seasoning

1

cup

white long grain rice, uncooked

1

cup

cheddar cheese, shredded
Instructions
In a large skillet, brown ground beef with olive oil, garlic, onion and bell peppers. Drain grease and return beef and onion back into the pan.

Stir in broth, tomatoes, tomato sauce, bouillon, Worcestershire sauce and italian seasoning. Bring to a boil.

Stir in uncooked rice. Return to a boil, then reduce heat to low.

Cover and cook for 25 minutes, simmering until the rice is tender.

Remove skillet from heat, sprinkle with cheese. Replace lid. Serve when cheese is melted.
Notes
To freeze: Prepare as you normally would. Let cool. Place in freezer safe container and wrap tightly. To serve: thaw in the fridge overnight, then just re-heat!
Jayme is a wife to 1 and a mother to four little boys. She coupons, but isn't super extreme about it. She price matches and loves it! While she likes to cook, she's in the stage of life where simple is usually better. She never knows how many hands she'll have free at dinner time. You can find her at No Regrets Living.