Kitchen Hack (noun):  Refers to a shortcut found in the kitchen.  A tip or a technique that makes one's life easier, specifically when it comes to organizing or preparing a meal.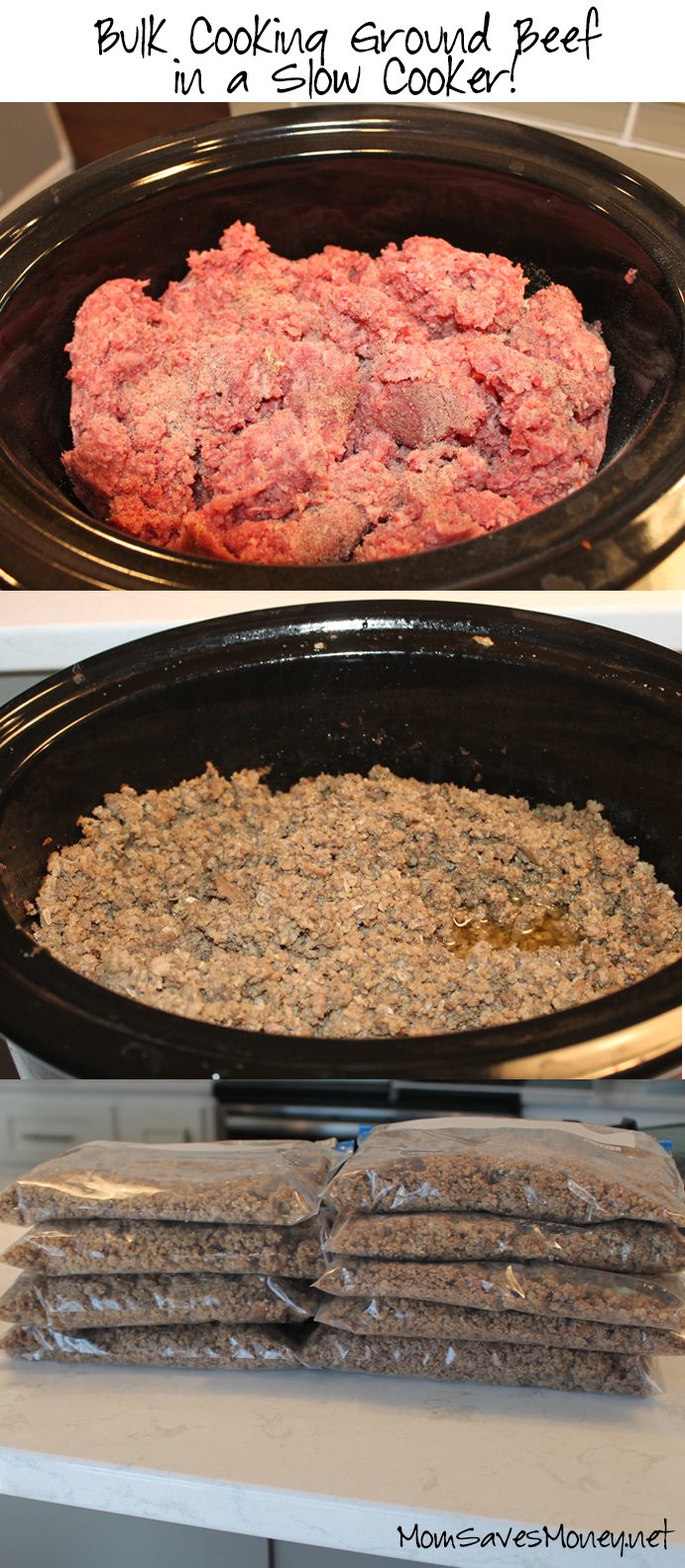 I serve a fair amount of ground beef.  Not nearly as much as chicken, but still a good percentage of my recipes use ground beef.  But I don't like to ground my beef each time I want to make something calling for it.  I'm not sure why, but it seems like a hassle.  Why cook just 1 pound of ground beef when I can do 5 or 10 pounds of ground beef and be set for quite a while?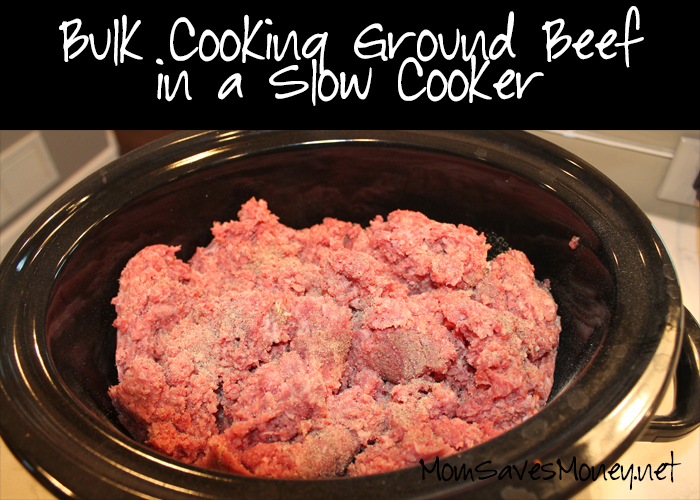 So that's what I do.  Instead of browning just 1 pound, I do 5 or 10 pounds at a time.  But lately, I've been doing that in a slow cooker instead of on the stove.  Does it take longer?  Yes, most definitely.  But most of it is passive time.  I just get my food set up in the slow cooker, let it cook, and check on it later.  It's fabulous!  Several hours later, I have plenty of ground beef ready to freeze in smaller portions, just waiting to be put to good use.  In fact, on a recent weekend, I dedicated my Saturday to doing this for both chicken and beef.  Since I have 2 slow cookers, I ended up with about 12 pounds of ground beef and 16 pounds of chicken, frozen and ready for cooking!
Some of my favorite ground beef recipes:
Spaghetti sauce
Freezer friendly baked spaghetti
Cheesy ground beef casserole
Tacos & Taco Salad (just add taco seasoning if you want)
Taco Soup
French Bread Pizza
Hamburger Vegetable Beef Soup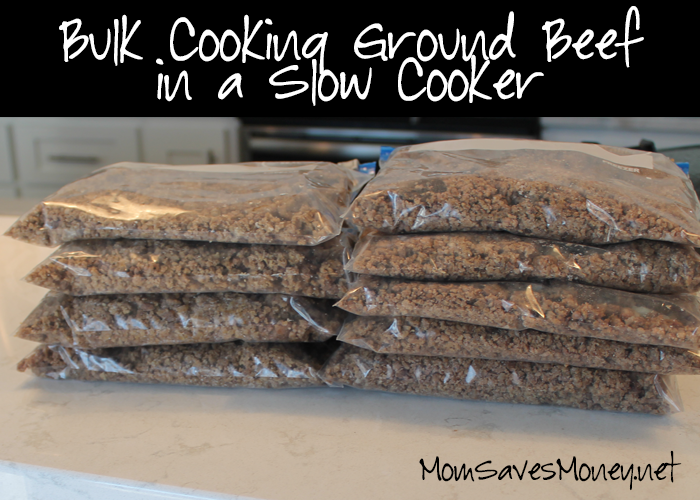 Bulk Cooking Ground Beef in a Slow Cooker
Ingredients
Beef (I usually do 5 pounds at a time, but my 6-quart slow cooker can handle up to 7-8 pounds)

Salt, pepper, and garlic powder
Instructions
Break ground beef up into smaller pieces in the slow cooker.

Season with salt, pepper and garlic powder. It can be tricky to know how much, especially if you're doing 5-8 pounds of meat at a time. Just guess. You can always add seasoning after it cooks.

Cook on low for 6-8 hours. I found it took the full 8 hours for me.

Drain. Use the biggest strainer that you have - or maybe do half at a time.

Let cool and package into smaller portions into freezer bags (don't forget to label the bags).

To freeze, I lay the packages onto a cookie sheet (so that they lay flat), freeze them overnight, then I can stack them in the freezer any way that I want.
Jayme is a wife to 1 and a mother to three little boys (soon to be 4 this summer!). She coupons, but isn't super extreme about it. She price matches and loves it! While she likes to cook, she's in the stage of life where simple is usually better! She never knows how many hands she'll have free at dinner time! You can find her at No Regrets Living.