Disclosure: Contains affiliate link
I received a new Instant Pot Pressure Cooker for Christmas and I am so excited to use it. I've been searching recipes and am amazed at all the delicious foods that can be made quickly with a pressure cooker. Here is a list of 20 yummy dessert recipes you can cook in your pressure cooker. The cheesecakes sound amazing and 3 minute applesauce is a winner!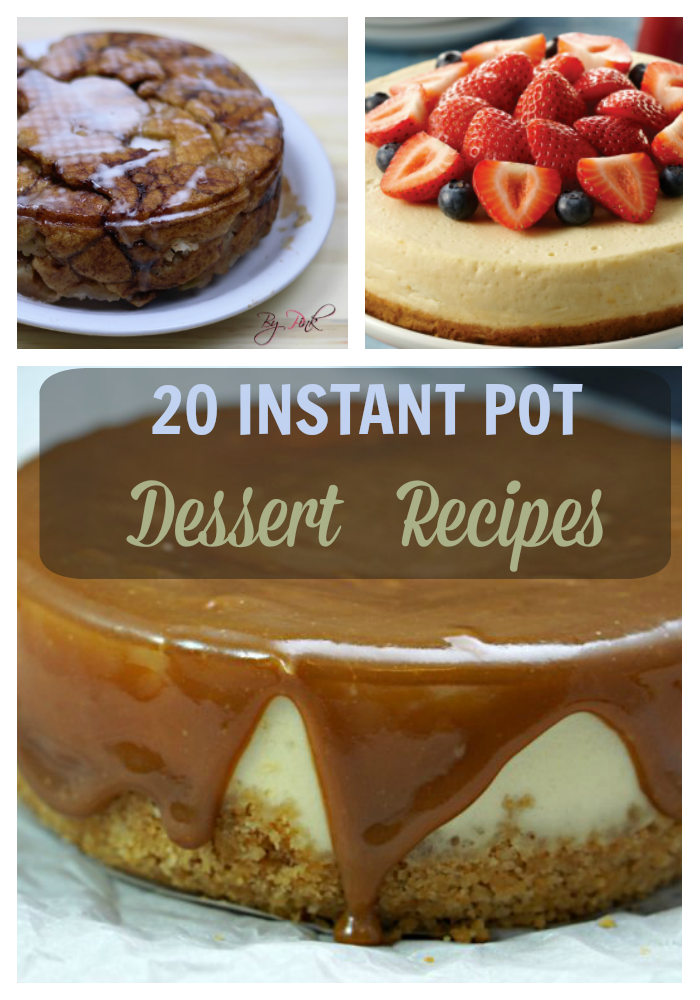 Cheesecake Recipes:
1. Classic Instant Pot Cheesecake (pictured above)
2. Oreo Cheesecake
3. Citrus Cheesecake
4. Salted Caramel Cheesecake (pictured above)
Cake and Pies Recipes:
5. Pumpkin Pie
6. Blueberry Cake
7. Gingerbread Pudding Cake
8. Pear & Cranberry Cake
9. Chocolate Lava Cake
10. Key Lime Pie
Fruit Desserts:
11. Instant Pot Yogurt with Fruit
12. Apple Crisp
13. Baked Apples
14. 3 Minute Applesauce
15. Stuffed Peaches
Chocolate Dessert Recipes:
16. Chocolate Zucchini Muffin Bites
17. Fudgey Brownies
More Delicious Desserts:
18. Apple Cinnamon Pull Apart Bread (pictured above)
19. Crème Caramel Flan
20. Coconut, Banana, and Lime Bread Pudding
What is your favorite Instant Pot dessert?