Like Nicole mentioned in her weekly sales list, this is a great week for grilling supplies! And strawberries – assuming you could use 11 pounds of them! Make sure you check out Nicole's list and maybe consider these menu suggestions:
Main Dishes
Kielbasa, Pepper, Onion & Potato Hash – this is actually on my menu plan this week. I have almost all the ingredients on hand and with peppers on sale at Aldi, I'll get everything that I need.
Ham & Cheese Crescent Bake – I still haven't made this, but it's on my list. I have the ham and cheese in the fridge, just need the crescent rolls. Looks so simple and a great way to "fancy up" deli ham. Ham not your thing? Try it with turkey!
Homemade Mac & Cheese – Looks so delicious! And cheese is on sale this week too. You can make this as a side dish or even a main dish if your family doesn't mind not having a meat on their plate.
Skillet Nachos – It doesn't come any easier than this. Make nachos in a skillet. Or on a cookie sheet. Chips, cheese and whatever taco fixins you like.
Ranch Chicken Roll Ups – Another easy one. Chicken. Bacon. Ranch. Cheese. Crescent Rolls. That's it. Combine and Bake. Serve and Eat. Enjoy!
When it comes to snacking, my husband goes for sweets. Lately, I prefer the savory/salty side of life. He isn't normally a Chex Mix fan – except for this one. This one he loves! Maybe it's the cinnamon in the cereal, but he loves it.
This recipe is straight from the Chex web site. I do make some changes, but I've left their recipe mostly unchanged. I typically use cashews instead of the peanuts that they recommend – mostly because that's my favorite. And I might often use just a little less cereal to make room for more pretzels. Again, because that's my favorite part. Tasty!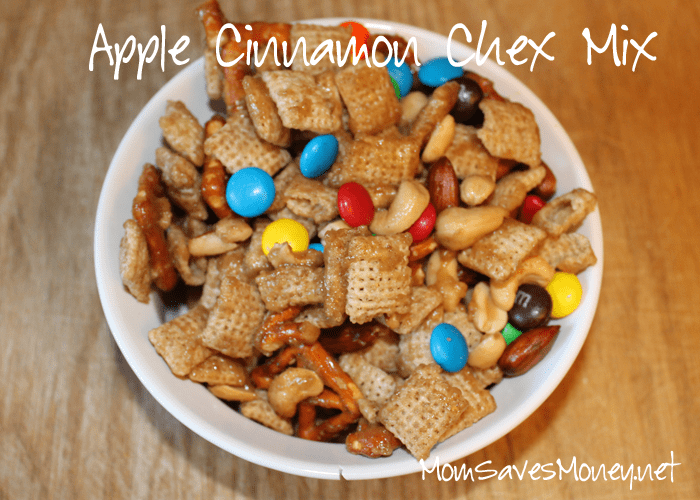 Apple Cinnamon Sweet & Nutty Chex Mix
Ingredients
5

cups

Apple Cinnamon Chex™ cereal

1

cup

nuts (dry roasted peanuts are great, but almost any kind of nut works)

1

cup

mini-pretzel twists

1/4

cup

butter or margarine

1/2

cup

packed brown sugar

2

tablespoons

light corn syrup

1/8

teaspoon

baking soda

1

cup

candy-coated chocolate candies (aka: M&Ms)
Instructions
In large microwavable bowl, mix cereal, peanuts and pretzels.

In 2-cup microwavable measuring cup, microwave butter, brown sugar and corn syrup uncovered on High 2 minutes, stirring after 1 minute; stir until smooth.

Stir in baking soda until foamy. Pour over cereal mixture, stirring until evenly coated.

Microwave uncovered on High 1 to 2 minutes, stirring and scraping bowl every 30 seconds, just until cereal begins to brown. Cool 5 minutes; stir in candies.

Spread on waxed paper or foil to cool; break into bite-size pieces. Store in airtight container.
Jayme is a wife to 1 and a mother to three little boys. She coupons, but isn't super extreme about it. She price matches and loves it! While she likes to cook, she's in the stage of life where simple is usually better! She never knows how many hands she'll have free at dinner time! You can find her at No Regrets Living.