Disclosure: Contains affiliate link
One of my favorite Christmas presents this year is this new Instant Pot. I was really nervous to start using it, because it's completely new to me and I tend to get stuck in my ways. I'm so glad I stepped out of my comfort zone and began cooking with a pressure cooker!
I recently made a whole chicken in the Instant pot and it was amazing! The chicken was tender and delicious and only took 25 minutes to cook. I'm seriously kicking myself for not using a pressure cooker sooner.
I'm excited to cook soups in my pressure cooker. Normally, I slow cook a soup all day, but with a pressure cooker the same soups are cooked in only 30-45 minutes!  Check out this amazing round up of soup recipes with something for everyone.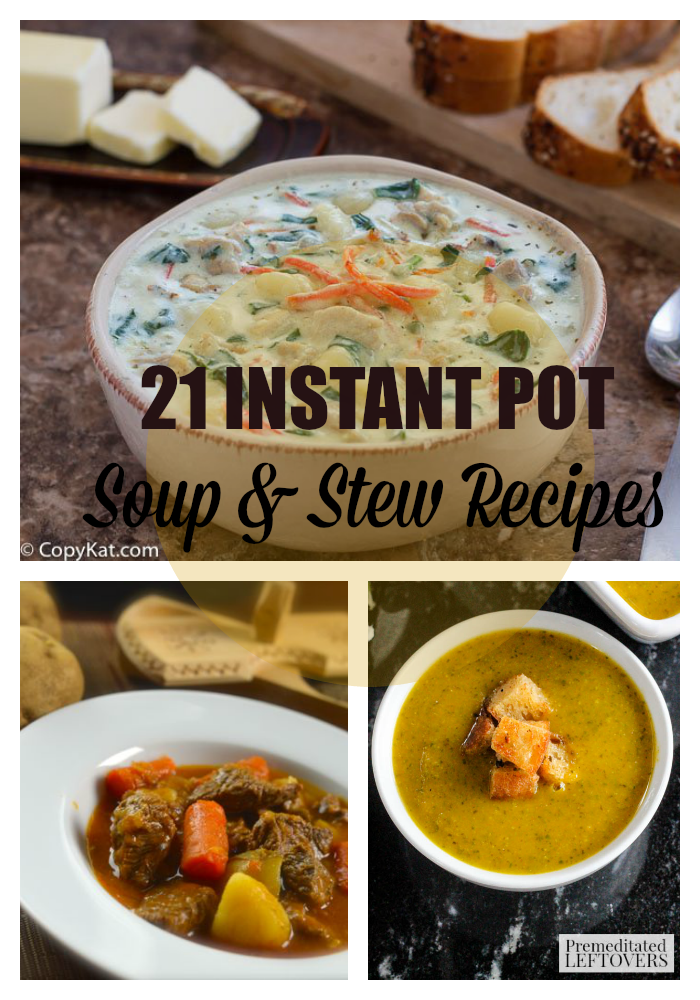 Vegetable Based Soups:
1. Simple Veggie Soup
2. Loaded Cauliflower Soup
3. Butternut Squash Soup (pictured)
4. Cheddar Broccoli and Potato Soup
5. Cream of Asparagus Soup
6. French Onion Soup
Stews:
7. Oxtail Stew
8. Turkey Stew
9. Lamb Stew
10. Beef Stew (pictured)
11. Easy Rustic Chicken Stew
Noodle Soups:
12. Chicken Tortellini Soup
13. Minestrone Soup (Gluten-Free)
14. Lasagna Soup
15. Vietnamese Pho Noodle Soup
Chili, Mexican & Bean Soups:
16. Taco Soup
17. Chili with Canned Beans
18. Tortilla Soup
More Delicious Soups:
19. Chicken Soup with Kale
20. Italian Wedding Soup
21. Olive Garden Gnocchi Soup (pictured)
Do you have a pressure cooker? Have you tried any of these soup recipes?