About a month ago, my family and I sat down to dinner.  My husband took one look at his plate and said "Man, I love when you make this!"  I was surprised – I didn't think he would've remembered it. It had been a while since I had made it.  And whenever I ask him what his favorite meals are, he can't seem to remember any of the meals that I make.  (That might not be a good sign, right?)  He says anything is fine.  But this night?  This night I could tell that he really liked dinner.  Its a fabulous recipe, simple to make and tastes incredible!  It's one of those dishes that's even better as leftovers.  The flavors meld together beautifully!
What is it, you ask?  Sausage Lasagna Rolls!  But it needs a better name, I think.  I mean, sure it has sausage in there.  And it's made with Lasagna noodles.  But that doesn't fully communicate the greatness of this recipe.  It isn't just sausage and noodles.  It's sausage and noodles and cream cheese and green pepper and mozzarella and spaghetti sauce.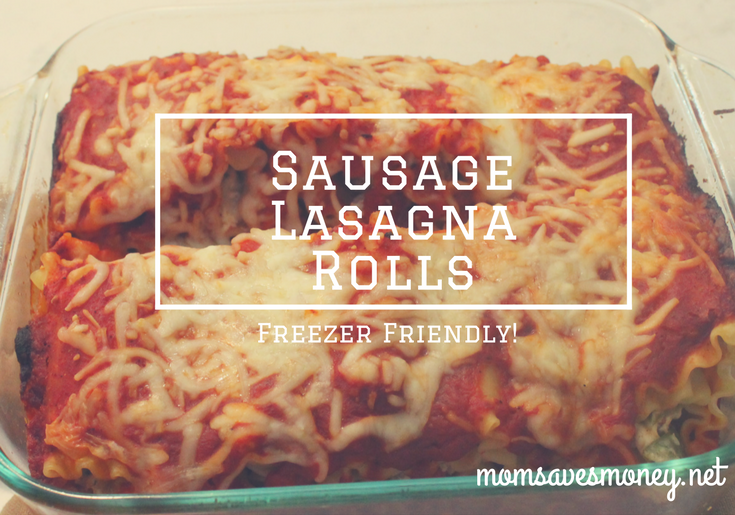 I've posted this recipe before, but I thought it deserved another go around.  Partly because it was easy for it to get buried since it was back when 'I blogged a recipe at the same time blogging a weekly menu plan' and things just got cluttered.  Partly because I've tweaked it just a little bit – mostly changing the ratio of the ingredients of the sausage & cream cheese mixture.
This recipe originally called for Italian Sausage, but I didn't realize that the first time I made it.  (What a dork!)  So I 'accidentally' used regular pork sausage like Jimmy Dean or Farmland – you know the kind that comes in a roll?  IT WAS AWESOME!  And I've always made it that way since then.  It really makes the flavor profile unique, you know?  This is definitely not 'just another pasta' dish.
I also love that it's a pretty dish.  It's easy to make for an everyday meal.  But it's also a great meal for impressing company if you're having a dinner party.  I LOVE THAT!  Easy and pretty!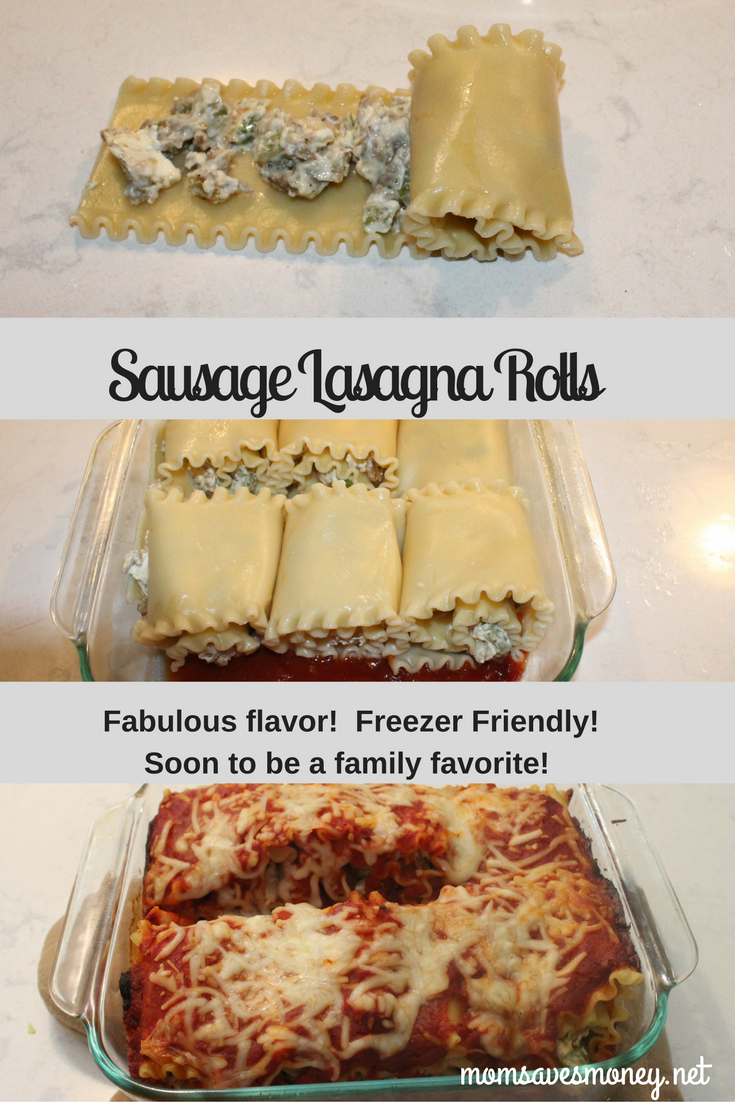 Sausage Lasagna Rolls
Ingredients
12-16

ounces

sausage, cooked, crumbled, and drained (I use regular pork sausage. You can use as spicy as you want or use italian sausage.)

8-12

oz

cream cheese (depending on how creamy you want it - start with 8 ounces and add more if you want)

3/4

green pepper, diced small

26

oz

spaghetti sauce (I usually use my homemade sauce!)

9

lasagna noodles

2

cups

mozzarella cheese, shredded
Instructions
Cook noodles according to package directions. Drain. Keep warmish.

Meanwhile, brown meat with green pepper. Drain.

Put meat and green pepper back in the pan. Add cream cheese on low heat until cheese melts.

Spread ½ the spaghetti sauce in a 9×9 pan.

Lay one noodle flat and spoon some of the cream cheese/sausage mixture in the middle of the lasagna noodle. Carefully roll up the noodle and place in baking dish. Repeat with the rest of the noodles.

Pour rest of the sauce over top of rolls, top with cheese.

Bake for 15-20 minutes. Let stand about 5 minutes before serving to allow the rolls to 'firm' up.
Notes
These also freeze really well. Just freeze before baking. Then when ready to make, either defrost during the refrigerator for a day or plan on at least doubling the baking time. You can also freeze individual portions after baking.
Jayme is a wife to 1 and a mother to four little boys. She coupons, but isn't super extreme about it. She price matches and loves it! While she likes to cook, she's in the stage of life where simple is usually better! She never knows how many hands she'll have free at dinner time! You can find her at No Regrets Living.