Valentine's Day is only a month away, so it's time to start thinking about making Valentine's Day cards. All three of my kids have card exchanges in their class, so it's fun to craft together and make unique cards.
My 6-year old son absolutely loves the paper airplane printable Valentine's card (#18). They are super easy to make and fun for the kids! The DIY Goldfish cards (#6) would be perfect for a preschool or young child and wouldn't take long to put together. It's nice to have a Valentine's Day treat that isn't candy for the kids.
And, if you have a child, like my 8-year son, who thinks Valentine's Day is gross, check out Slime Valentines (#15.) This gets them in the spirit of the holiday without being mushy. There are also some cute ideas for the super crafty. I absolutely love the Recycled Seed paper heart valentines (#13.) These would be great for older kids to make.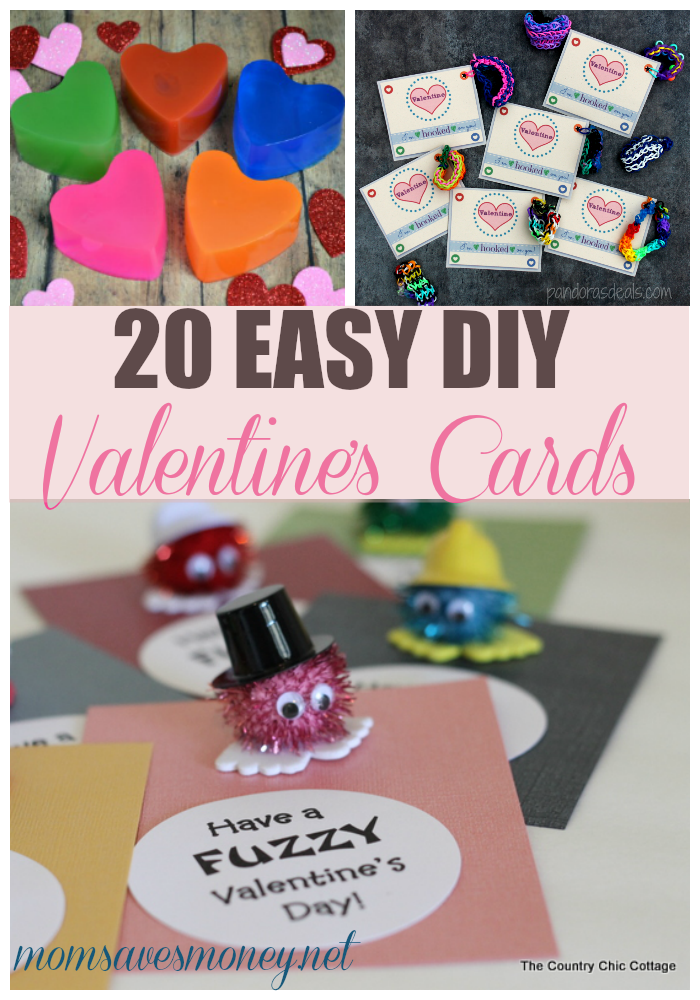 Easy DIY Cards for Kids:
1. Playing Card Valentines
2. Valentine's Day Trees
3. Giant Valentine's Day Cards
4. Cute as a Button Cards
5. Fuzzy Pom Pom Valentines (pictured)
Candy/Food Cards:
6. DIY Goldfish Cards
7. Easy Filled Heart Valentines
Crafty DIY Cards:
8. Simple Modge Podge Valentines
9. Key to My Heart Valentines
10. Lantern Cards
11. Pixel Heart Valentines
Homemade Goodies:
12. Homemade Soap Cards (pictured)
13. Recycled Seed Paper Hearts
14. Rainbow Loom Cards (with Free Printable) (pictured)
15. Slime Valentines
Printables:
16. EOS Lip Balm Valentines
17. DIY Mustache Valentine
18. Paper Airplane Valentines
19. Friendship Bracelet Valentines
20. Personalized Photo Cards
Bonus Printable:
21. The Land Before Time Printable Cards
Please share more unique DIY Valentine's Day card ideas.