Who's excited for Spring break this month? I know my kids are really looking forward to it, especially since we've had such unusually beautiful weather in Omaha.
That gives us a week to enjoy fun things in the Omaha area. I like to plan activities to give the kids a mental break from school and for some great family time. There's so much to do in the Omaha area and here a few fun places to visit over spring break!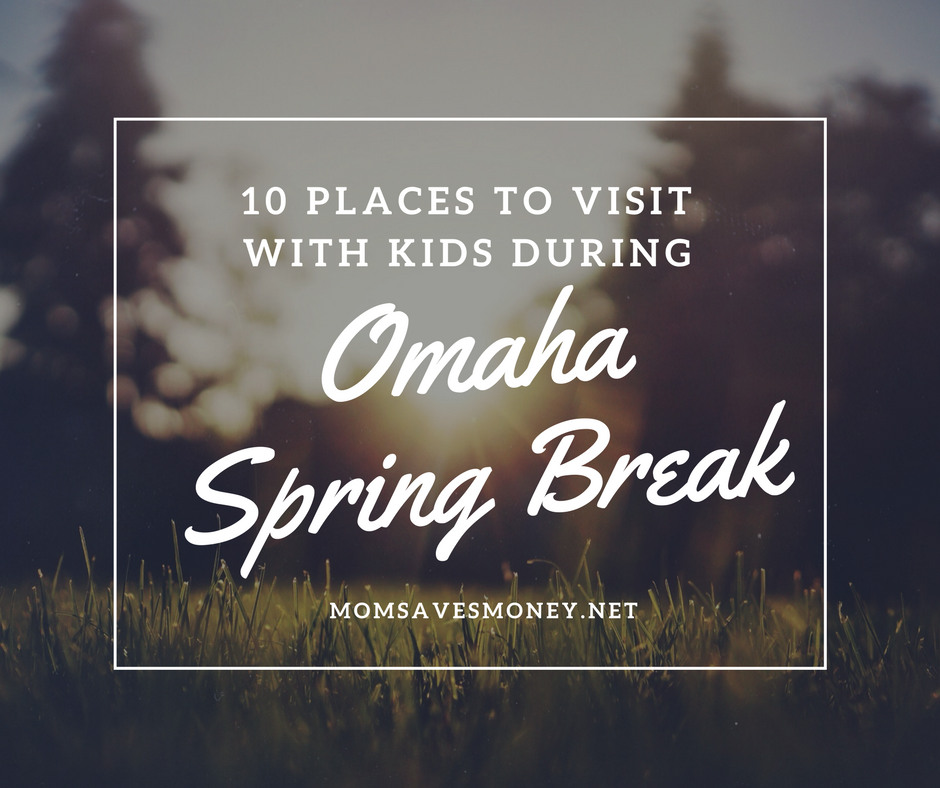 1. Omaha Children's Museum – There is so much to discover and explore at the Omaha Children's Museum and it's perfect for families with kids 8 and younger. Plus, their special Forever Forest is open through April 15! Keep reading to enter for a chance to win a family pack of passes to visit the Children's Museum.
2. $5 Movies on Tuesday –  See a new movie at Marcus Theaters at Majestic Cinema of Omaha, Midtown Cinema, Village Pointe Cinema and Twin Creek Cinema for only $5 per ticket. Includes free 46 oz popcorn for Magical Movie Rewards Members (membership is free). Aksarben cinema also offers $5 tickets on Tuesday with a free promo size popcorn.
3. Fontenelle Forest – Located in Bellevue, enjoy the peaceful great outdoors with your kids. Hike on their 26 miles of trails or complete a 1 mile lap on their boardwalk. Then, play in their outdoor adventure area. This is a great place to burn off their extra energy and enjoy some sunshine! Fees apply.
4. Omaha Henry Doorly Zoo – The zoo is a great place to visit anytime the kids are home from school! It's educational and fun for the whole family. While your there, enjoy an IMAX show included free if you have a membership.
5. Bounce Houses – The Omaha area has several bounce houses and these are great places for kids to burn off all that extra energy.
6. Kids Skate free – Register now to enjoy free skating admission once per day for kids 12 and under. In Omaha, Skatedaze participates in this program. Skate rental is not included.
7. Joslyn Art Museum – There is no charge for general admission to the Art Museum. Check out a free Art Pack during your visit for hands on fun and learning with your kids.
8. DoSpace – Check out the little rooms, teen space or use one of the many computers at DoSpace on 72nd & Dodge. Membership and technology access is free. You can even check out super amazing toys while you visit, including the Dash & Dot robots seen below.
9. Local Library – There are 12 branches of the Omaha library and each one has unique programming, including LEGO club, storytime, movies and more. And, you can pick up a few books or even a movie during your visit.
10. Public Parks – Did you know there are over 200 parks just in Omaha? My kids love discovering new playgrounds, but some of the parks are hidden, so use the city guides to locate new parks! Here are the public park locator guides for Omaha, Bellevue, LaVista and Papillion.
Bonus 11. Kaneko Light Exhibit – This free exhibit at Kaneko in downtown Omaha runs through March 31, 2018. Check out the video from our recent visit.
I hope you have a wonderful and fun week with your kids during Spring break! What are your plans for spring break?