Disclosure: Contains affiliate link. All opinions mine.
I always thought my slow cooker made amazing and tender beef, until I discovered the Instant Pot pressure cooker. If you haven't cooked beef in a pressure cooker yet, you are missing out! The meat is so tender and delicious. I made gravy from the juice from my last Instant Pot beef roast and it was the best gravy I've ever had in my life (I'm not kidding).
Bonus, is that you can cook an entire beef roast in just 60-75 minutes with better results than an all-day slow cook! I've been searching for more Instant Pot recipes to add to my weekly plans, because they are so easy, quick and yummy! Here are some delicious Instant Pot beef recipes to try.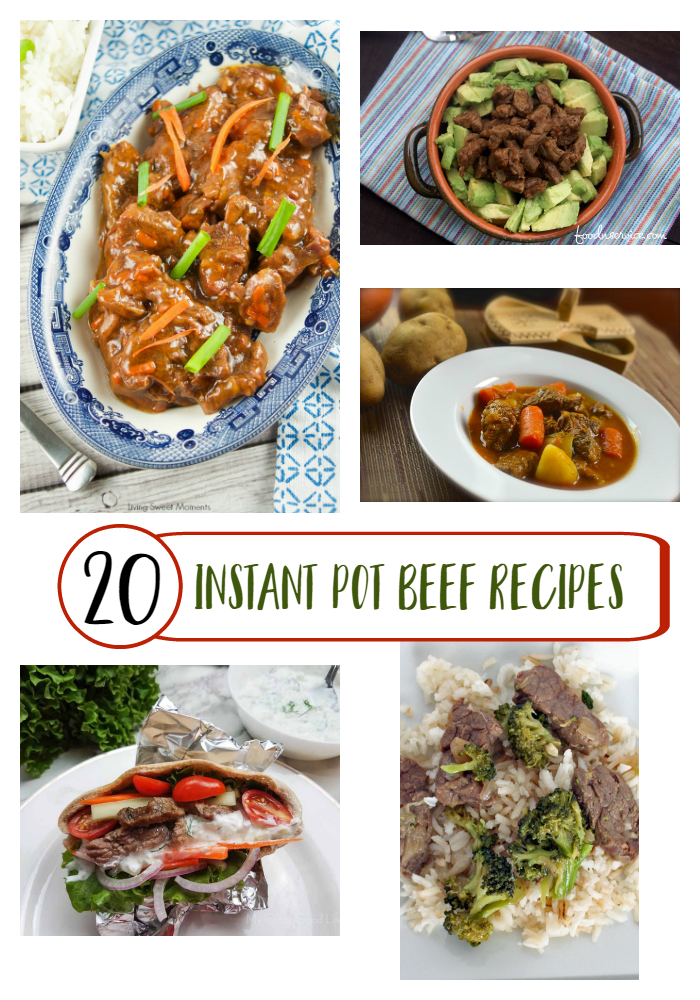 Beef & Noodles
1. Beef Stroganoff
Soups & Stews
2. Beef Stew (pictured above)
3. Beef Curry
Beef Sandwiches
4. Pot Roast Beef
5. Shredded Steak Sandwiches
Classic Beef Recipes
6. Beef Bourguignon
7. Beef Burgundy
8. Tender Braised Short Ribs
9. Salisbury Steak
10. Meatloaf
11. Pot Roast
Asian Inspired Recipes
12. Mongolian Beef (pictured above)
13. Beef & Broccoli (pictured above)
14. Korean Beef
Mexican Inspired Recipes
15. Chipotle Shredded Beef
16. Taco Meat
17. Chili Lime Steak Bowl (pictured above)
International Cuisine
18. Italian Beef
19. Beef Gyros (pictured above)
20. Unstuffed Cabbage
What is your favorite Instant Pot beef recipe?