I've been hosting garage sales since I was a teenager and have always had great success and made a few hundred extra dollars. The money is amazing and the decluttered areas are fantastic! I've learned a few tips over the years that have made our garage sales successful, profitable and run smoothly.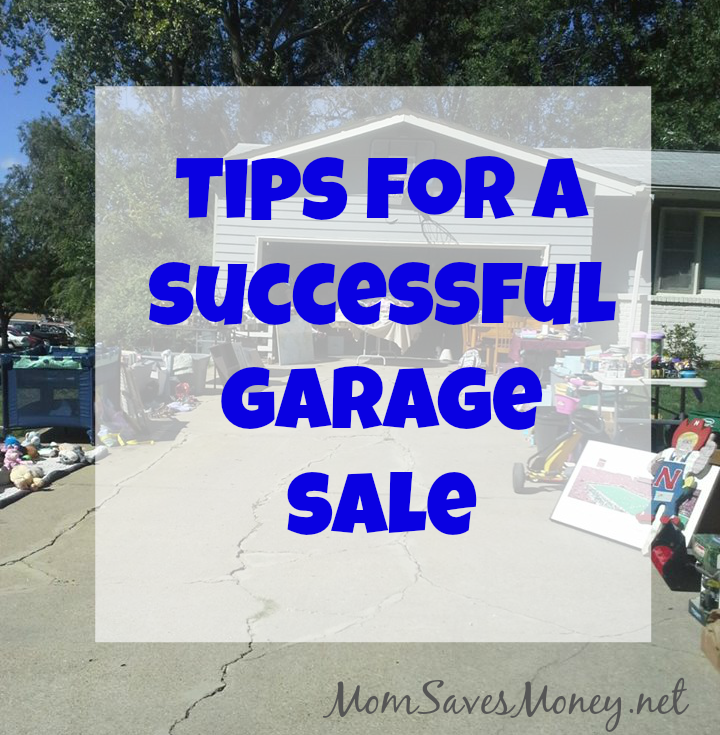 BEFORE THE SALE
Declutter Each Room – I've found my most successful garage sales are ones with lots of items for sale. That means I go through every area of my home and declutter.
Price Items as you Declutter – Every item you sell needs to have a price. Most people won't bother asking for a price and pass on items if they aren't labeled. The easiest way to label items is to do it as you declutter. Simply add a little sticker (you can even buy pre-made ones at the dollar stores) with the price before you add it to your garage sale pile. If you have a large amount of a single type of item, you can sell all of them at the same price instead of labeling them individually. One example is books. I typically just charge a flat price for all books.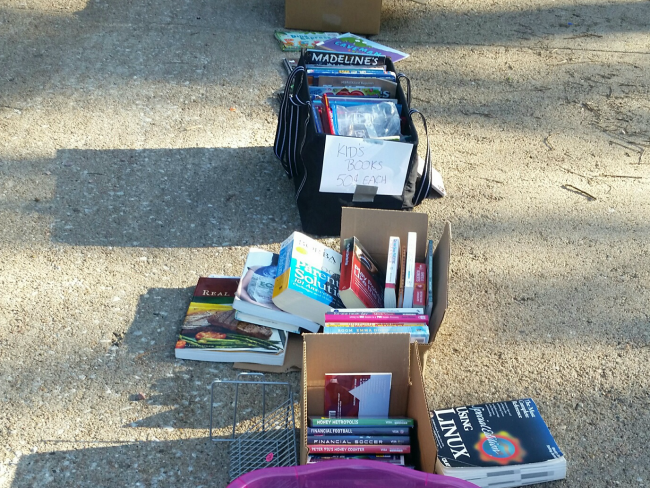 Price Fairly – Nothing irritates me more than hitting up a garage sale that is charging close to retail prices for used items! People shop garage sales for deals, so make sure that you are pricing items to sell. If you have items that are very valuable it may be better to post those for sale online instead of trying to sell them at a garage sale. You can check out my month long 'Declutter for Cash' challenge where I sold everything online and made $288!

Be Willing to Negotiate – If your goal is to declutter, be willing to negotiate on items (within reason). Besides, if you plan to donate after the sale, wouldn't you rather get a few bucks out of something versus nothing at all?
Invite Your Friends to Sell – If you are short on items, you can host a sale with a friend or neighbor. People will stop if it looks like a big sale with lots of items. Plus, you can ask your friends to help you man the sale in exchange for allowing them to add their items. Just make sure you have a way to keep the income for each of you organized and separate.

Be Aware of Best Days for Sales – In Nebraska, Thursday and Friday have been my most successful days for garage sales with moderate sales on Saturday mornings. However, when I lived in Maryland, I rarely saw sales on Thursdays because everyone did their garage sales on Friday, Saturday & Sunday. Learn what days work best for sales in your area and plan your garage sale on those days.
Advertise, Advertise, Advertise – Advertising is the single most important thing for a garage sale. This includes listing the sale online on Craigslist, Facebook, Facebook groups, neighborhood sites and the local newspaper. Also, you need to make sure you have bright, easy-to-read signs at major intersections pointing to your sale.
Follow Local Garage Sale Guidelines – Every state has guidelines on garage sales. Some require permits and others limit the number of days you can have a garage sale at your home each year. Follow your local guidelines for hosting garage sales.
DURING THE SALE
Use Tables & Displays – Whatever you do, do NOT leave items in boxes unless they are clearly visible. Use tables or upside down storage totes to display items. The more items you have out and visible, the more you will sell. This is the time to borrow or rent extra tables.

Utilize Your Space – Spread your items out as much as possible so people driving by will see lots of items and feel compelled to stop. I know I can pass up a garage sale that looks like it has lots of goodies to buy.
Hang or Organize Clothes – If you can hang clothes on a line or rack, they will sell better. If you can't hang the clothes, then organize them neatly on tables by size or style. For example, I usually have one table full of woman's clothes and another with kid's clothes.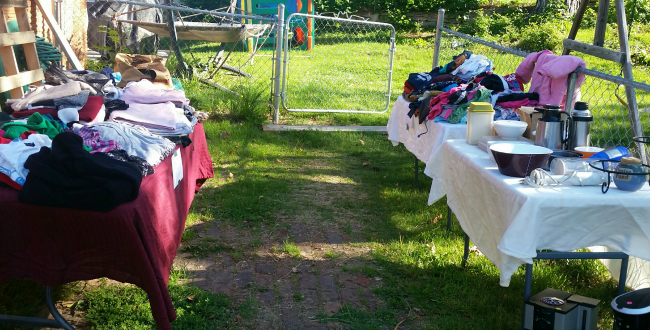 Be Prepared with Change – Make sure you plenty of dollar bills and change. I always note how much money I start with in the cash box so at the end of sale I can determine exactly how much money we made.

Use a Secure Cash Box or Fanny Pack – I know fanny packs are out of style, but I found they are a great way to keep the money so it doesn't get misplaced or stolen. I've also used a cash box in a secure location when multiple people have helped run the sale.

Half Price Day – I've had great success with offering everything for 50% off the listed price on the last day of the garage sale.
Consider a Bag Sale -During the last hour or two of your sale, a bag sale is a quick way to get rid of lots of stuff quickly. I usually sell anything left for just $5 per grocery bag. Shoppers will load up several bags with so many items and that means there is less for me to pack up for donation and I still make a few bucks. It's a win-win.
AFTER THE SALE
List High-Value Items for Sell Online – You may have a few items that are valuable and it would be worth the time to list them in a buy, sell, trade Facebook group, Craigslist or Ebay.
Have a Plan for Everything Else – Set up a donation with a local thrift store or charity as soon as possible after the sale to donate all your leftover items. You took the time to declutter and you don't want to bring those items back into your house when the sale is over.
I hope this list helps you have an organized and successful garage sale this summer. It's great to declutter and have some extra spending money!
What other tips do you have for hosting a garage sale?