Disclosure: Contains affiliate link. All opinions mine.
I'm in love with my Instant Pot pressure cooker. Did you know you can saute, steam, slow cook and pressure cook with the Instant Pot? That means if a recipe calls for ground cooked beef you can actually saute it in the Instant Pot before adding the rest of the ingredients! Less mess and less dishes is a win in my book!
I'm excited to share some of my favorite complete Instant Pot meals. Everything you need for these recipes cooks in your Instant Pot! I love how simple these recipes are and how quickly they cook in the pressure cooker.
Don't have an Instant Pot yet? I recommend the Instant Pot Duo 7-in-1 Multi-Use Programmable Pressure Cooker,6 Quart . The Instant Pot can replace several of your other kitchen appliances, including a slow cooker and rice cooker. It's something that should be in every kitchen. Have I mentioned I'm completely obsessed with mine?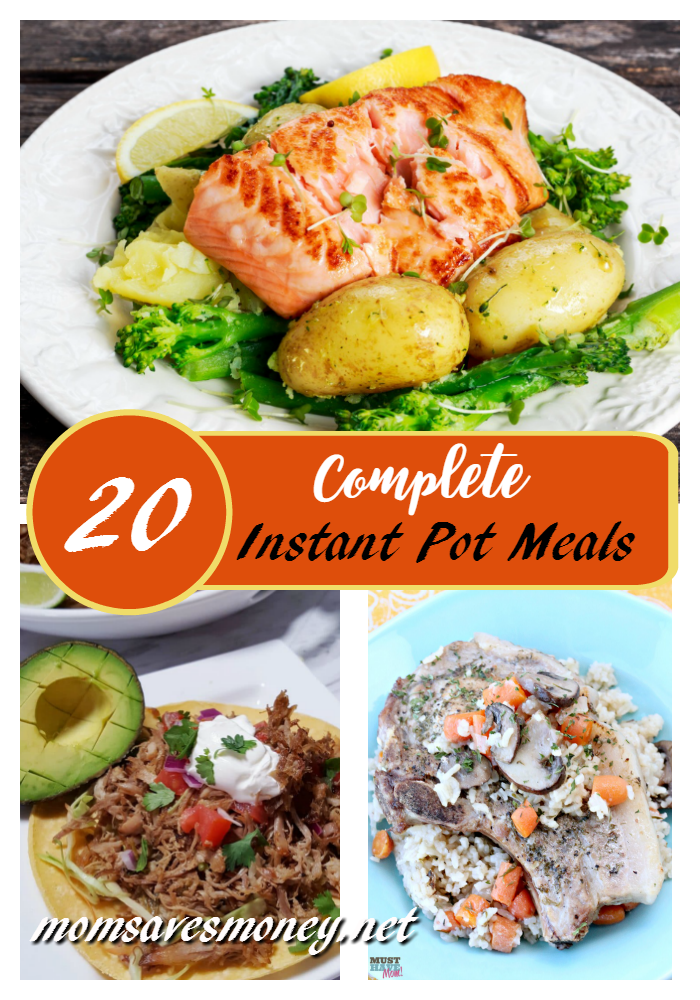 Poultry Recipes
Lemon Pepper Chicken with Broccoli and Tomatoes
Instant Pot Chicken and Brown Rice
Meditteranean Turkey and Rice
Chicken and Dumplings
White Bean Chicken Chili
Pork Recipes
Ranch Pork Chops with Rice (pictured above)
Barbecue Ribs
Pork Carnitas (pictured above)
Beef Recipes
Lasagna
Taco Soup
Mississippi Coke Roast
Pot Roast
Corned Beef and Cabbage
Seafood Recipes
4-Minute Salmon, Broccoli, and Potatoes (pictured above)
Seafood Pho
Seafood Paella
Vegetarian Recipes
Ratatouille
Passover Vegetable Matzo Lasagna
Vegetable Chow Mein
Blue Cheese Broccoli Butternut Pasta
Leave a comment and share your favorite Instant Pot meal.