Disclosure: Contains Amazon affiliate link. All opinions are mine.
I went camping in the Utah mountains this summer with my husband, his three sisters, their spouses and all seven of our children. That's 15 people to feed, which is no simple task, especially when you are cooking with a campfire. I was expecting the typical hot dogs over the fire, but instead, they introduced to one of the most delicious campfire meals ever: spaghetti sandwiches!
When they first mentioned spaghetti sandwiches, I was so confused. Then, I realized they literally meant spaghetti in a sandwich. What?! This was completely new to me and I wasn't sure what to think of this unique creation. But, I just had to try it!
The verdict – AMAZING! Spaghetti sandwiches are a new favorite for camping. It's basically two pieces of delicious garlic toast with spaghetti and red sauce. A perfect high-carb and simple meal for camping!  All you need is a good cast iron panini press (or two) and a nice fire going!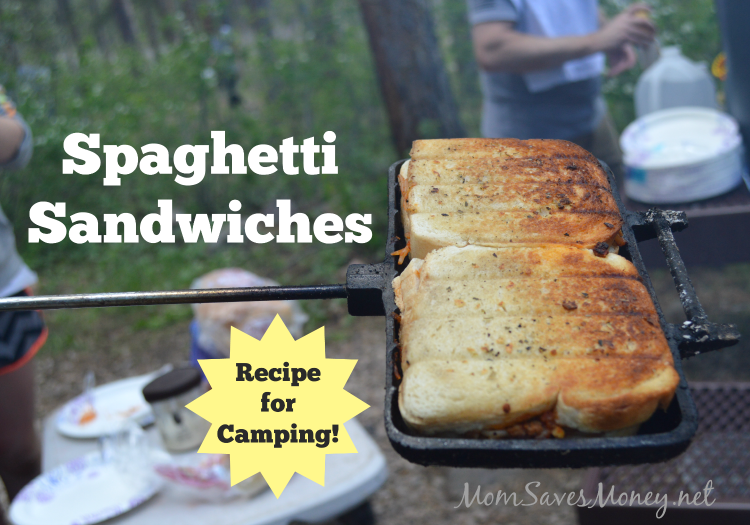 Before camping:
Cook the spaghetti and mix with your choice of red sauce before camping. You can also add cooked ground beef to your spaghetti and sauce mixture if you want. Then, whip up some homemade garlic butter in a few minutes. Keep these items in a chilled cooler until you are ready to make your sandwiches.
At the Campsite:
Making the sandwiches is very simple. Start by buttering each slice of Texas style toast.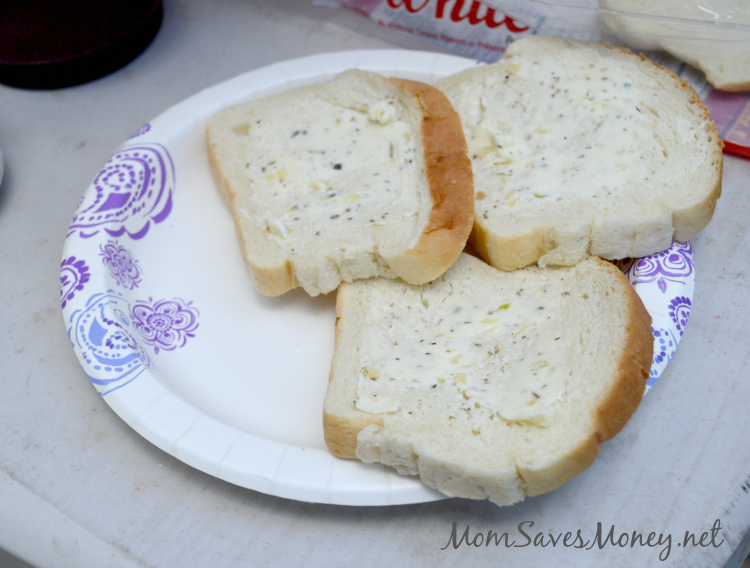 Then, you add the buttered bread butter DOWN on the panini press. I like this double pie iron that makes two sandwiches at a time.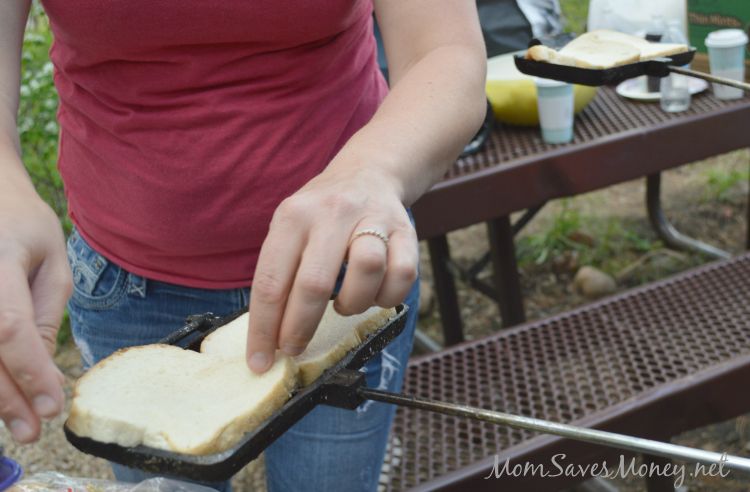 Add a healthy scoop of prepared noodles with sauce and carefully combine the two sides of the panini. There is a little latch hook on the top portion of this panini press which held the sandwich together nicely for cooking over the fire.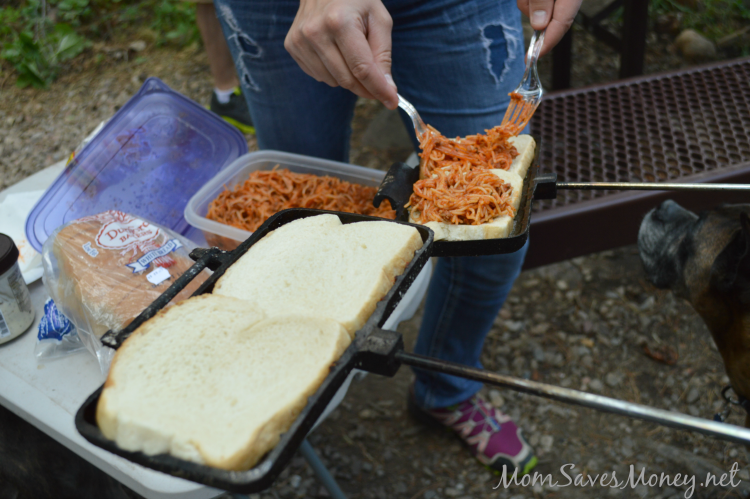 Then, let it sit on the campfire for 5-10 minutes or until the bread is nicely browned. The exact cooking time will vary on how hot the fire is. I also found the first batch will take a bit longer than the rest of the sandwiches. Once the press is warmed up the sandwiches will cook in no time.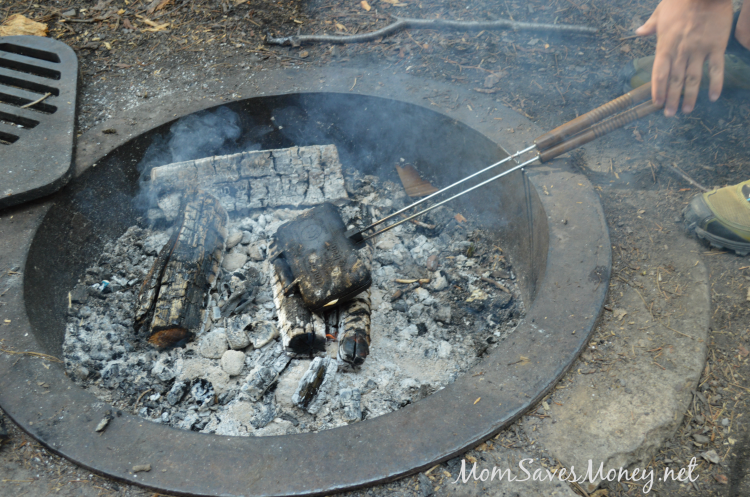 Finally, enjoy! Repeat this process as many times as necessary to make the amount of sandwiches you need to feed the camping crew. Be ready for everyone to ask for seconds. Even the little kids all ate two sandwiches each!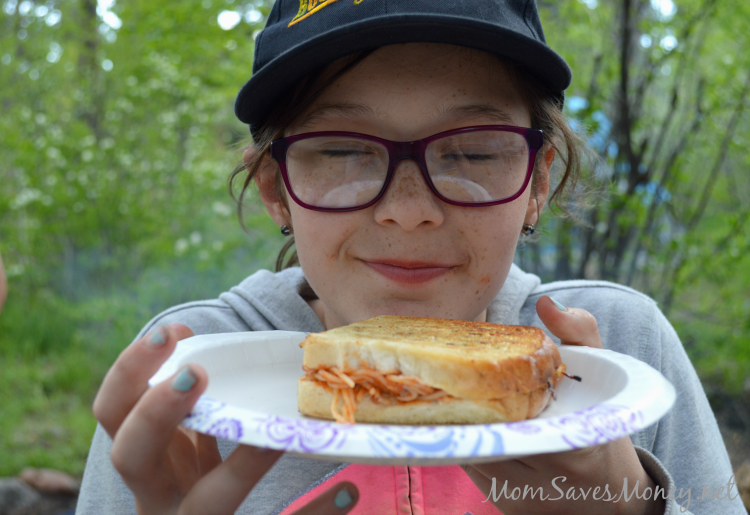 Campfire Spaghetti & Garlic Bread Sandwiches
A perfect dinner to cook over the campfire this summer!
Ingredients
1

stick

Butter

1

tbsp

Italian Seasoning

4

cloves

Chopped Garlic

1

loaf

Texas Toast Style Bread

1

jar

Red Spaghetti Sauce

1

box

Spaghetti Noodles

1/2-1

lb

Cooked Ground Beef

optional
Instructions
Garlic Butter
Soften butter to room temperature

Add Italian Seasoning and chopped garlic

Mix thoroughly and refrigerate (or keep on ice)
Spaghetti & Sauce
Cook spaghetti according to directions on box & drain

Add red sauce and mix thoroughly. Store in airtight container and refrigerate (or keep on ice).

Optional - Brown ground beef and add to sauce & noodles
Prepare Sandwiches
Place bread butter side face down on panini press

Top one side of bread with spaghetti & sauce mixture (about 3/4 cup per sandwich)

Carefully, combine the two sides of the panini press

Place on campfire 5-10 minutes or until bread is golden brown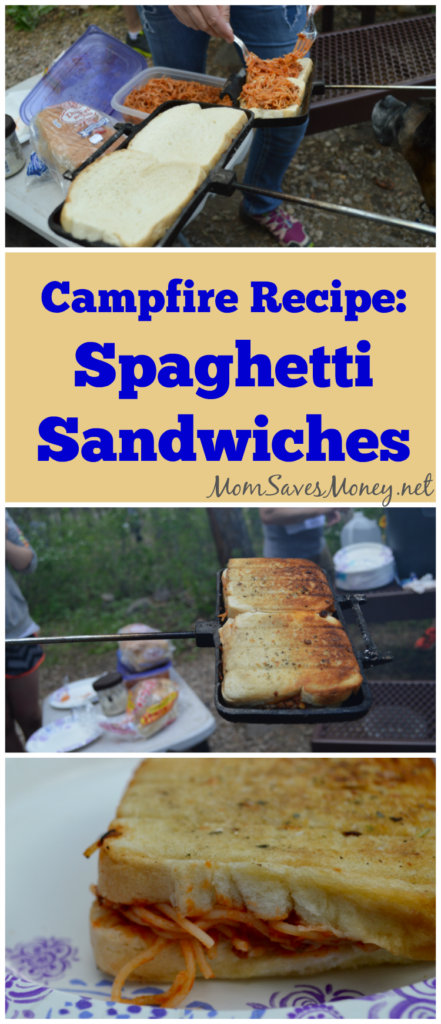 Have you tried spaghetti sandwiches? Please share your favorite camping recipes.