Disclosure: Contains Amazon affiliate links. All opinions are mine.
Reading is such an important part of a child's development. Many experts agree that you can never start reading too early. In fact, doctors say that talking to or reading to a baby while in the womb gives them a strong foundation for developing language skills.
Once baby arrives, you'll want to share fun, engaging stories with them. Reading to your newborn as part of a bedtime routine is not only a bonding time for parent and baby, but it's also a great way to start instilling reading skills in your child. With so many amazing books for babies, it may be hard to narrow down which ones to start with. These are the top books to read during baby's first year.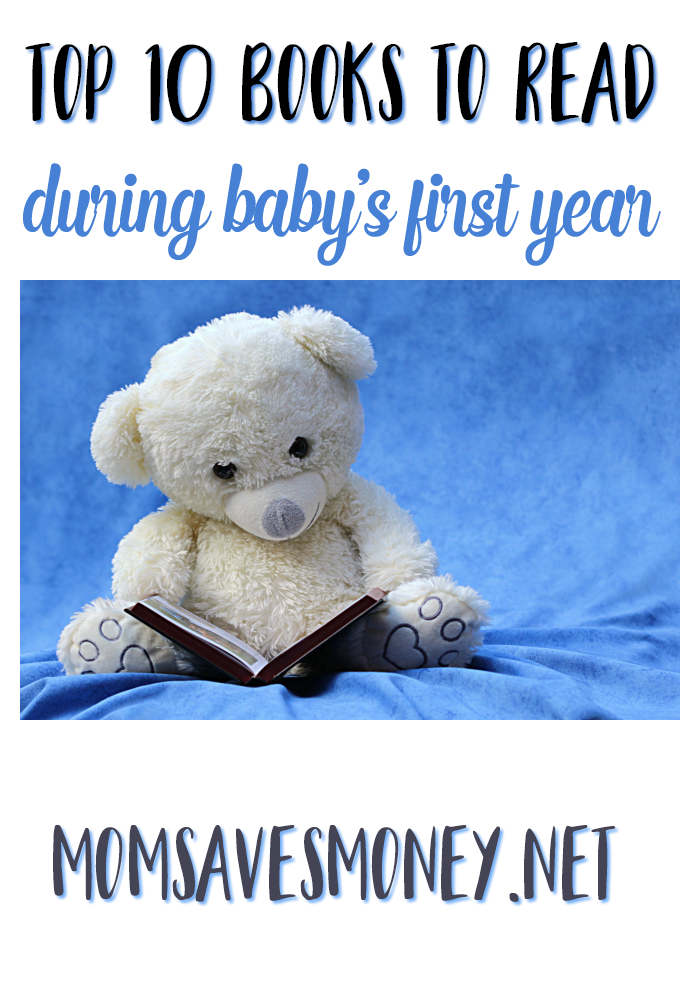 1. On the Night Your Were Born
This board book tells of all the creatures that celebrated on the night your baby was born. With stunning illustrations, you will delight in this story that may bring a tear to your eye as you hold your precious child and thing of the night they entered your life.
2. Love You Forever
From birth to the twilight years, this is the story of the love of a child and its mother through every stage of life. This is another one you'll want to have a box of tissues handy. Save this book, and give it to your child when they have kids of their own. It's a memory you'll both cherish forever.
3. The Belly Button Book
Not all of the top books to read during baby's first year are tearjerkers. This Sandra Boynton classic will give your baby the giggles even before they understand the words. Read about the hippos that have bebos (belly buttons) coupled with gorgeous illustrations.
4. Your Baby's First Word Will Be Dada
This may not be mom's favorite book, but Jimmy Fallon writes a hilarious, heartwarming on the campaign to get babies to say "dada" as their first word. If there's a dada in your family, you'll want this book on your baby's shelf. (Of course, mom can read it too!)
5. Baby Beluga (Raffi Songs to Read)
I can still remember the words to the Raffi songs I sang as a child, particularly "Baby Beluga" (in the deep blue sea…). Share the memories with your baby, and read the songs of your childhood in verse form.
6. The Very Hungry Caterpillar
Eric Carle's illustrations are what makes his books a must-have for any child in their first year. Enjoy one of his best books as a very hungry caterpillar eats his way through dozens of foods to become a beautiful butterfly.
7. Goodnight Moon
No baby book collection is complete without Goodnight Moon. A perfect bedtime story as the reader goes through the house saying goodnight to everything in sight, including their sweet child.
8. Goodnight, Gorilla
This story of a zookeeper who is followed home by one of his favorite animals is heavy on illustrations rather than words. As your child grows closer to age 1, this book is perfect to help them use their imagination as you share the story with them.
9. The Napping House
I'll never forget my children's giggles as I read this story to them in their first years of life. This ridiculous story of a granny, various animals, and a little boy who tries to get some rest is one you'll read again and again.
10. First 100 Words
Start language development early by reading and sharing essential first words and accompanying pictures in this book that you can read again and again in your child's first year and beyond.
Reading to your baby can be fun and help them with language skills that will carry into their school years. Try out these top books to read during baby's first year, and keep them on your shelf for years to come. Which books are on your list for baby's first year?