I love me some Italian food.   There used to be a restaurant in Omaha named Grisanti's and I adored that place!  I used to work in the office park right behind there and we'd often zip over for lunch.  I ate there for my 16th birthday party.  I often chose it whenever I got to choose the place to eat.  Sadly, it no longer exists.  But, oh the garlic bread!  And oh, their alfredo sauce!  And their salad!  And their lasagna!
Speaking of lasagna, it isn't a meal that I often make because it takes a decent amount of time.  It doesn't take too long to put together, but it does take a while to bake.  There are "cheater" versions out there that use cheese ravioli instead of lasagna noodles and ricotta cheese.  And I'm all for cheater versions of recipes, but for some reason, I haven't really cared for that one.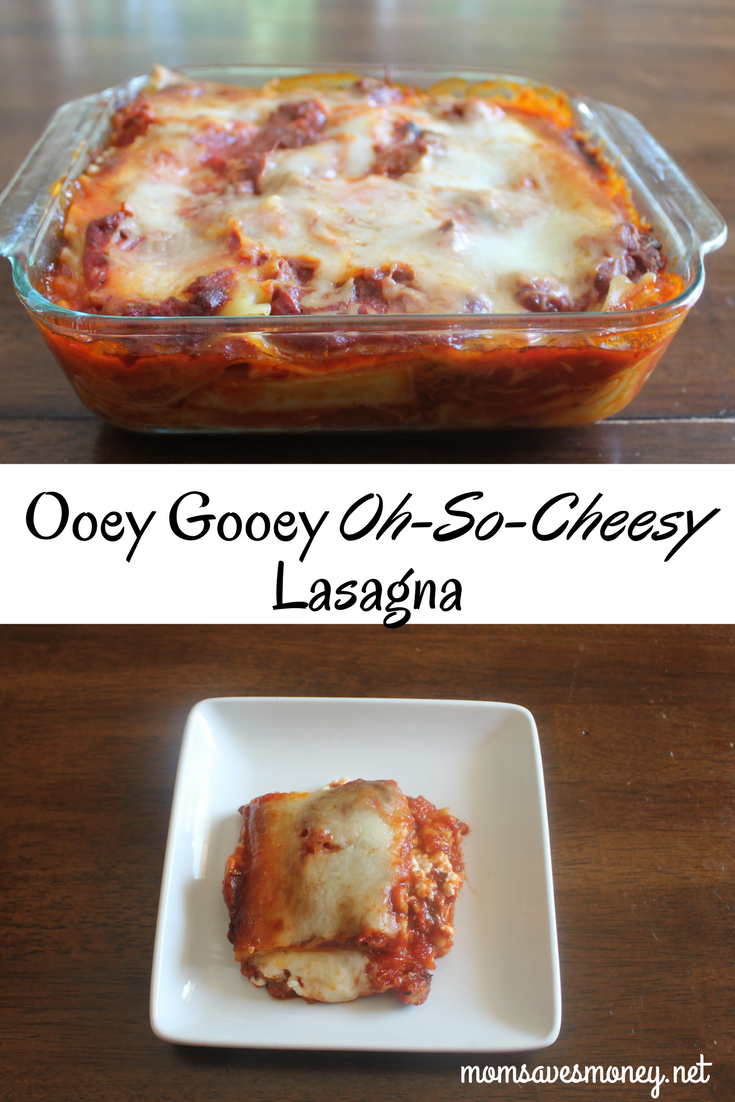 So making a real lasagna is worth it – to me.  But it still isn't something that I make often.  Now, real lasagna recipes involve ricotta cheese.  I don't care for ricotta cheese for some reason.  So I use cottage cheese.  Real lasagna calls for other fancy cheeses.  I just use mozzarella.  Some people like to use the no boil lasagna noodles.  Not me.  I just haven't had much luck with them.  So I just boil my noodles and call it good.
This is a lasagna recipe for those of you that like simple recipes that are quick to make.  I love it cause it freezes super well and is great as leftovers.  It's a great meal to take to someone who just had a baby, a new neighbor or a death in the family.  For me, it does pull together pretty quickly as I usually have homemade spaghetti sauce in the freezer.  But if you don't?  Open up a jar and call it good!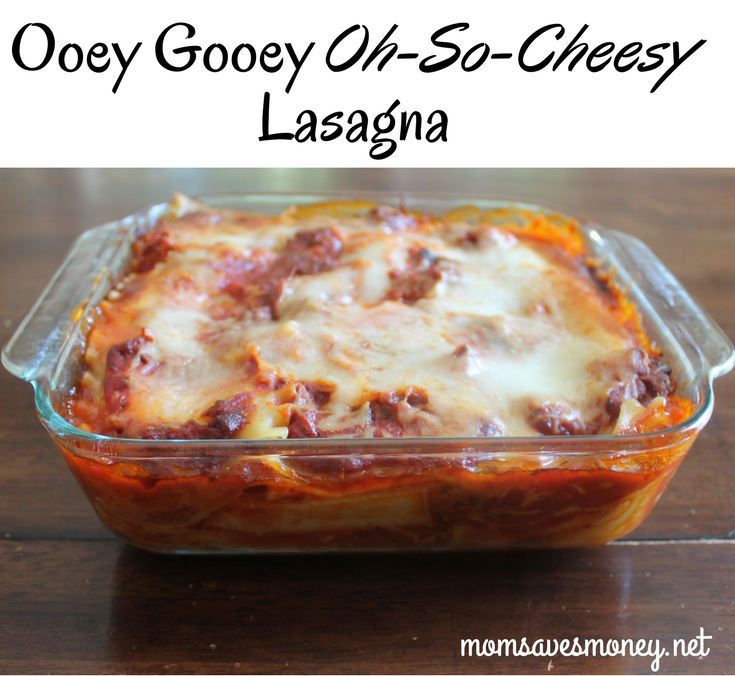 Before I share the recipe, I have just a couple of tips:
Make sure you use a "chunky" sauce.  A runny sauce makes for runny lasagna.  Still tastes good, but it won't hold it's shape well.
Please let it rest for at least 10 minutes before cutting into it.  That will allow it to set and hold it's shape better as well.
Ooey Gooey Oh-So-Cheesy Lasagna
Ingredients
6

lasagna noodles, boiled

8

ounces

cottage cheese (I like small curd)

8

ounces

mozzarella cheese (or more!)

1

lb

hamburger

1/2

onion, chopped

1

jar of spaghetti sauce

Parsley flakes
Instructions
Boil the noodles til done. Drain. Set aside.

Brown the hamburger with onion and spices (I use salt, pepper and garlic powder/salt). Drain when done.

Combine hamburger with spaghetti sauce. Remember: you want a slightly "chunky" sauce so that your lasagna gets cut nicely. Too "saucy" will cause it to slip all over.

Spray a 9×9 pan with cooking spray. Add a little bit of sauce to the bottom of the pan.

Place your noodles on the bottom of the pan. You may need to cut the noodles to be the right size. Save the ends to use on the other layers.

Place 1/2 your spaghetti sauce on top of the first layer of noodles.

Sprinkle the top with parsley.

Put small spoonfuls of cottage cheese on top of the sauce. Just a dollop here, a dollop there.

Put a layer of mozzarella cheese on top of the cottage cheese.

Repeat with another layer of noodles (use those odds & ends from before!), sauce, parsley, cottage cheese and mozzarella cheese.

Bake covered with foil for a solid hour at 350. After that, take off the foil and cook for another 10-15 minutes to brown the cheese.

Take out of the oven. Let sit for 10 minutes to firm up. Cut into squares!
Notes
Lasagna freezes really well! Either freeze before baking or freeze portions after baking. To bake from frozen, you may need to double the baking time.
Jayme is a wife to 1 and to four little boys. She coupons, but isn't super extreme about it. She price matches and loves it! While she likes to cook, she's in the stage of life where simple is usually better. She never knows how many hands she'll have free at dinner time. You can find her at No Regrets Living.

Check out more delicious recipes: