Disclosure: Contains affiliate link. All opinions are mine.
Busy school nights are back and it means that we're back to late nights, after school activities, and study sessions at the kitchen table. Instant Pot recipes make it easier to get dinner on the table each night without the extra work or frustration. If you are trying to make healthier decisions, don't miss these 15 healthy Instant Pot recipes for your family!
Don't have an Instant Pot yet? I recommend the Instant Pot Duo 7-in-1 Multi-Use Programmable Pressure Cooker,6 Quart. The Instant Pot can replace several of your other kitchen appliances, including a slow cooker and rice cooker. It's something that should be in every kitchen. Have I mentioned I'm completely obsessed with mine?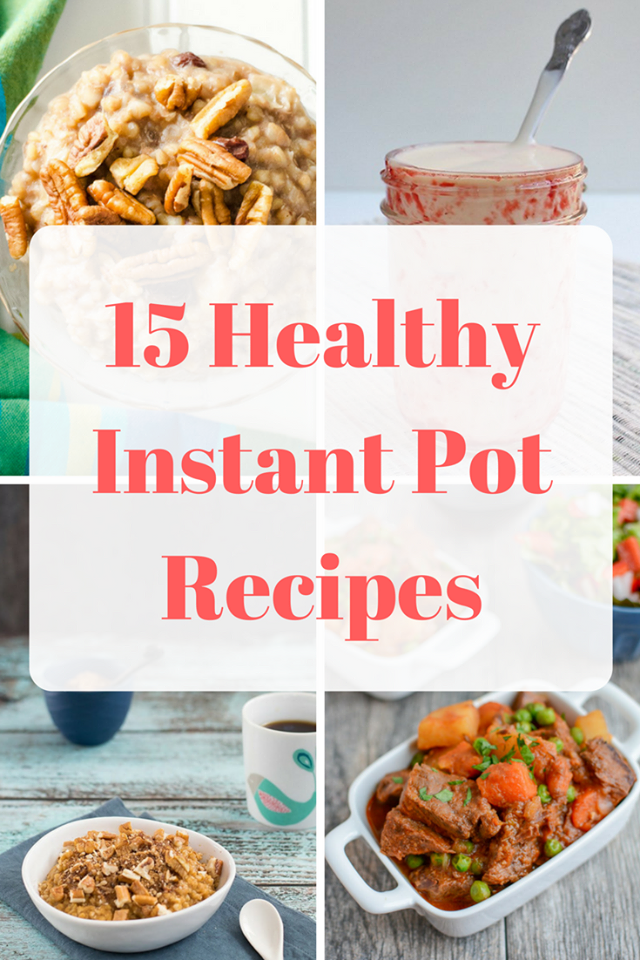 BREAKFAST:
Pumpkin Coffeecake Steel Cut Oatmeal (pictured above) – Steel cut oatmeal takes a long time to cook, but with the instant pot it only takes 3 minutes!
Vegan Soy Yogurt (pictured above)- If you have a yogurt setting on your pressure cooker, this is a simple recipe. It does take 14 hours, but it's delicious and vegan!
Buckwheat Porridge (pictured above) – This recipe is gluten free, vegan and is ready in just 20 minutes.
MEALS:
Beef Stew (pictured above) – This hearty beef stew is perfect for cold nights and is ready in an hour.
Chicken Tikka Masala – This paleo recipe is full of unique flavors.
Cauliflower Potato Soup – This is a home cooked soup that is as healthy as it is delicious.
Red Beans and Rice – Start with dry beans with NO soaking!
Turkey Chili – Add zucchini and sweet potatoes for a hearty and healthier chili.
Chicken Tacos – 4 ingredients and 20 minutes! It doesn't get any easier than this.
Chicken and Rice – The Instant Pot makes the perfect rice and this recipe can be served as a side dish or meal.
Crustless Pizza Casserole – This is a quick, one pot meal that the kid will love. And, it's 21 day fix approved.
Chicken Noodle Soup – This is a classic and delicious chicken noodle soup recipe.
SIDE DISHES:
Sweet Potatoes – Make perfect sweet potatoes every time with your pressure cooker.
Rice Pilaf -If you have leftover meat, whip up this simple rice pilaf for a healthy side or main dish.
Vegan Mac and Cheese – This recipe incorporates soy curls to make a delicious mac & cheese.