Disclosure: Contains affiliate link. All opinions are mine.
If you want fall-off-the-bone, amazing chicken recipes, a pressure cooker is the way to cook it. The Instant Pot is the only way I will cook whole chickens now and love how much the flavors blend together in tasty dishes. I've compiled 20 of my favorite Instant Pot chicken dishes with something for everyone. I've included Asian, Indian, Mexican and Italian inspired cuisines, as well as classic chicken dishes. Bon Appetit!
Don't have an Instant Pot yet? I recommend the Instant Pot Duo 7-in-1 Multi-Use Programmable Pressure Cooker,6 Quart. The Instant Pot can replace several of your other kitchen appliances, including a slow cooker and rice cooker. It's something that should be in every kitchen. I absolutely love mine and use it at least 2-3 times every week.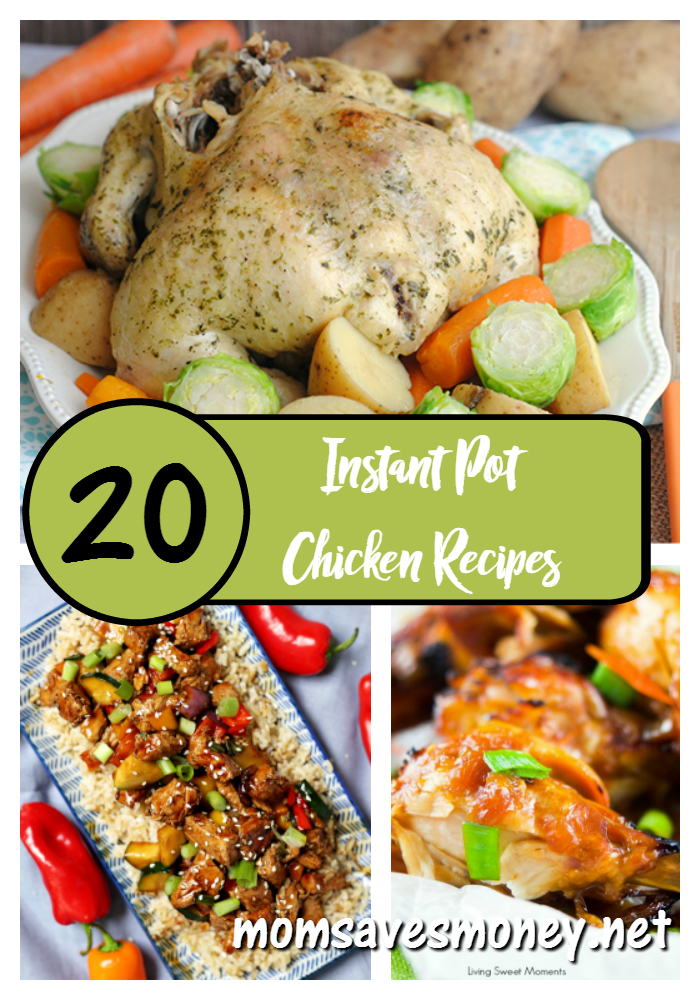 Italian Inspired Dinners
1. Chicken Parmigiana – Amazing 'light' version of an Italian classic dish.
2. Chicken Florentine – This one pot recipe is easy and delicious.
3. Chicken Puttanesca – Use budget friendly chicken thighs for this scrumptious Italian favorite.
4. Chicken Porcupine Meatballs – What's not to love about meatballs?
Asian Inspired Dishes
5. Orange Chicken – Why order out when you make this amazing orange chicken recipe in just minutes.
6. Ginger Garlic Drumsticks (pictured above) – This Asian recipe features a sweet and sour sauce.
7. Kung Pao Chicken (pictured above) – Serve this over rice for an amazing Asian dish.
8. Spicy Teriyaki Chicken Thighs – Sriracha adds some kick to these chicken thighs.
9. Honey Sesame Chicken – Serve over rice for a homemade version of a popular Chinese take out dish.
10. Teriyaki Chicken – Serve over rice or in wraps for an easy meal.
Mexican Inspired Dishes
11. Pulled Chicken Tacos – Just a few simple ingredients and you have meat for taco night.
12. Salsa Chicken – Two ingredients. Seriously, it doesn't get any easier than this.
Indian Inspired Dishes
13. Chicken Tikka Masala – Pressure cooker makes dishes like chicken tikki masala even more flavorful and amazing.
14. Indian Butter Chicken – This recipe is full of flavors and vegetables.
Classic Chicken Dishes
15. Shredded Chicken – Need shredded chicken for a recipe or to have stored in your freezer? It's so easy to do with the Instant Pot.
16. Crispy Chicken with Homemade Gravy – Cook the chicken in the instant pot and finish in the oven for 5-10 minutes for a crispy finish. Make the gravy right in the Instant Pot.
17. Cracked Out Chicken – This chicken is amazing for sandwiches or wraps.
18. Whole Chicken (pictured above) – Whole chicken was the first thing I ever cooked in my Instant Pot. The meat is so tender and delicious.
19. Lemon and Garlic Whole Chicken – I love this flavorful whole chicken recipe.
20. Honey and Thyme Chicken – This is a healthy and flavorful chicken breast recipe.