My success rate with making sugar cutout cookies is 0%.  Zero.  Zilch.  Nada.  Zip.  No successes ever.  It isn't from a lack of trying – I've just never been able to master it.  So I've kind of given up.  It's a simple thing to go to the store and buy sugar cookies.  And I'm okay with that.  I can't be an expert at everything, you know?  I gotta know my limitations.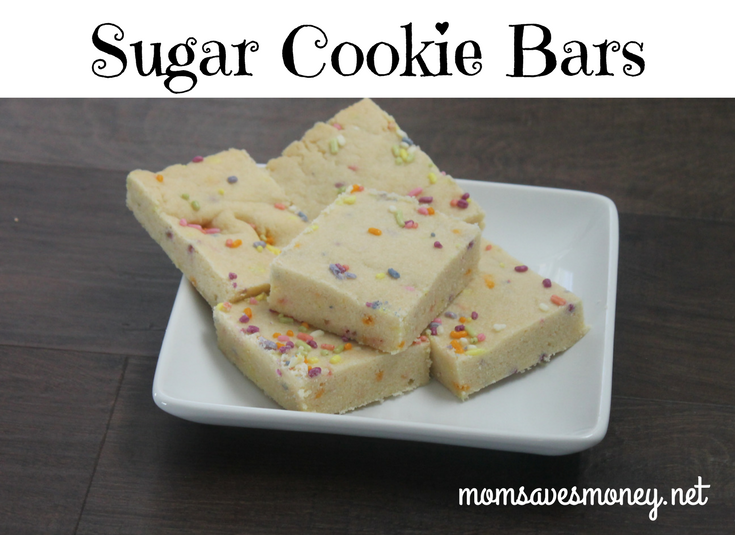 BUT…I can make sugar cookie bars!  It's essentially sugar cookie dough, but baked into bars.  Now we're talking my language!  I like to put sprinkles inside the dough to add a little color and I actually prefer to not frost the cookies.  It just makes them easier to eat.  But you certainly can frost them – it's delicious when you do that!  And when you do that, you have more opportunity to add color.  Put a little food coloring in the frosting.  Or decorate with more sprinkles!  It's a great way to celebrate birthdays or holidays.  Do some pink frosting for Valentine's Day.  Or red or green for Christmas.  Or green for St. Patrick's Day.  Gloriousness!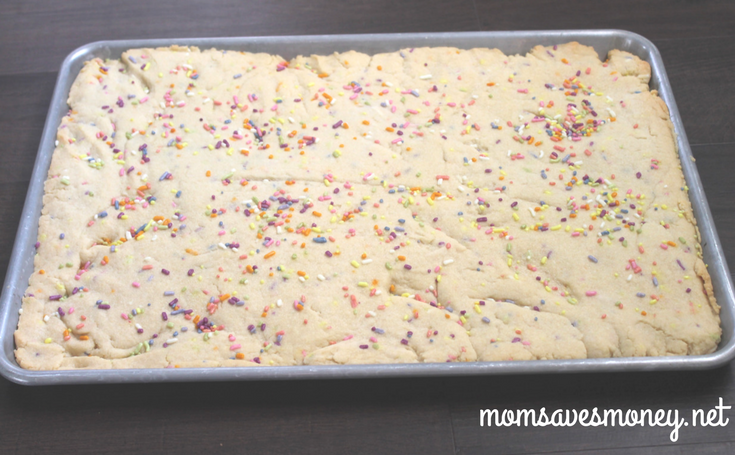 Don't have a half sheet baking sheet?  Here's the one that I have and LOVE!  I love that it has a lid and not many out there do.  A lid doesn't seem important unless you want to transport what you've made.  It's really easy for my husband to just take the whole pan into work with him.  The alternative is that I pre-cut them into bars, put them on a plate or in another storage container and he transports that.  This makes it so easy to do and to stack if you had multiple desserts to bring.  I love that feature!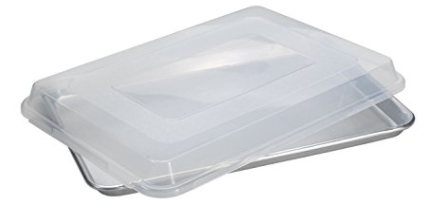 Sugar Cookie Bars
Ingredients
Cookie Bar Ingredients:
2

cups

real butter, softened

2

cups

sugar

2

eggs

2

teaspoons

vanilla extract

1

tablespoon

almond extract

5 1/2

cups

flour

1

tablespoon

baking powder

1

teaspoon

table salt

1/4

cup

sprinkles (optional)
Buttercream Frosting Ingredients (optional):
1

cup

(2 sticks) butter, softened

3

cups

powdered sugar

1

teaspoon

almond extract

2-3

tablespoons

milk

1/2

teaspoon

vanilla extract
Instructions
Cookie Bar Instructions:
Preheat oven to 350 degrees. Grease a half sheet baking sheet.

In a large bowl, cream together the butter and sugar until light and fluffy, about 2 minutes.

Add eggs, vanilla extract and almond extract. Mix.

Add the flour, baking powder, and salt. Mix well.

If adding sprinkles into the cookie bars, add now and mix well. This is totally optional.

Press the dough into the baking sheet. Don't worry about some bumpiness. Frosting will cover it.

Bake for 20-30 minutes or until the top is lightly golden brown. Let cool completely before frosting.
Frosting Instructions:
In a large mixing bowl, beat together the powdered sugar and butter until combined.

Add the milk a bit at a time until desired consistency is reached. If too thin, add more powdered sugar. If too thick, add more milk.

If desired, add a few drops of food coloring.
Assembly:
Once the cookie bars are cool, cover with frosting and sprinkle (if desired). Cut into squares.
Notes
The frosting is optional.  In fact, I usually don't make it.  The bars are wonderful as is and without the frosting, they're easier to eat!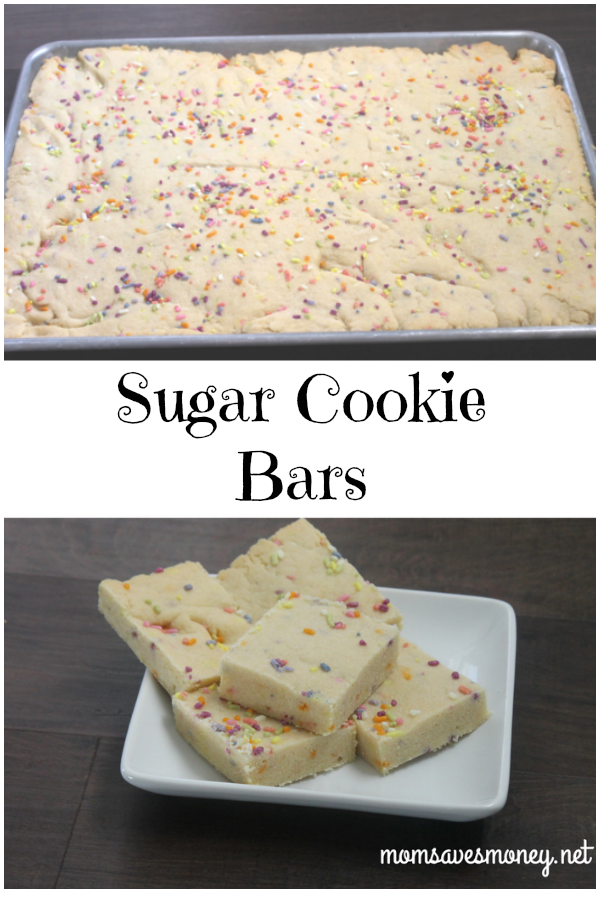 Jayme is a wife to 1 and a mother to four little boys. She tries to coupon, builds a smart stockpile, and always meal plans. While she likes to cook, she's in the stage of life where simple is usually better – she never knows how many hands she'll have free at dinner time! You can find her at No Regrets Living.