Ready to explore the great state of Nebraska this summer? Join The Nebraska Passport program from the Nebraska Tourism Commission for a chance to visit Nebraska's hidden gems AND win fantastic prizes.
The Passport includes 70 unique stops and adventures throughout Nebraska. Simply collect stamps at each stop you visit for a chance at great prizes. Request your FREE 2018 passport online, pick it up at a participating stop or download the 'NE Passports' app (Google Play & Apple App store) to start collecting stamps.
Collect your stamps now through September 30, 2018. Booklet prize entry must be mailed in and postmarked by October 2, 2018. Digital app stamps are automatically submitted.
Remember, there is no fee to participate in the Nebraska Passport program and no purchase necessary to receive Passport stamps at the Passport stops. This is an amazing opportunity to explore Nebraska (and get rewarded.)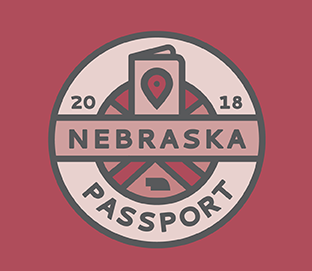 Here are the prizes if you collect:
10 stamps – Passport car decal and $15 in Nebraska lottery coupons
25 stamps – Nebraska Tourism calendar
45 stamps – Nebraska poster booklet
70 stamps – "Passport Champion" apparel
There are additional prize drawings for all participants who turn in prize entry sheets with at least one stamp:
A year's worth of Bakers candies chocolates – 1 lb bag per month
A year's worth of Runza – one combo meal a week for a year
Prize Drawings for people who collect all 70 stamps:
Omaha Steaks butcher's share, quarter of beef + chest freezer
300 $1 NE lottery scratch tickets
60+ more prizes from the stops (see full list of prizes online)
Here are the 2018 Passports Stops by Category:
Animals
Arbor Day Farm Tree Adventure – Nebraska City
Fontenelle Forest – Bellevue
Hastings Museum – Hastings
Riverside Discovery Center: Zoo & Splashpad – Scottsbluff
Rowe Sanctuary – Gibbon
Wessels Living History Farm – York
Arts
The Garden Gallery – Elkhorn
Gene Roncka Willow Point Gallery & Museum – Ashland
Passageway Gallery – Omaha
Petrified Wood & Art Gallery – Ogallala
Plainsman Museum – Aurora
Sheldon Museum of Art – Lincoln
Back in Time
The Durham Museum – Omaha
High Plains Homestead, Home of the Drifter Cookshack & Bunkhouse – Crawford
Knight Museum & Sandhills Center – Alliance
Liberty House B&B, Antiques & Tiny Tall Grass Tours – Seward
Platte Valley Antique Mall – Greenwood
R.F. Goeke Variety & Soda Fountain – Atkinson
Taylor Community Arboretum – Taylor
Wildwood Historic Center – Nebraska City
Coffee
Dragonfly Desserts Coffee House & Bakery – Alma
Fill My Cup Coffee Shop – Genoa
Herban Coffee Lab – Plattsmouth
Lasso Espresso Co. – Gothenburg
Milady Coffeehouse at The May Brothers Building – Fremont
Red Door Coffee – West Point
The Tarnished Halo – Bridgeport
Oregon Trail 175th Anniversary
The Archway – Kearney
Chimney Rock National Historic Site – Bayard
Lincoln County Historical Museum – North Platte
Mac's Creek Winery – Lexington
Nebraska Prairie Museum – Holdrege
Rock Creek Station State Historical Park – Fairbury
Spring Creek Prairie Audubon Center – Denton
Outdoors
Chadron State Park – Chadron
Corps of Discovery Welcome Center – Crofton
Dark Island Trail – Marquette
Eugene T. Mahoney State Park – Ashland
Indian Cave State Park – Shubert
River City Star Riverboat – Omaha
Shamrock Nursery – O'Neill
Pizza
Iron Horse Food & Spirits – Hooper
Loop Brewing Company – McCook
Piezano's – Lincoln
Pizza Palace – Burwell
Wave Pizza Co. – Grand Island
Zio's Pizza – Old Market Omaha
Restaurants
Barnstormers Family Bar & Grill – Norfolk
Bassett Lodge & Range Café – Bassett
The Black Crow – Beatrice
The Flight Deck – Scottsbluff
Peppermill Restaurant – Valentine
Windbreak Bar & Grill – Kimball
Shopping
1912 Emporium – Wayne
Allsorts Boutique – Sutherland
Feathers – Louisville
Shopping Tripps – Kearney
Sugar Shack Country Candles – Edgar
Urban Farm Boutique – Columbus
Sweet Treats
A Collective Gathering – Potter
A Pocketful of Rye – Chadron
Master's Hand – Tekamah
The Rabbit Hole Bakery – Lincoln
Sugar Bee – Hickman
UNL Dairy Store – Lincoln
Wine & Beer
Bottle Rocket Brewing Co. – Seward
Miletta Vista – St. Paul
Nissen Winery – Hartington
Pals Brewing Company – North Platte
Superior Estates Winery – Superior
View more information about this program on the 2018 Nebraska Passport website.
Are you planning to participate in the 2018 Nebraska Passport Program? What stops are you excited to visit?