Have you ever been to Paradise Bakery?  They have a couple of them in Omaha and they're A-M-A-Z-I-N-G!  They're actually owned by Panera, but they have a different (yet similar) menu.  They're particularly known for their chocolate chip cookies, which are fantastic!  My favorite thing to order there is their Tomato Soup and then a Chicken Caesar Salad Wrap.  The tomato soup is wonderful, especially as they top it with sour cream and tortilla pieces.
Their Chicken Caesar Salad Wrap is also incredible.  Please note that it's a chicken Caesar salad wrap.  Don't forget the 'salad' part of the description. It isn't just romaine lettuce, parmesan cheese, chicken, and caesar dressing in a wrap.  As wonderful as that would be, it's the addition of croutons that make it a salad inside a wrap. That's the key. That adds a specific type of heft to your wrap. A crunch. A taste of the unexpected. DELICIOUS!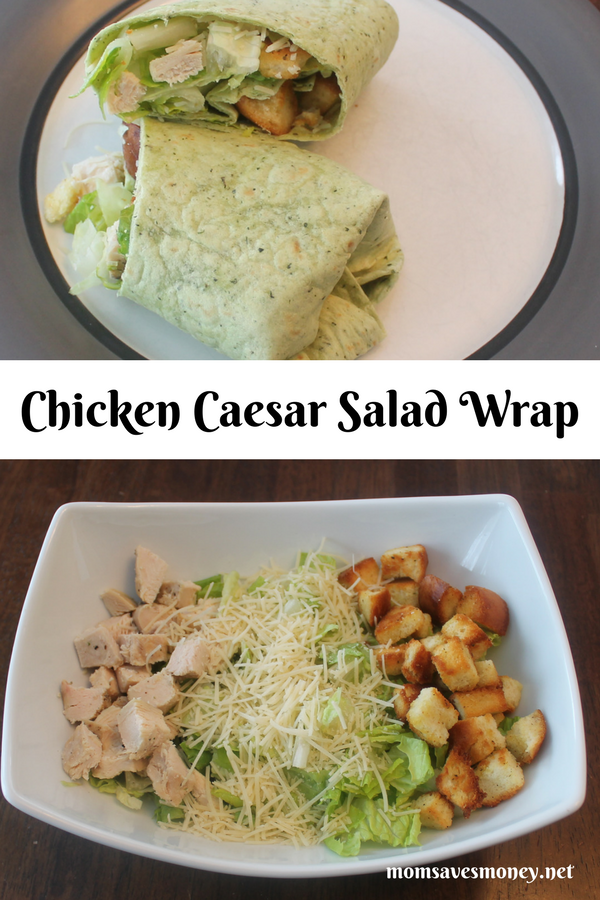 How to Make a Chicken Caesar Salad Wrap
This is my version of that.  It's simply a chicken caesar salad poured into a wrap.  I don't do anything crazy.  You can really make this quite simply:
Chicken.  You can make some chicken and dice it up. You can use a rotisserie chicken from the store and use it. You can even roast your own chicken. Even use canned chicken if you want. You just need some chicken.
Lettuce.  Simply cut up some romaine. That's the most traditional choice. Use romaine in a bag.  Use iceberg lettuce if that's all you got. I won't tell.
Parmesan Cheese. I usually have shredded parmesan on hand, but you can get all fancy and use parmesan pieces. Gosh, use grated parmesan if you want. Again, I won't tell.
Croutons.  I make my own, but I'm a freak like that. You don't need to. Store bought ones will work just fine. You can even cut up a few pieces of bread and roast it in the oven real quick.
Caesar dressing. You can make your own, but man, that's advanced cooking! I just use some from a jar.  Straight from the grocery store. Easy and done!
Wraps.  Again, I buy these at the store. I have used regular tortillas before and it works…just not as well. They tend to be too small and too thick for rolling. But you could do it.
Combine all the salad ingredients and put into the wrap. Then it's kind of like having a sandwich.  And kind of like having a salad.  Best of both worlds!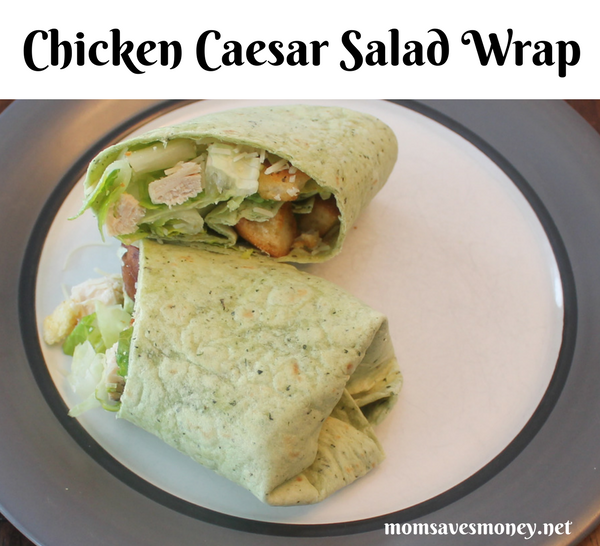 Chicken Caesar Salad Wraps
Take the deliciousness of a chicken caesar salad, folded into a wrap for a wonderful & quick meal!
Ingredients
For each wrap:
1

wrap

Romaine lettuce

shredded

Parmesan cheese

Croutons

Cooked chicken

diced

Caesar dressing
Instructions
Combine all the salad ingredients.

Layer the chicken caesar salad ingredients in the middle of a wrap.

Fold the edges in, then roll as you would a burrito. Cut & enjoy!
Jayme is a wife to 1 and a mother to four little boys. She tries to coupon, builds a smart stockpile, and always meal plans. While she likes to cook, she's in the stage of life where simple is usually better – she never knows how many hands she'll have free at dinner time! You can find her at No Regrets Living.