Kitchen Hack (noun):  Refers to a shortcut found in the kitchen.  A tip or a technique that makes one's life easier, specifically when it comes to organizing or preparing a meal.
It's no secret that I like having the ability to pull together meals quickly.  Some people love having complete meals in the freezer.  That's awesome, but my style has more been of the "pull a bunch of ingredients together, make a meal and have it on the table quickly".  For me, that's meant many things in my freezer – sauces and veggies and cooked ground beef and cooked chicken.
I used to have 2 different ways that I'd make a bunch of chicken for the freezer:
Just browning it on the stovetop, just doing a few different batches.
Sticking it in the slow cooker, then either shredding it or dicing it.
But now I have a new way!  And I much prefer it.  It isn't labor intensive like the stove top can be. But it also doesn't take several hours like the slow cooker does.  I now make a bunch of chicken in the oven!  I have a double oven, so I really can get 3 cookie sheets baking at one time.  If I needed to, I bet I could easily cook up 10-15 pounds of chicken in less than 30 minutes.  That's a huge time saver!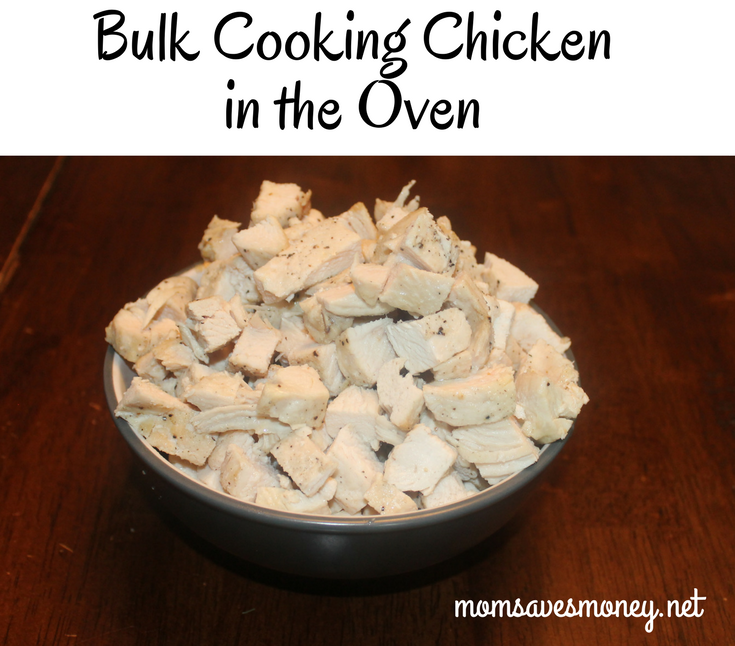 The epiphany that I had is to do what I do for my chicken fajitas, just don't use the fajita seasoning.  It's literally placing raw chicken breasts on a cookie sheet, drizzling them with olive oil, salt & pepper and baking them.  MOISTEST chicken ever!  And it literally takes 5 minutes of effort from me.  Most of that time is from cutting open the packages of chicken.  LOVE IT!!!!!
Once they're cooked and cooled, pop the chicken into individual portions and freeze.  It'll make a lot of meals into much quicker meals!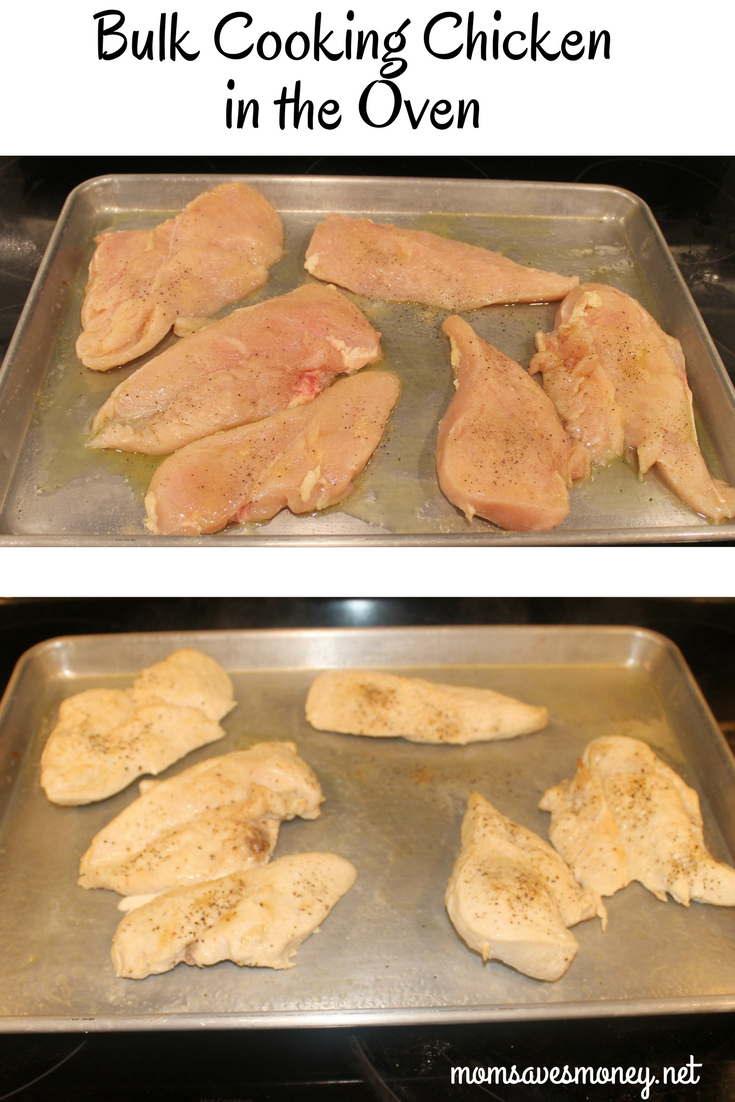 Bulk Cooking Chicken in the Oven
Cooking a lot of chicken is easily and quickly done in the oven!
Ingredients
chicken breasts

olive oil

salt

pepper
Instructions
Lay chicken breasts on a large sheet pan.

Drizzle on olive oil. Season with salt & pepper. Flip over and do the other side.

Bake at 425 for about 15-20 minutes. If you're doing a lot of chicken, you might need a little more time.

Check for doneness. Juices should be clear.

Shred while still warm with 2 forks. Or let cool a bit and dice up into pieces.

Once cooled, put into individual portions and freeze! (If desired.)
Jayme is a wife to 1 and a mother to four little boys. She tries to coupon, sometimes price matches, but always meal plans. While she likes to cook, she's in the stage of life where simple is usually better – she never knows how many hands she'll have free at dinner time! You can find her at No Regrets Living.