I made my own croutons the other day!  For some of you, this might not be a big deal.  Maybe you make absolutely everything homemade.  I'm not there yet.  (Maybe someday!) But I have made my own croutons – it's just been a long time.  The first few times that I made them, I just used leftover & stale French bread.  But this time?  I actually used my own homemade, fresh from the oven bread!  I tell ya what: the Jayme from 2 years ago wouldn't recognize Today Jayme.  That's both good and bad.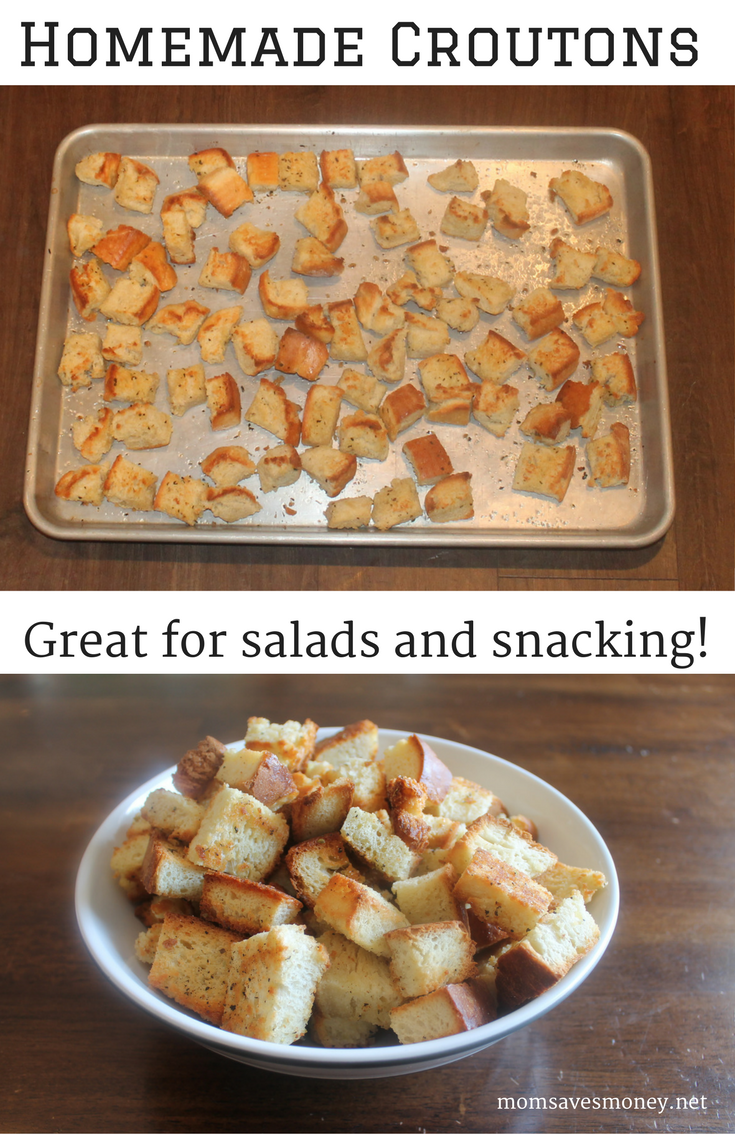 I didn't intend to turn my bread into croutons.  Imagine this: You've pulled a freshly baked loaf of homemade bread from the oven.  You set it on the counter to cool down.  Your 2-year-old climbs onto the counter and takes a decent-sized handful out of the middle of the loaf.  He's quite happy because the bread is awesome!  You're not happy cause that was supposed to be for sandwiches.  Doh!
Onto Plan B for the Bread.  I just reached into my recipe archives and made croutons.  Delicious!
Now they weren't as perfect as if you started with actual French bread (or at least a heartier bread than sandwich bread) – especially since my bread was literally fresh out of the oven, but they were great.  We used them in a meal (that I'll share later), but then we also snacked on them over the next couple of days.  My boys (4 of them under the age of 6) all loved them.  So the next time you find yourself with an extra chunk of bread and want to make something fancy, try this!  (Or turn it into garlic bread — that's awesome too!).  I've actually been making them now intentionally to eat as a snack!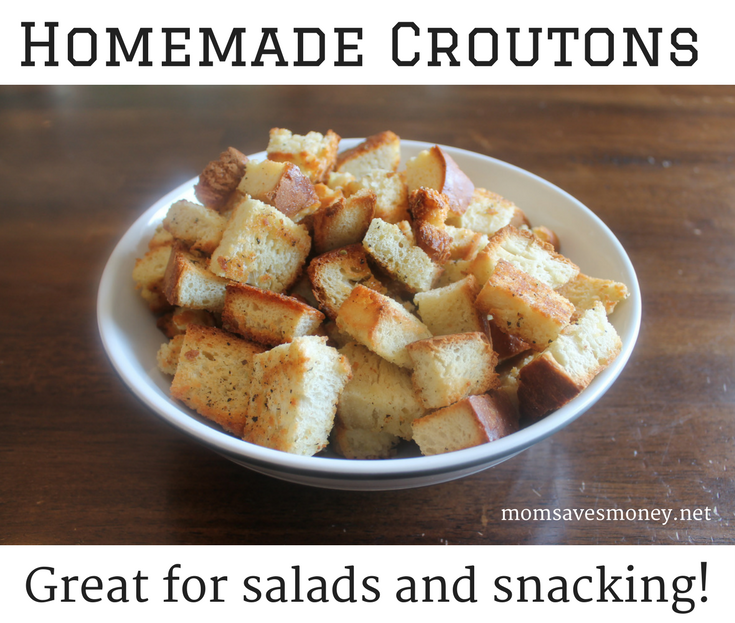 Homemade Croutons
A great use of leftover bread - especially bread that's a little stale.
Ingredients
1

loaf

bread (French, homemade, something hearty)

olive oil

garlic powder

salt

pepper

basil

oregano

red pepper flakes (optional - definitely would add a kick!)
Instructions
Cut bread into cubes about 1 inch square.

On a large cookie sheet, spread bread cubes and sprinkle with olive oil. Don't overdo it, but be a little generous.

Sprinkle with seasonings - garlic powder, salt, pepper, basil and oregano is what I use.

Bake at 400 degrees for about 12 minutes.

Let cool before devouring!
Jayme is a wife to 1 and to four little boys. She coupons, but isn't super extreme about it. She price matches and loves it! While she likes to cook, she's in the stage of life where simple is usually better. She never knows how many hands she'll have free at dinner time. You can find her at No Regrets Living.