Another great week of deals on school supplies! Make sure to buy some extra school supplies to get through the whole year since these next few weeks will be the lowest prices we see until the next year. It's always nice to buy extra for the classroom and your child's teacher too.
How to use this list: This is a compilation of the best deals with coupon matchups. The stock up and best deals are highlighted in red, so you can easily spot the best bargains!  Check out some DIY School Supply projects to make ordinary school supplies extraordinary and  more tips to save on back to school shopping. If you pack lunches every day for kids, here is a guide for lunchbox essentials.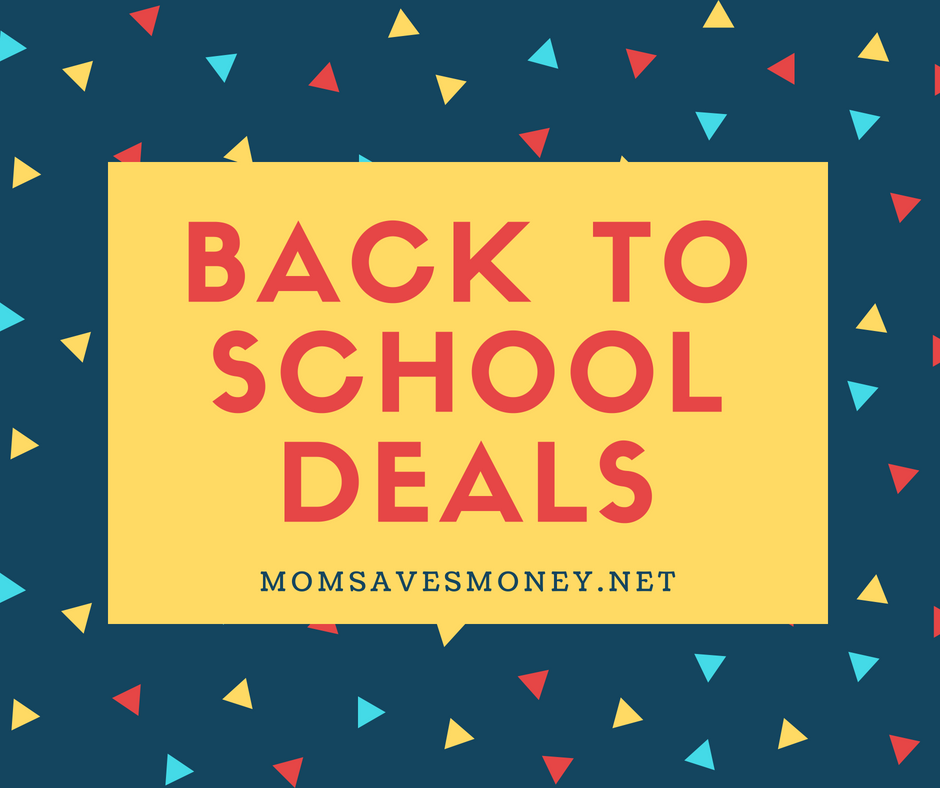 AMAZON
Stock up prices on school supplies – bookmark my Amazon shopping page for regularly updated deals.
DOLLAR GENERAL
Friday 8/31 Only – $5 off your purchase or $25 or more with in-ad coupon
2 pocket folders with prongs $0.25
Imagine glue stick large 1 ct or small 3 ct $0.25
School glue 4-5 oz $0.25
Imagine colored pencils 12 ct $0.50
Elmer's school glue 4 oz $0.50
Elmer's large glue stick 1 ct $0.50
Crayola crayons 24 ct $0.50
Mead 1 subject notebook ruled 70 sheets $0.50
Marble cover composition book $0.50
PaperMate inkjoy pens 8 ct $1.50
Expo dry erase markers 2 ct $1.50
Bic brite liner highlighters 5 ct $1.50 ($1 coupon from 8/26/18 SS = $0.50)
Bic gel-ocity pens blue or black 2 ct $1.50 ($1 coupon from 8/26/18 SS = $0.50)
Sharpie fine or chisel 2 ct $1.50
Crayola classic markers 10 ct $1.50
DG office view binders 1 in $2.00
DG office multipurpose paper 200 ct $2.50
DG office view binders 1.5 in $2.75
DG office view binders 2 in $3.75
Backpacks $5.00
OFFICE DEPOT/OFFICE MAX
Office depot spiral 1-subject notebook 70 sheets, limit 6 $0.25
Office depot 2-pocket poly folders with or without prongs, limit 12 $0.35
Office depot 2-hole manual pencil sharpeners $0.50
Office depot HB mechanical pencils 6 pack $1.00
Crayola markers 10 pack, limit 6 $1.00
Westcott kids scissors 2 pack $1.00
Bic round stic grip xtra-comfort ballpoint pens, 12 pack, limit 12 $1.50 ($1 coupon from 8/26/18 SS = $0.50)
Scholastic liquid glue 32.4 oz $2.00
Sharpie accent tank highlighters 4 pack $3.00
Sharpie permanent markers 24 pack $10.00
SHOPKO
2 pocket folder, limit 24 $0.17
Notebooks 70 ct, limit 18 $0.19
Crayola crayons 24 pack, limit 4 $0.50
Filler paper 150 ct, limit 4 $0.79
Dixon 20 ct #2 pencils, limit 4 $0.99
Avery 1″ binder, limit 4 $0.99
Crayola 8 ct watercolors, limit 4 $1.99
Crayola washable markers 8 ct, limit 4 $1.99
Paper mate mechanical pencils 6 ct $1.99
Five star binder $12.99 ($1.50 coupon from 7/29/18 SS = $11.49)
STAPLES
Staples presharpened pencils #2 30 pack $2.49
Bic round stic ballpoints pens 60 pack $4.00 ($1 coupon from 8/28/18 SS = $3.00)
Expo dry erase markers 4 pack $4.00
Staples presharpened pencils #2 72 pack $6.00
Sharpie permanent markers 12 pack $6.00
TARGET
Up & up pronged folder $0.50
Five Star paper folder $0.99 ($1/2 coupon from 7/29/18 SS = $0.49 each)
Up & up wood pencils 24 ct $1.19
Up & up index binders 5 ct $1.49
Elmer's disappearing purple glue sticks 6 ct $2.29
Fulton bag co lunchbox $9.00
WALGREENS
Wexford multipurpose paper 400 sheets $3.50
Sharpie or Expo markers or pens 4-8 pack $4.99