Kitchen Hack (noun):  Refers to a shortcut found in the kitchen.  A tip or a technique that makes one's life easier, specifically when it comes to organizing or preparing a meal.
I love grilling out, but I'm not much of a grill master. My husband does pretty good, but we still don't grill often. With a young family, it's easier if we eat right when my husband gets home and it's too hard for me to keep an eye on the boys AND an eye on the grill. So, when I want the taste of something that's usually grilled, I try to figure out a way to make it in the oven (or I just wait for the weekend when my husband is home!)
That's what I do with cheeseburgers. And that's what I do with kabobs. I just put the kabob meat in a simple marinade for a few hours, them spear them up, and bake them! Is it exactly like it is on the grill? Nah, but it's still really, really good.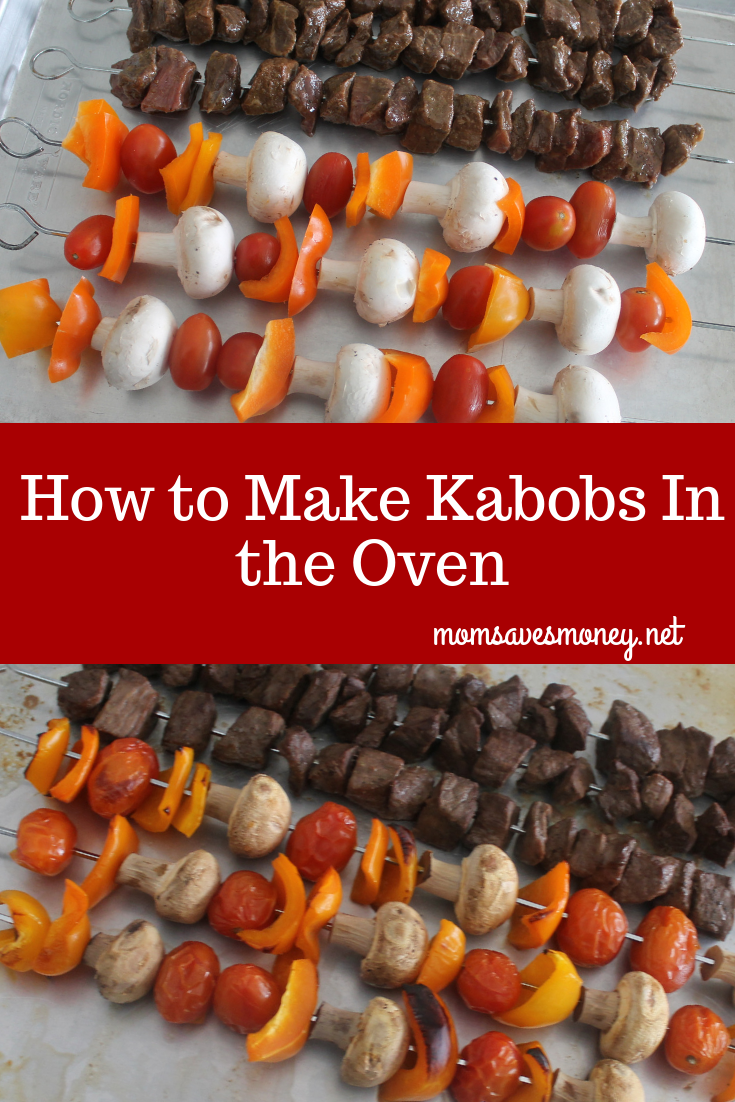 You can use this marinade or another that you like. This one is pretty simple and we like the flavors, but pick whichever one you want. This marinade is enough for 2-3 pounds of steak.  If you're making much less than that, only make 1/2 the marinade – that will be plenty!
You can also marinade the vegetables if you want to really bump up the flavor, but it isn't required.
How To Cook Kabobs In The Oven
Steak Tips & Veggies in a Homemade Marinade
Ingredients
2-3

lbs

Steak, Cut into large cubes

Vegetables - cherry tomatoes, zucchini, mushrooms, bell pepper, onion, etc
Marinade Ingredients:
1/2

cup

olive oil

1/4

cup

Worcestershire Sauce

1/2

cup

Apple Cider Vinegar

1/2

cup

soy sauce

1/3

cup

lemon juice

1

teaspoon

pepper

1

Tablespoon

dry mustard
Instructions
Combine marinade ingredients in a large container. Add steak and marinade 2-24 hours.

Chop veggies into pieces.

Thread veggies and meat onto metal kabob skewers. I like to do meat alone in case it needs more time to cook than the veggies, but you can put both meat and veggies onto the same skewer.

Place onto metal baking sheet.

Bake in oven at 375 degrees for 20-30 minutes depending on how thick your veggies & steak were cut.

Turn every 10 minutes or so to ensure even cooking.
Jayme is a wife to 1 and a mother to four little boys. She tries to coupon, builds a smart stockpile, and always meal plans. While she likes to cook, she's in the stage of life where simple is usually better – she never knows how many hands she'll have free at dinner time! You can find her on Instagram.