This recipe was born out of a desire to have cheesecake, but I wasn't in the mood for a cherry topping like I normally am.  Nah, I was in the mood for chocolate!
Now, I know that some people in this world actually make a chocolate cheesecake.  I would like to meet those people.  I would like to be one of those people.  But I haven't not yet become one of those people.
Til' then, I just made my normal no-bake cheesecake and used some random Snickers I had in my freezer.  What!?  You don't have Snickers in your freezer!?  I don't understand – Where do you hide candy from your kids, if not the freezer?
Seriously though, frozen Snickers are pretty good.  (Really, all Snickers are pretty good!).  Reese's Peanut Butter Cups are probably the best when frozen, just in case you're wondering.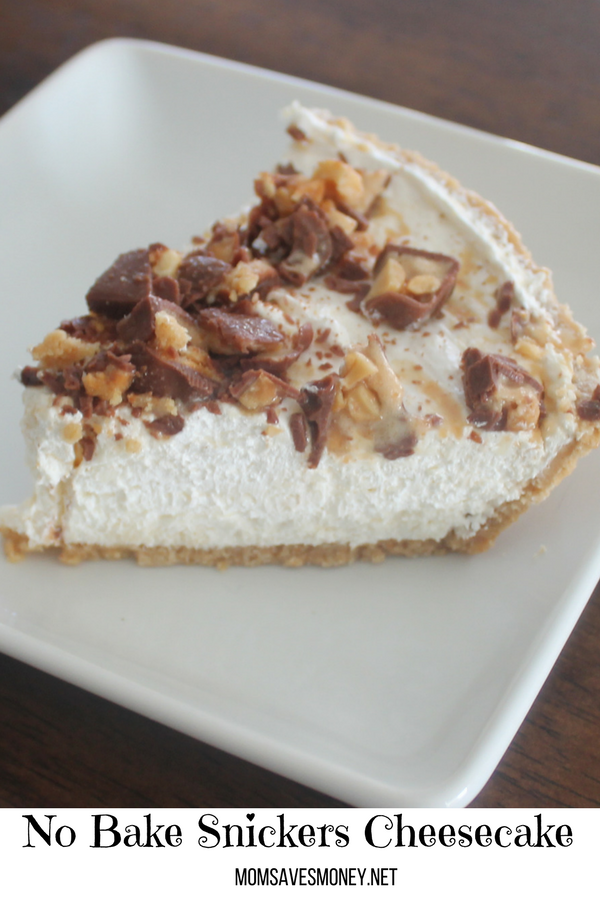 Like I said, this No Bake Snickers Cheesecake is just my normal No Bake Cheesecake, but with snickers on top.  You can use a different kind of candy (but maybe not Starburst or something fruit-y…although I wouldn't judge).
If you wanna get all crazy, you can drizzle more caramel sauce on top.  Or chocolate sauce.  Or even chop up some of the candy bars for the inside of the cheesecake (again, I don't judge!).
But what you must do?  Eat this cheesecake!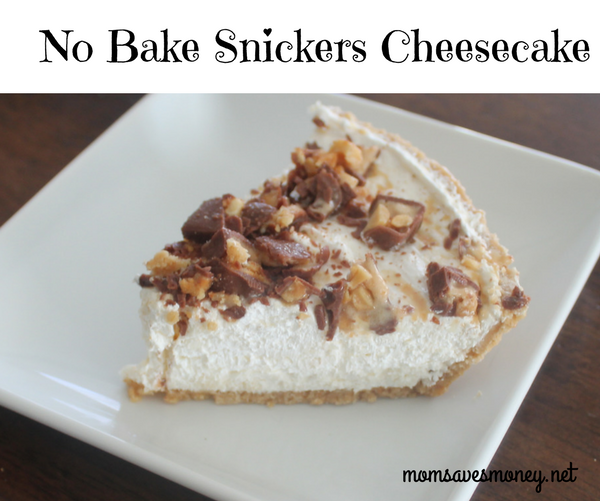 Check out our roundup of 12 amazing fall desserts for more incredible and easy dessert recipes.
No Bake Snickers Cheesecake
Top this no bake cheesecake with Snickers or your favorite candy for an easy and delicious dessert
Ingredients
Ingredients:
9

inch

graham cracker pre-made pie crust

2-3

Snickers Bars, chopped
Filling Ingredients:
8

ounces

cream cheese, softened

1/2

teaspoon

vanilla extract

6

ounces

Cool Whip

3/4

cups

Powdered sugar
Instructions
Mix the cream cheese, vanilla and powdered sugar together.

Fold in cool whip.

Place the filling mixture into the pie crust.

Top with chopped Snickers bars

Chill in fridge for at least an hour.
Jayme is a wife to 1 and a mother to four little boys. She tries to coupon, builds a smart stockpile, and always meal plans. While she likes to cook, she's in the stage of life where simple is usually better – she never knows how many hands she'll have free at dinner time! You can find her on Instagram.