Disclosure: Contains affiliate link. All opinions are mine.
Alexa skills for kids are fun, educational, and interactive! My family loves playing music and reading Audible books with Alexa, but there are many more amazing Alexa skills just for kids. I'm sharing our 10 favorite Alexa skills for kids that you should try today.
You can add Alexa to any room with a simple Amazon Echo Dot. Amazon even makes an Echo Dot Kids Edition with a 2 year worry-free guarantee, a kid-friendly case and 1 year of FreeTime Unlimited. You can even get an Echo Auto and take Alexa on your next road trip!
With these Alexa skills, kids can dance, learn animal sounds, settle a court case or start a lemonade stand. If they love to read, Alexa will read them a bedtime story or take them on a fun imaginative journey. And, moms rejoice, because Alexa has a skill to make teeth brushing fun!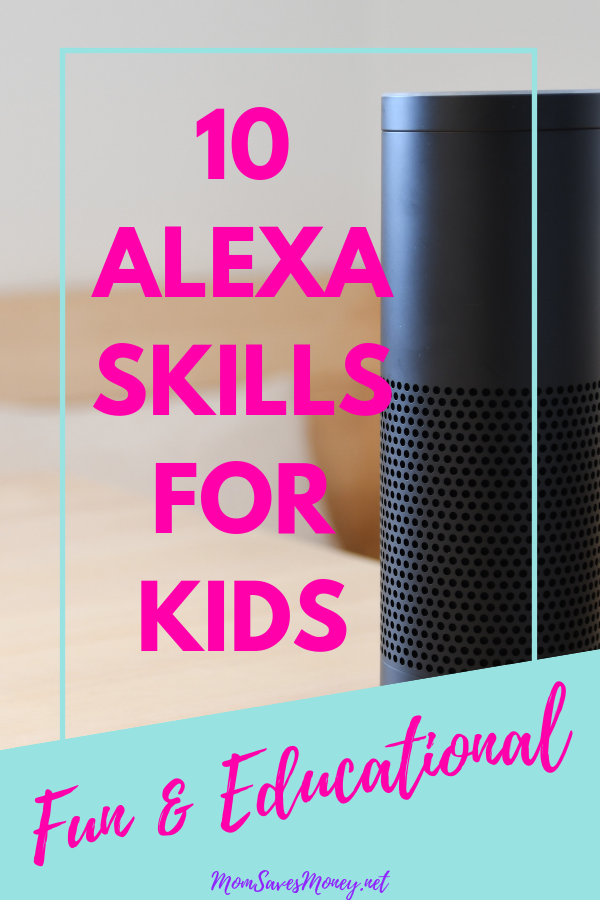 "Alexa, Animal Workout"
Welcome to animal workout, where you are no longer a human, but an animal. Alexa guides kids to pretend they are animals and gives fun facts about each animal. After learning about how each animal acts, Alexa plays exciting music to give kids a chance to practice being that new animal. This is educational and fun!
"Alexa, Read me a Bedtime Story"
This is my kid's favorite feature of Alexa. She will read you a random bedtime story. Best part is many of the books she reads are professionally narrated with background sounds and fun.
"Alexa, Freeze Dancers"
This is a game that is essentially the old school game of 'Freeze'. Playing fun music, kids gets to move to the music. When it stops, Alexa prompts "Tell me now, who moved?"
"Alexa, Kids Court"
Alexa guides kids to run their own court trials. They can settle their own case or hear about previous trials. Using real legal jargon, kids learn the inner workings of a courtroom in a fun way.
"Alexa, Lemonade Stand"
Start your own lemonade stand business with $5. Alexa will share the weather forecast and cost per cup. Kids decide how many cups of lemonade they make each, how much money they spend on advertising and how much they will charge for each cup. Using real business terms, like expenses, profit and advertising, kids learn the basics of running a business.
"Alexa, Let's Brush our Teeth"
Chompers is a tooth brushing show with riddles. This skill guides kids through brushing their teeth in a fun way.
"Alexa, Magic Door"
This takes kid on an imaginative journey. Alexa guides them through a visualization exercise and then gives them prompts to pick their own adventure. Kids can pick their own path to find the magic door, each with a unique story.
"Alexa, Animal Sounds"
This skill will pick a random animal and give you a few fun facts about that animal. Then, kids can hear the sound that animal makes.
"Alexa, Knock Knock"
Try this skill for a fun, kid-friendly knock knock joke.
"Alexa, Tell me Fart Jokes"
So, this skill is not educational, but kids love it. Alexa tells a series of really awful fart jokes including, "Did you fart? Because you just blew me away". If your kids are like mine, they will also quickly discover that Alexa has a large catalog of fart sounds. You're welcome.
Leave a comment and share more Alexa skills your kids love.