OH MY STARS! I am so, so, so very happy that I stumbled onto this recipe. Listen to me talking like it's a new recipe that I just found.
It isn't. I've had it all along!
See, I like chocolate desserts. Well, my husband REALLY likes chocolate desserts. And I bake for a decent sized group of people often – mostly mine or my husband's co-workers. Occasionally for my MOPS group.
When I cook for a fairly large group, I love using my half-sheet pans. They just produce a lot of desserts with pretty minimal effort. What's not to love?
I had a Monster Cookie Bar recipe. I had a Salted Nut Roll recipe. A Pumpkin Bar recipe. A Mississippi Mud Brownie recipe. A Sugar Cookie Bar recipe. A Banana Bar recipe. Oh yes, I had all kinds of options.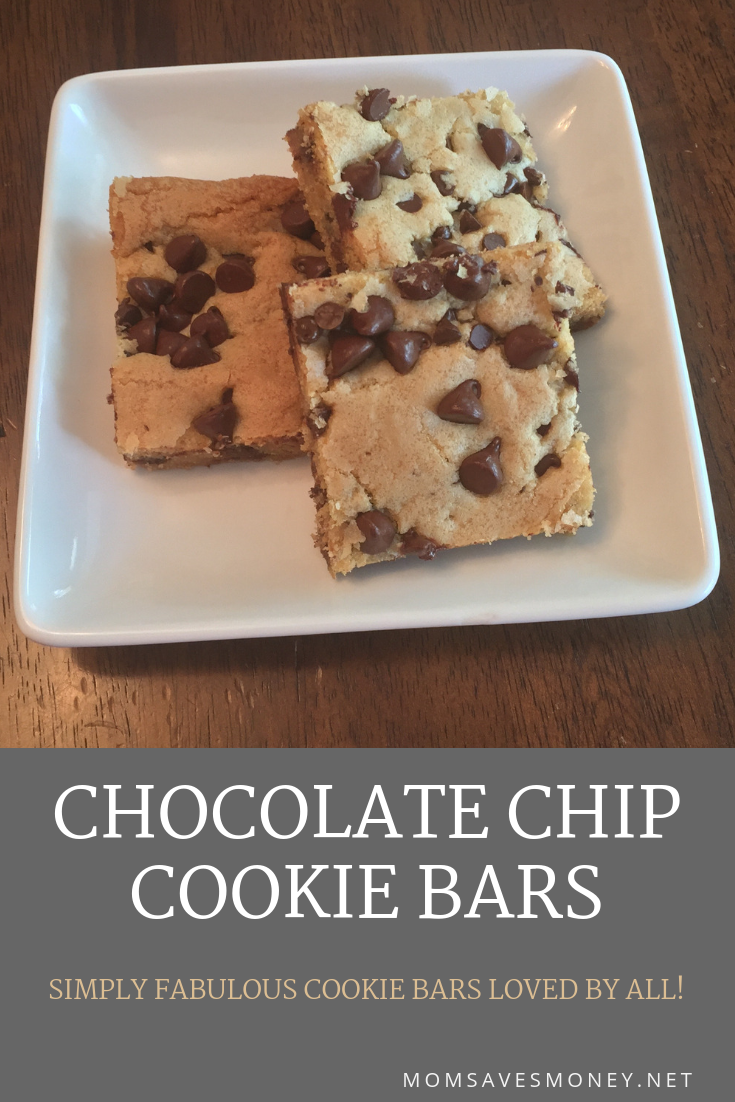 But I really wanted a chocolate chip cookie bar recipe. Kind of like a Monster Cookie Bar without all the stuff that made it Monster (the peanut butter, the oatmeal, the M&Ms). I had one in a 9×13 size, but that didn't quite make as many bars as I wanted to. So, one day, I just said "Forget it! I'm going to experiment."
So I did. I just took my normal made-for-a-9x-13-pan-chocolate-chip-cookie-bar recipe and made 50% more. IT WAS PERFECT!!! I even like it better this way – the bars are thinner, making them easier to hold and easier to eat. They're just everything that I wanted them to be!
Since then, I've made them several times. They're honestly my new Go To recipe because they're just so stinking easy and so wonderfully tasting! In fact, I made a batch for the teachers at my son's school and he came home with an A that day – it wasn't even report card time! (Kidding, but they did love them!)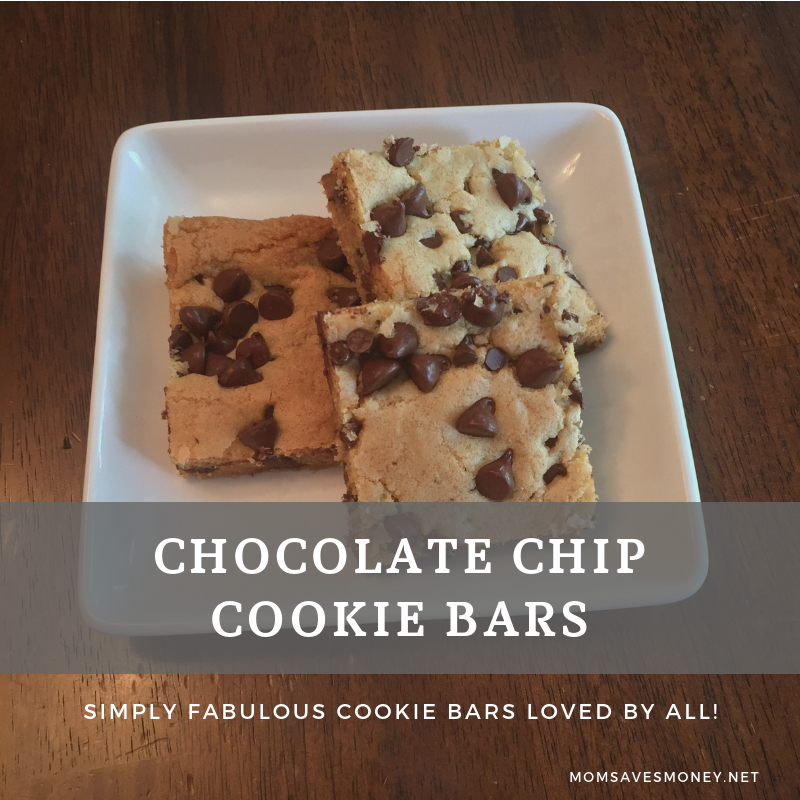 Chocolate Chip Cookie Bars - For a Crowd!
Delicious chocolate chip cookie bars made in a half-sheet pan (jelly roll pan).
Ingredients
3 3/4

cups

flour

1 1/2

tsp

baking soda

1

tsp

salt

1 1/2

cup

oil

1 1/2

cup

brown sugar

3/4

cup

granulated sugar

3

eggs

1 1/2

tsp

vanilla

2 1/2

cups semi-sweet chocolate chips/chunks
Instructions
Preheat oven to 350. In mixer bowl, beat together oil and sugars. Beat in eggs. Add vanilla.

Gradually beat in flour, baking soda and salt.

Mix in most of the chocolate chips. Spread into greased half sheet pan

Sprinkle remaining chocolate chips on top.

Bake for 15-20 minutes or until light brown.
Jayme is a wife to 1 and a mother to four little boys. She tries to coupon, builds a smart stockpile, and always meal plans. While she likes to cook, she's in the stage of life where simple is usually better – she never knows how many hands she'll have free at dinner time! You can find her on Instagram.