It all began one fateful day, when I had a surplus of soon to be overripe bananas and a hankering for a delicious bowl of rich and creamy ice cream. That was the moment that this amazingly healthy chocolate banana ice cream was born.
Yes, that's right. HEALTHY. ICE CREAM. I totally just put those two words in the same sentence. It's no lie folks. You can have your ice cream and eat it too.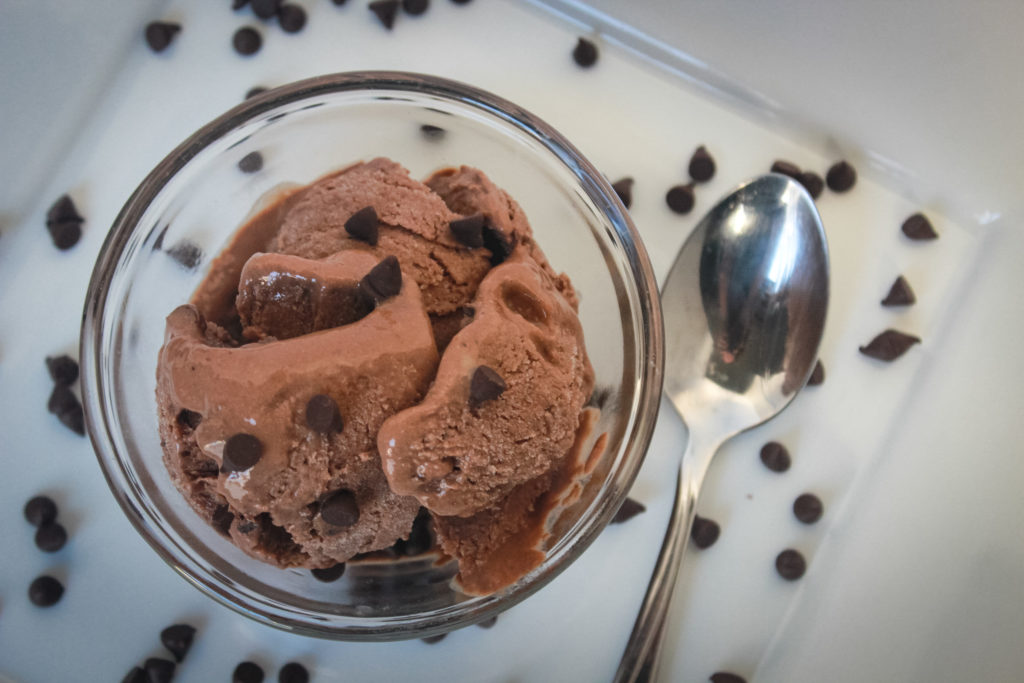 Now I'm sure some of you are already asking yourselves, "But WHY would you want to eat healthy ice cream when you can have the good stuff?" It's a fair question. Perhaps a little backstory would help?
So here's the deal. I have always had a bit of a sweet tooth. And when I say a bit, what I really mean, is: processed sugar and I have been in a long term, committed relationship for YEEEEEARS. The problem is… as much as I LOVE sugar, it really doesn't love me back. *insert all the sad sighs* So unfortunately, I've been hard at work cutting ties, and limiting the scope of our relationship.
As you may have guessed… this has been a long and painful process. The temptation to run back into sugar's sweet, delicious arms is STRONG. Give me all the chocolate covered everything… stat. #imnotcutoutforthis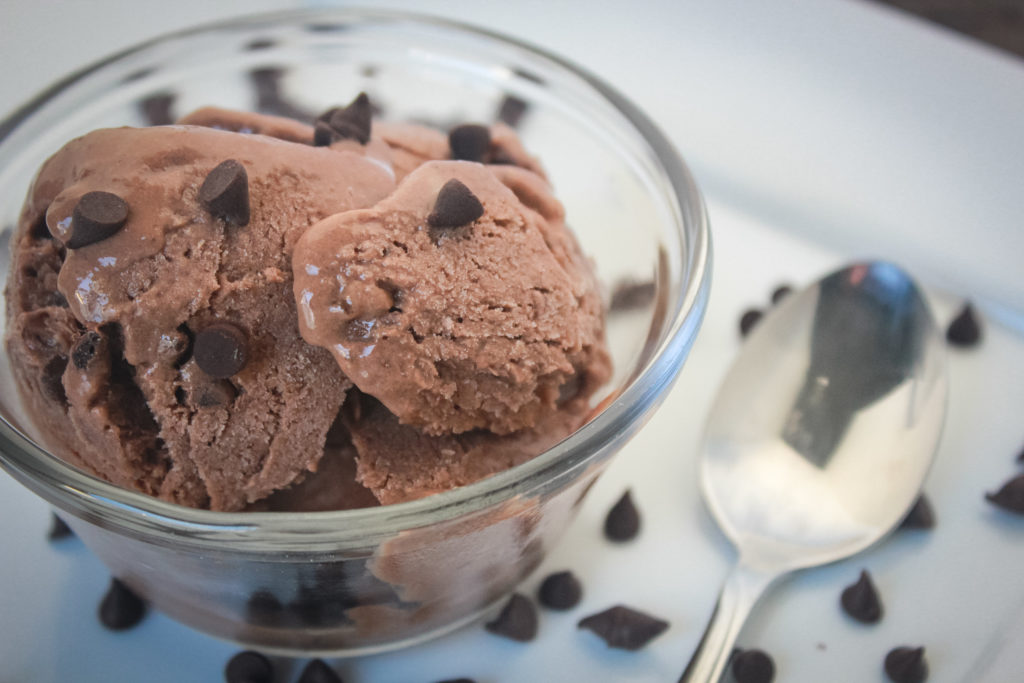 So when the day has been long, the children have been extra extra-y, and I finally get those sweet little nuggets to sleep, I long… pine… ache, for some sugary goodness. And this. THIS. My friends, is where this incredible chocolate banana ice cream swoops (scoops?) in to the rescue. Only 4 ingredients, minimal processed sugar, and it comes together in about 5 minutes in the blender. How can you go wrong?
Maybe you're like me and you need to kick sugar to the curb. Maybe you're looking for some healthier options to serve your kiddos. Maybe you just really like bananas. Whatever your motivation, you won't be sorry you gave this recipe a try. CREAMY. CHOCOLATY. HEALTHY. ICE CREAM. That's just a win no matter how you frame it.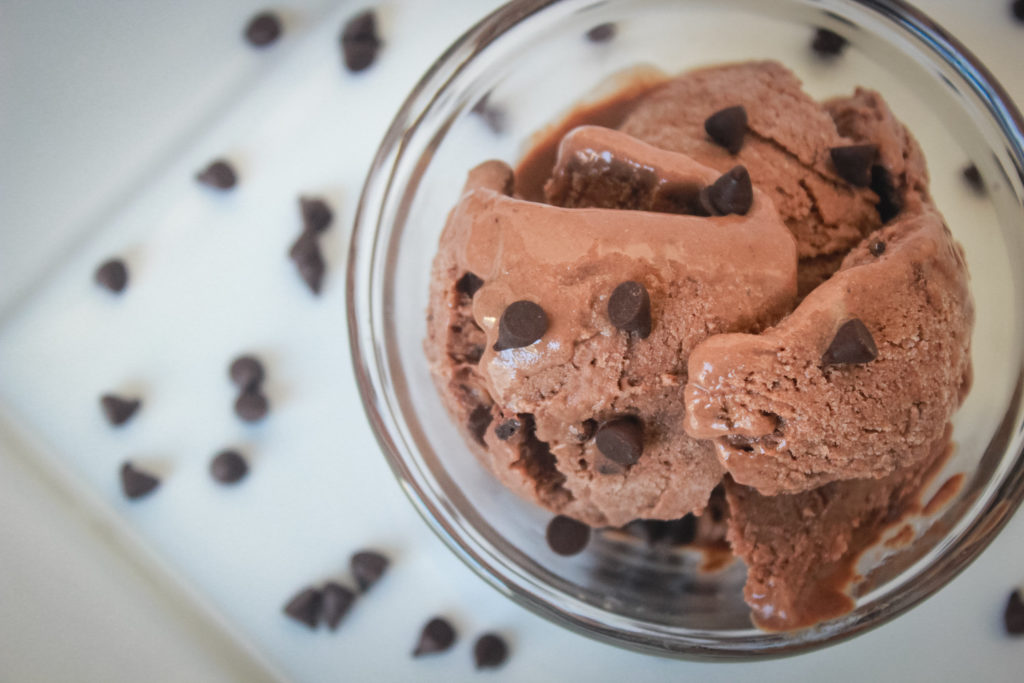 Chocolate Banana Ice Cream
Equipment
Blender or Food Processor
Ingredients
3

Large bananas cut into pieces

½

cup

Coconut milk

¼

cup

Cocoa powder

¼

cup

Coconut oil

Mini chocolate chips

optional
Instructions
Place all ingredients in a blender or food processor. Pulse until smooth. Mix in mini chocolate chips if desired.

Pour into a small container and freeze until solid.

Microwave for a few seconds before serving to soften.

Enjoy!
In the mood for more traditional creamy treats? Maybe you'd enjoy these Homemade ice cream sandwiches. Perhaps these Homemade "snowstorm" ice cream desserts. Or maybe an Ice cream cake is more your style. We all need a good indulgent treat now and then, so be sure to check these out!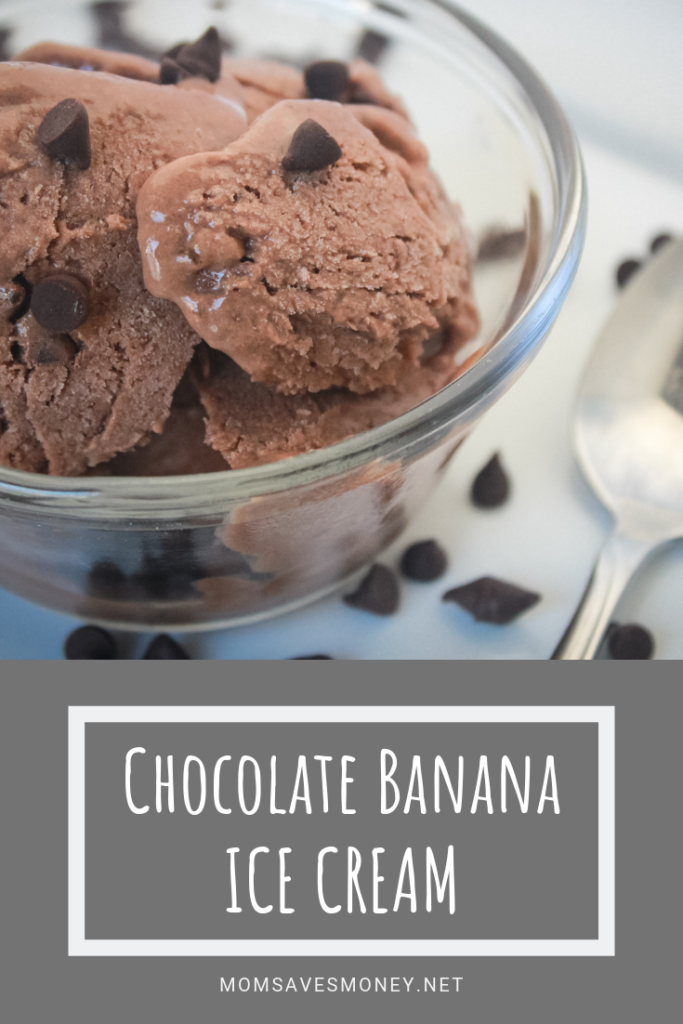 Jenny is a wife and stay at home mother of two. She loves good food, and enjoys experimenting in the kitchen. When she's not busy chasing kids, you can find her digging into a good book, enjoying the great outdoors, and trying not to kill her houseplants.