Soup season has arrived! How many of you out there love to fill up your meal plans with all the soups as soon as that cool weather shows it's face? It's one of the best things about fall, and this warm and creamy golden cauliflower soup is guaranteed to not only please your taste buds, but it might just warm your soul a little too.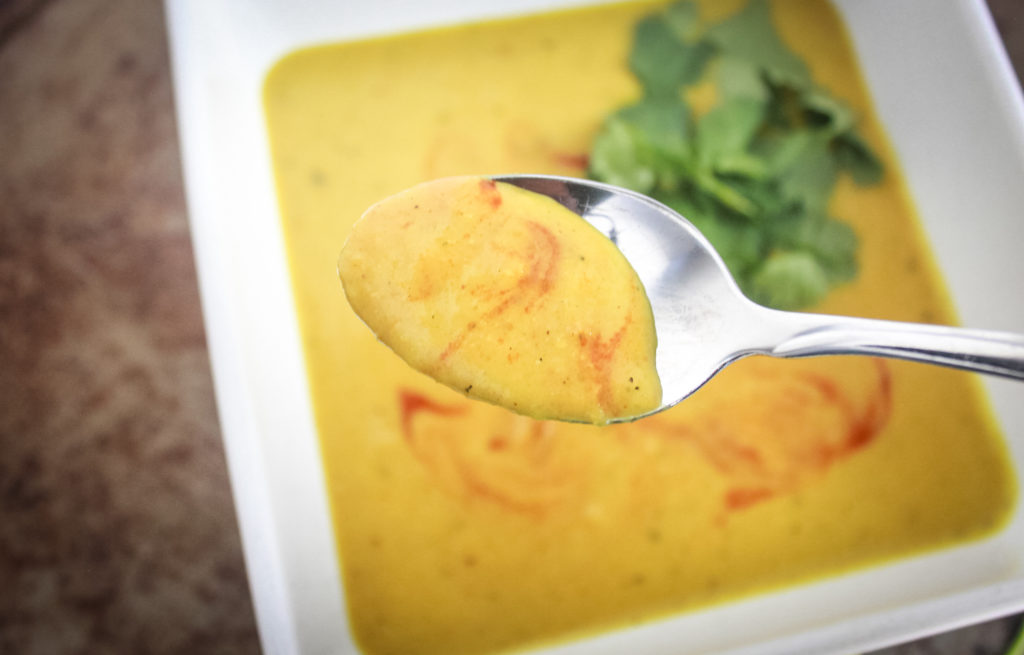 Now for years I've tended to stick with more traditional soups, like chicken noodle, tomato, or broccoli cheddar. Nothing wrong with that… they are delicious in their own right. But when I began to branch out and get a little more adventurous, trying things like Thai curry veggie soup, I realized there was a whole world of flavor out there that I was missing out on. This golden cauliflower soup is no exception. I have become a huge fan of coconut and turmeric based recipes, so anything that combines the two is a win in my book.
Not only is this soup incredibly delicious, it's actually a great choice if you're feeling under the weather, as turmeric, ginger, garlic and chicken broth all have immune boosting properties. I tend to up the garlic and ginger if a cold has descended upon our house… cuz I'm all about using natural remedies when possible.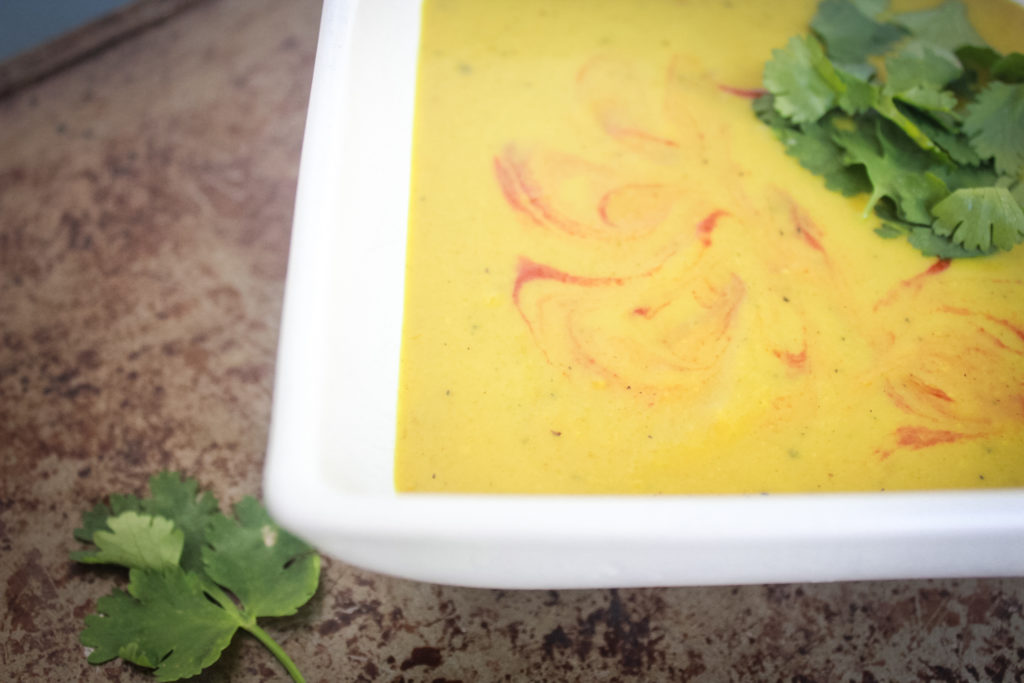 Okay, so a few tips to make this recipe friendlier to the busy moms out there. Buy yourself some pre-minced bottles of ginger and garlic, and pre-chopped cauliflower, and this meal will come together so quickly. Also, I personally think that adding some sriracha or sambal olek brings this soup to complete perfection, but if you or your kiddos are not fans of spicy food, feel free to leave it out. I conditioned my kids in the womb to love spicy food (#pregnancycravings), so they don't bat an eye to a little heat.
Golden Cauliflower Soup
Ingredients
1

Tbsp

avocado or coconut oil

1

large onion

dice

4

tsp

minced garlic

1

Tbsp

minced ginger

1

Tbsp

ground turmeric

1

Tbsp

ground cumin

1

Tbsp

flour

1

head cauliflower

cut into florets

3

cups

chicken or veggie broth

1

can coconut milk

2

tsp

rice vinegar

2

tsp

sriracha or sambal oelek

optional

salt and pepper to taste
Instructions
Heat the oil in a large stock pot over medium heat. Add the onion, garlic, and ginger and cook for about 5 minutes, stirring frequently.

Add the turmeric and cumin and stir to evenly coat. Cook for 2 minutes.

Add the flour and cook for another minute.

Slowly whisk in the chicken stock, stirring constantly. Bring to a simmer.

Add in the cauliflower and cook for 10-15 minutes or until the cauliflower is tender.

Remove the pot from the heat and carefully transfer the soup to a blender or food processor and blend until smooth. Or you can use an immersion blender.

Return the soup to the pot, and return to a simmer. Add the coconut milk, rice vinegar, and sriracha/sambal oelek. Season to taste with salt and pepper.

Heat until everything is warmed through, and serve. Enjoy!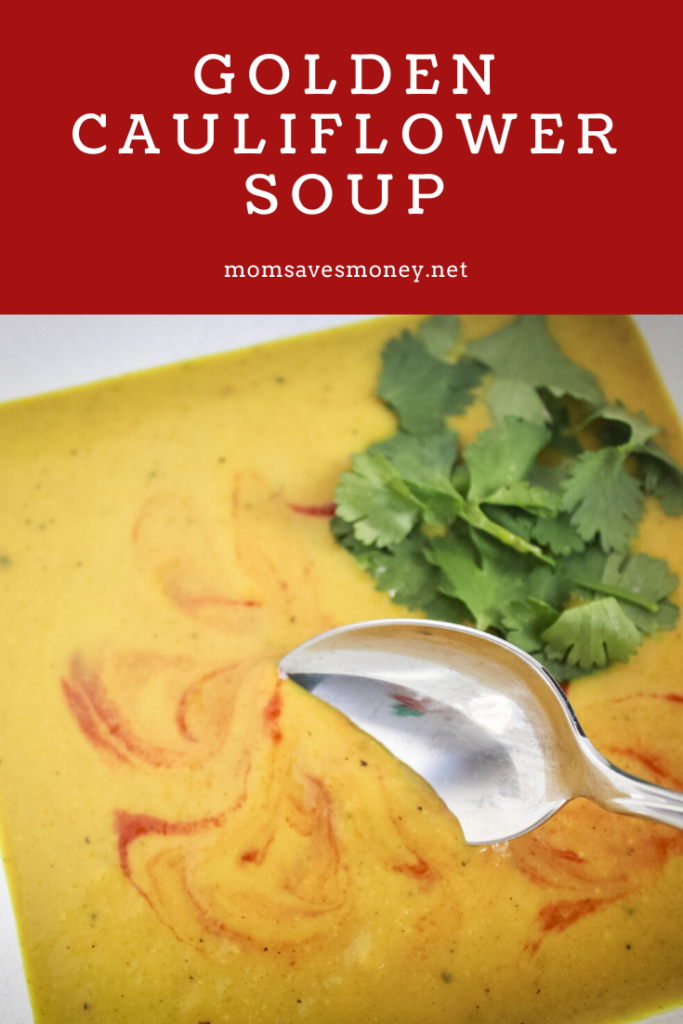 Jenny is a wife and stay at home mother of two. She loves good food, and enjoys experimenting in the kitchen. When she's not busy chasing kids, you can find her digging into a good book, enjoying the great outdoors, and trying not to kill her houseplants.