There's a group of people out there that would try to convince you that soups are meant for your winter menu.  As in, not meant for your spring or summer menu.  Maybe fall, but definitely not spring or summer.
They are also the same people who would also try to convince you that soups are meant for dinner. As in, not meant for breakfast.  Maybe lunch, but definitely not breakfast.
Those people are wrong.  Totally, completely, 100% wrong.  I love soup.  I love it in the winter.  In the spring.  In the summer.  In the fall.  I love it for dinner.  I love it for lunch.  I even love it for breakfast.  (I mean, hello!? If pizza can be for breakfast, why can't soup?  I rest my case.)
Soups are great, in my opinion, for many reasons.
They are usually simple and straightforward.
They usually don't have unusual or expensive ingredients.
They usually make for fabulous leftovers.
And, as an added bonus, they're usually really freezer-friendly!
But, just in case you are (or someone in your house is) one of those "soups are only for winter and for dinner" kind of people, here are some great soups and stews for you.  These are some of my favorites!  For what it's worth, they all have 'Jayme's Seal of Approval' (whatever that will get you).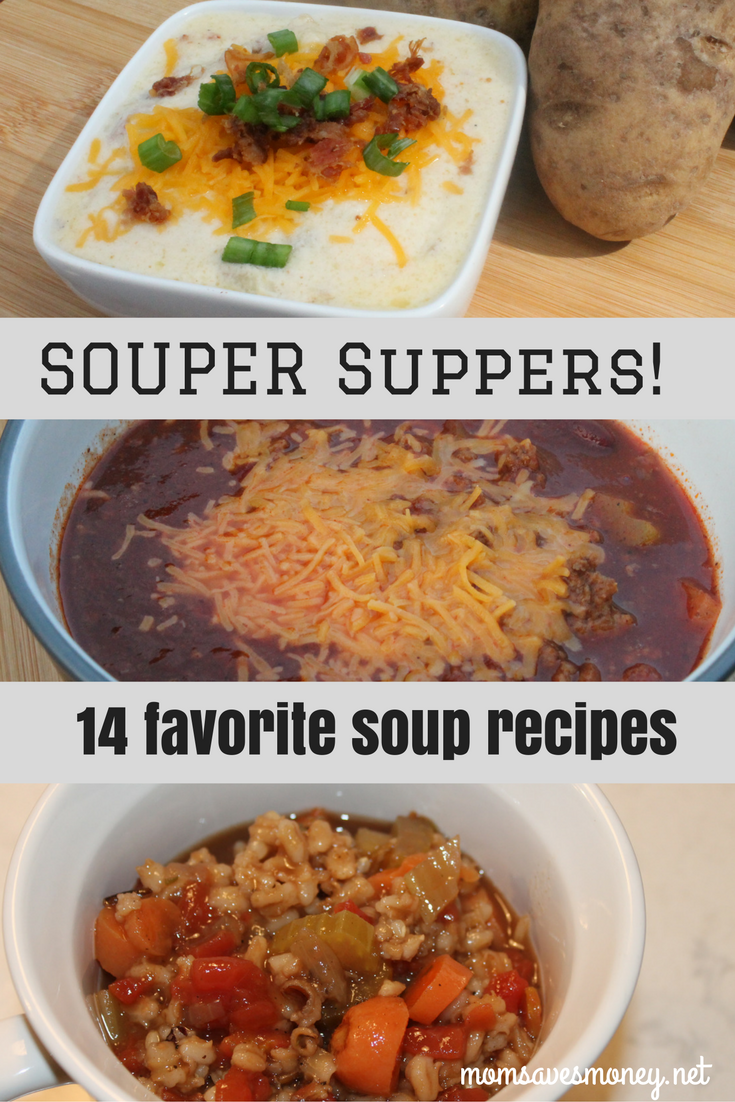 Beef, Veggie & Barley Stew – This is Hy-Vee's recipe and I adore it!  I really do.  I've modified it slightly, but I've never had a beef stew that I've liked more – and I've tried a bunch.  This is delicious. It's beefy.  It's got barley!
Broccoli Cheese Soup – Another fantastic choice for the choosiest soup lovers amongst us.  What's not to love?  Broccoli?  Cheese?  It's got it all!
Cheesy Veggie Chowder – A great vegetarian option when you want a lighter tasting soup, but one still heavy on the flavor!
Chicken Noodle Soup – This chicken noodle recipe is one of the easiest and one that I make most often.  Sometimes, I add wayyy more noodles than I should and call it 'Sunken Chicken Soup'.  Love it!
Chicken Tortilla Soup – My husband loves this soup!  It has a nice-but-not-over-the-top kick to it.  You can always add more spice if you like more heat, but, as written, it's a great entry in your soup collection.
Ham & Bean Soup – Great way to use leftover ham!  Say around Christmas or Easter time?  Add some beans and you have a fun, but frugal meal!
Hamburger Veggie Soup – This is a "poor man's" version of beef stew since it calls for ground beef instead of stew meat.  It has common vegetables and comes together quickly!
Italian Sausage Soup – With Cheese Tortellini – I don't make this soup enough.  It calls for cheese tortellini, but it's great without it.  Since it's tomato-based, it makes wonderful leftovers!
Loaded Baked Potato Soup – So delicious.  The creaminess.  The cheesy-ness.  The bacony-ness.  It's love in a bowl.
Slow Cooker Chili – Chili!!!  Perfect for football games. We always make a bowl before trick-or-treating each year.  Make more than you need, then you'll have chili dogs or chili cheese nachos the next day!
Slow Cooker Ham & Potato Soup – Another fantastic way to use leftover ham!  Instead of beans, use potatoes.  Simmer in the slow cooker and love your meal!
Slow Cooker Sausage & Potato Soup – This is a great soup when you want a soup that feels like you got it at a restaurant, but you made it yourself. Maybe while in your pajamas. Maybe while hosting a football party. Maybe while holeing yourself up in your house avoiding holiday crowds. Your call!
Taco Soup – It's like a more festive version of chili!  Like chili, it's tomato-based with beans.  But it's got a Mexican flair that sets it apart.  I love it with cheddar cheese, a small handful of Frito chips and (gasp!) a dollop of sour cream!
Thick & Hearty Vegetable Barley Soup – Still vegetarian, but with some heft.  This is the soup you want when you want a steaming cup of vegetables and hearty barley.  You won't even miss the beef!
Jayme is a wife to 1 and to four little boys. She coupons, but isn't super extreme about it. She price matches and loves it! While she likes to cook, she's in the stage of life where simple is usually better. She never knows how many hands she'll have free at dinner time. You can find her at No Regrets Living.