Who is in need of a simple weeknight meal that is homemade, comes together in about 30 minutes, gets your kids to eat some veggies, is incredibly delicious, and meatless Monday approved?!? Oh, you too?! Well, hey then, let me introduce you to this mouth wateringly scrumptious BBQ Cauliflower pizza! With just 5 ingredients, it can't really get much easier!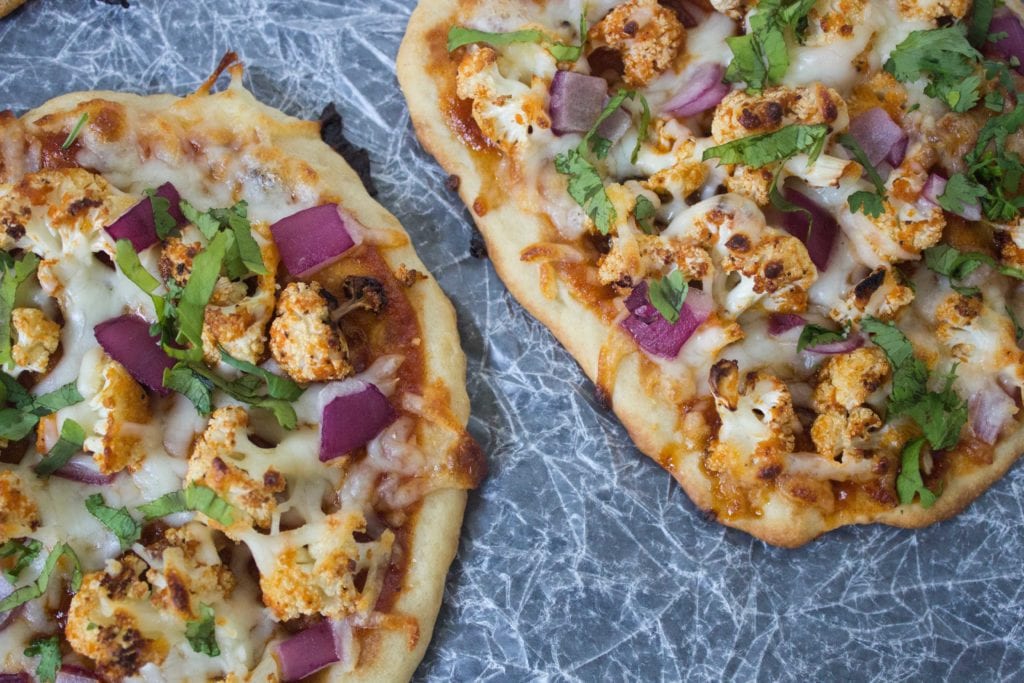 One of our favorite family meals has always been BBQ chicken pizza. It's just really easy to make homemade, and so tasty! But one day I was trying to figure out how to up the veggie intake of my offspring (okay who are we kidding, I need to eat more veggies too) and I wondered how cauliflower would taste as a sub for the chicken. So I tried it. And all I can say is: holy wow. My taste buds were doing a happy dance. (not literally, because that would be concerning)
But seriously, cauliflower has such a meaty texture, which makes it a perfect sub for chicken in this instance. And it's so good for you too! Just think of all those extra vitamins and minerals you and your kiddos will be getting! You can also cook a true veggie pizza, but with this recipe, the kids won't even realize they're eating cauliflower – it's that good!
What I love about this "recipe" (if you can even call it that), is that its so customizable. You can use YOUR favorite crust, and YOUR favorite BBQ sauce and YOUR favorite cheese. You can even try to get all sneaky on your kids (or husband) and mix up some cauliflower and chicken together. #guilty. We are a naan crust, homemade bbq sauce, mozzarella cheese family over here, with a healthy dose of cilantro on top. We enjoy trying different homemade pizza recipes and this one is a keeper.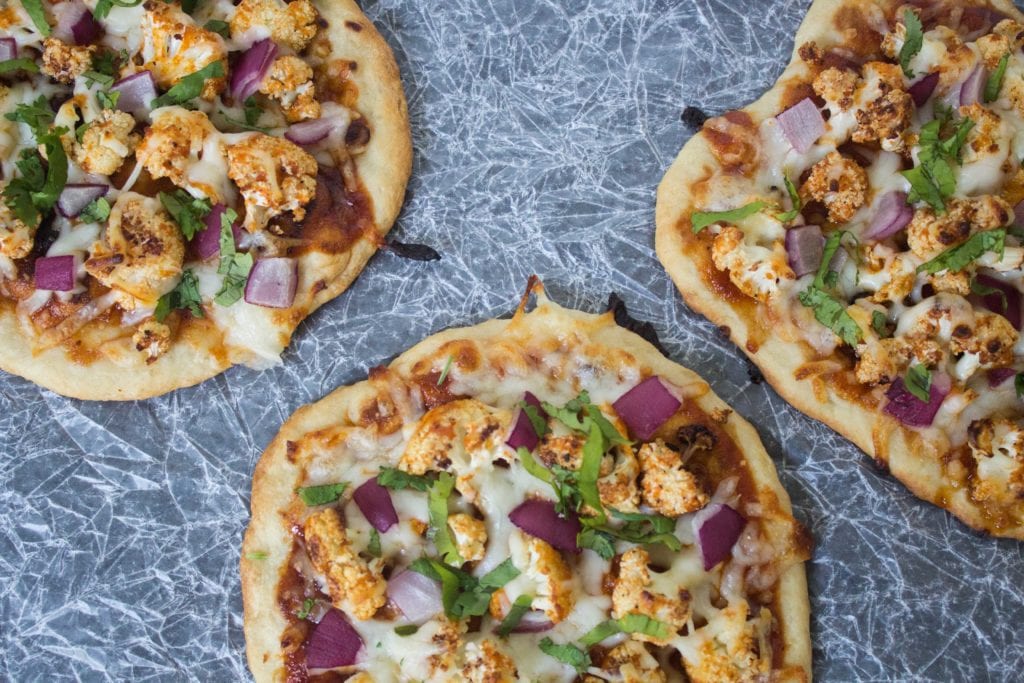 Pro-tip: if you want to make this meal as easy as possible, buy your cauliflower pre-cut. Or, if you're like me and find a certain therapeutic je ne sais quoi about chopping your own, stick with the whole headed cauliflower approach. (I told you it was customizable!) However you choose to do it, just do it. Healthy, easy, quick, delicious. Those are the best adjectives a dinner could have, which just proves that bbq cauliflower pizza is where it's at.
Want more easy 5-ingredient recipes? Check out Jayme and Nicole's newest book Incredibly Easy Meal Plan and Cookbook with a six week meal, weekly shopping lists, kitchen tips, and 59 easy recipes.
BBQ Cauliflower Pizza
Ingredients
Pizza crust of choice

BBQ sauce of choice

Chopped cauliflower

I like mine pretty small

Shredded cheese of choice

Diced red onion
Instructions
Preheat your oven to 425, and line a baking sheet with a silpat or parchment paper.

Spread chopped cauliflower out on the tray and bake for 20 minutes.

While the cauliflower is roasting, cover your flatbread or pizza crust with bbq sauce.

Once the veggies are done roasting, drizzle with some bbq sauce and toss to coat.

Top your pizza with the cauliflower, then add the cheese and red onion.

Bake for 12-15 minutes or until cheese is melty and crust is looking crispy. Top with chopped cilantro if desired and serve. Enjoy!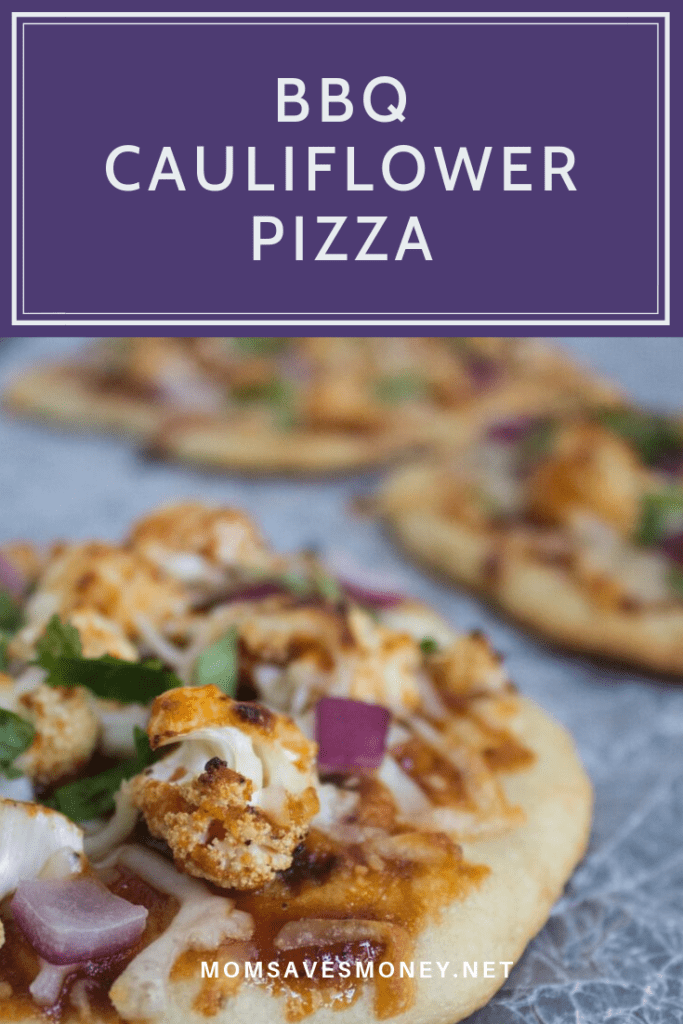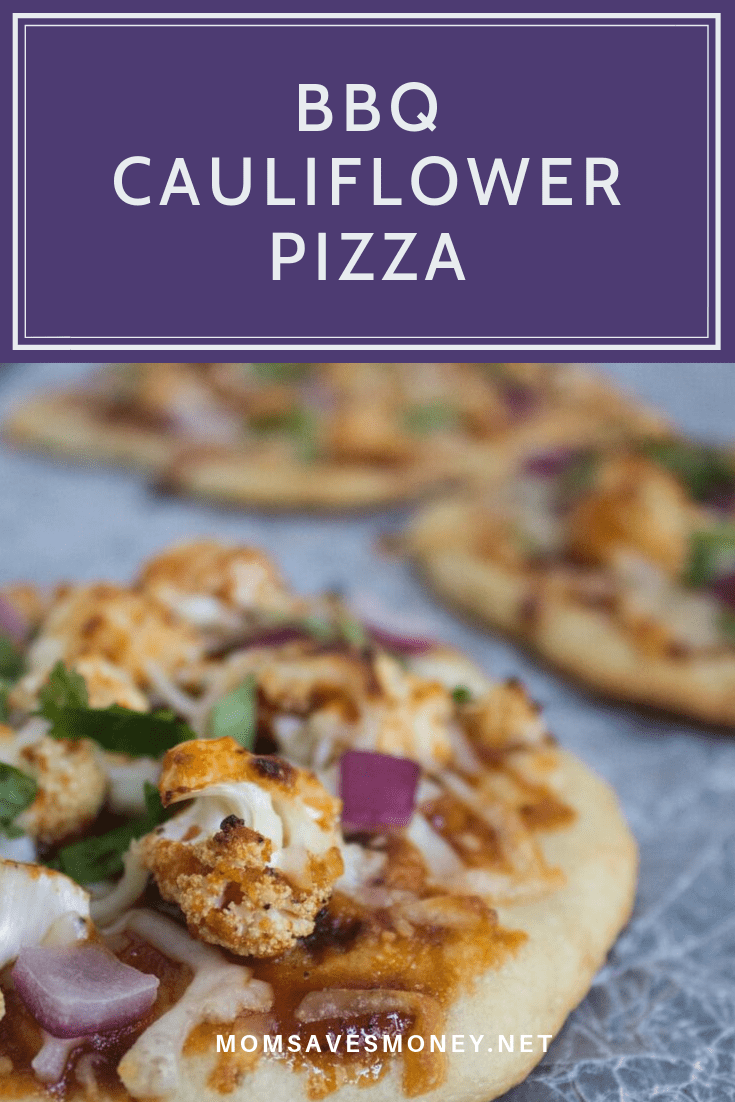 Jenny is a wife and stay at home mother of two. She loves good food, and enjoys experimenting in the kitchen. When she's not busy chasing kids, you can find her digging into a good book, enjoying the great outdoors, and trying not to kill her houseplants.