Where are all my pasta lovers at?! I confess, I'm that weirdo who doesn't really care for too many pasta dishes, but this Tomato Basil Pasta has my heart….mostly because it combines my three favorite words: Easy. Cheap. Delicious. I've been making this "recipe" for years now, and it packs a huge punch of flavor considering it only has 5 ingredients. (If you love 5-ingredient recipes as much as I do, make sure to check out 'Incredibly Easy 5-Ingredient Meal Plan and Cookbook' with 59 recipes.)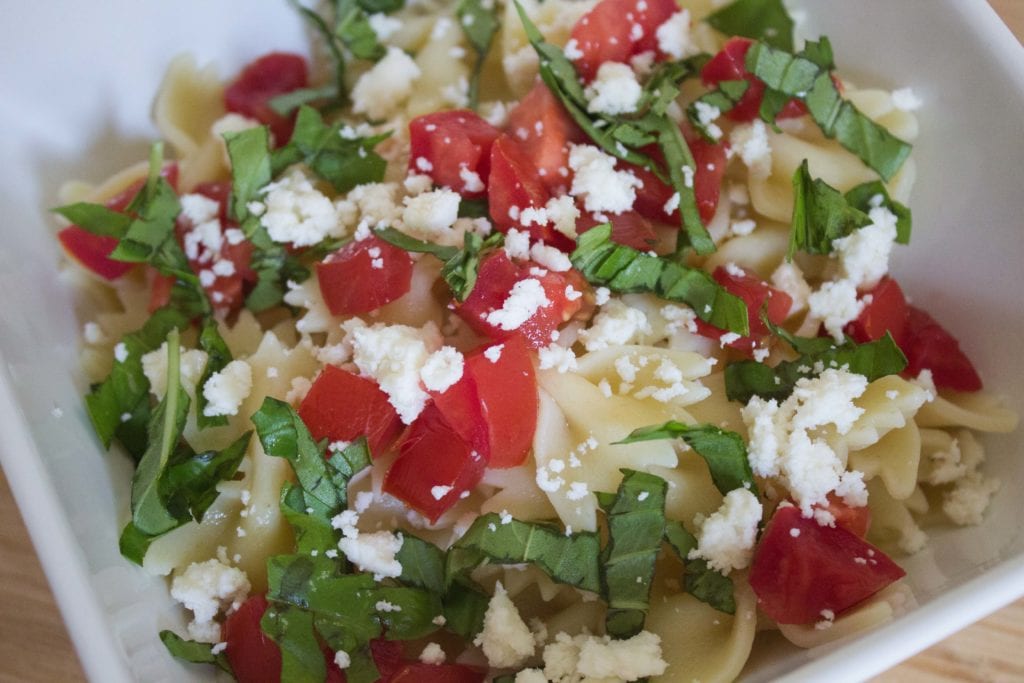 I mean, seriously….this is the meal I throw together when I have unexpected company over, or am feeling too tired to really bother with dinner. Everyone I've served it to has remarked how tasty it is….and I am never shy about sharing how easy it is to whip up.
If you want to get this deliciousness into your mouth, here is ALL you need:
14oz package of farfalle pasta uncooked
3-4 roma tomatoes diced
A large handful of basil leaves, chopped
1/2 – 3/4 cup cheese (I mostly use parmesan, but have also used feta or queso fresco)
Balsamic vinaigrette to taste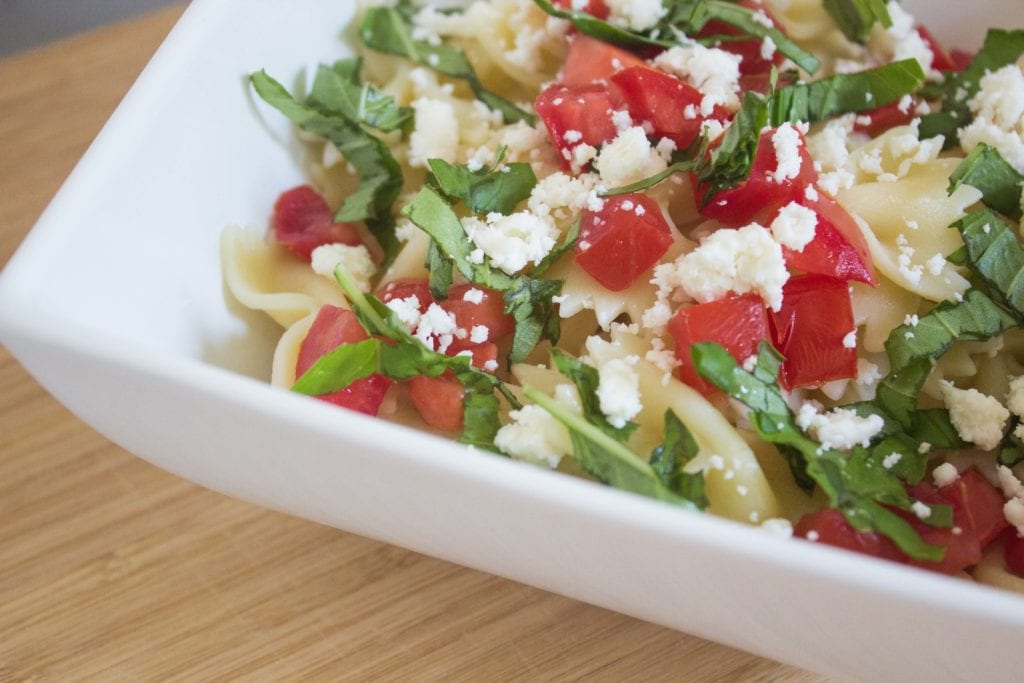 Cook your pasta according to package instructions. Then strain it and run it under cool water until the pasta is cold. Alternatively you could chill it in the fridge for 30 minutes. I actually felt SO LAME when I realized that I could just run it under water to cool it…..I'm not sure I want to mention how many years I thought my only option was to toss it in the fridge.
Anyway……place your cooled pasta in a large bowl, and top with diced tomatoes, fresh basil, and cheese. I prefer to let people add their favorite balsamic vinaigrette to each bowl so they can have as much or as little as they like. That's it! Dinner is served! This is perfect for a hot summer night, summer barbecues or a quick meal after a busy day. I actually just make enough pasta for individual servings all the time, so feel free to adjust however works best for you. Happy Munching!
If cold pasta salads are your jam, try our cheesy bacon ranch pasta salad, this incredibly simple pasta salad, or this delicious bow tie pasta salad. With all these pasta salad options, you'll be ready for summer barbecues and potlucks.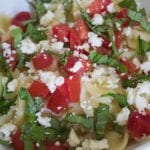 Easy Tomato Basil Pasta
Ingredients
14

oz

package of farfalle pasta

3-4

roma tomatoes

diced

large handful of basil leaves

chopped

1/2

cup

parmesan or mozzarella cheese

balsamic vinaigrette to taste
Instructions
Cook pasta according to package instructions.

Drain pasta and cool by running it under cold water in a colander.

Add tomatoes, basil, cheese and vinagrette to pasta. Serve and enjoy!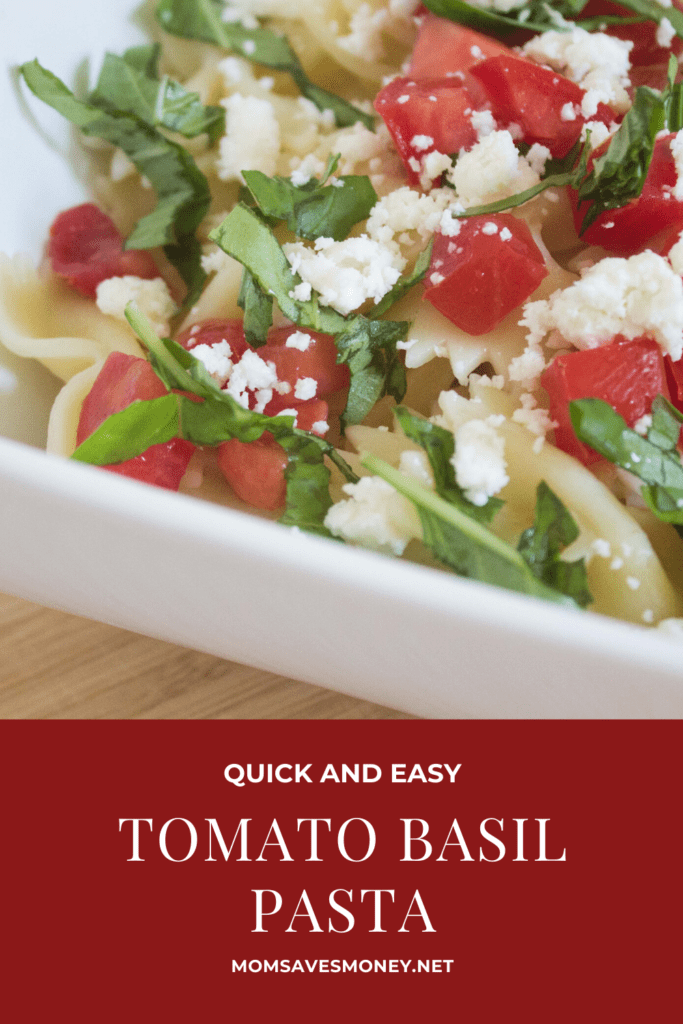 Jenny is a wife and stay at home mother of two. She loves good food, and enjoys experimenting in the kitchen. When she's not busy chasing kids, you can find her digging into a good book, enjoying the great outdoors, and trying not to kill her houseplants.