Okay….I feel like today is one of those days where I just have to share one of my favorite recipes ever. We don't do a lot of red meat in our house, as we just prefer the flavor of ground turkey and chicken and they're usually cheaper, but this is one of those rare, special exceptions I make. This balsamic steak salad is probably THE most delicious salad I've had in my entire life and it's a great recipe for leftover steak. It is literally exploding with flavor, and just makes my tastebuds scream with JOY!!!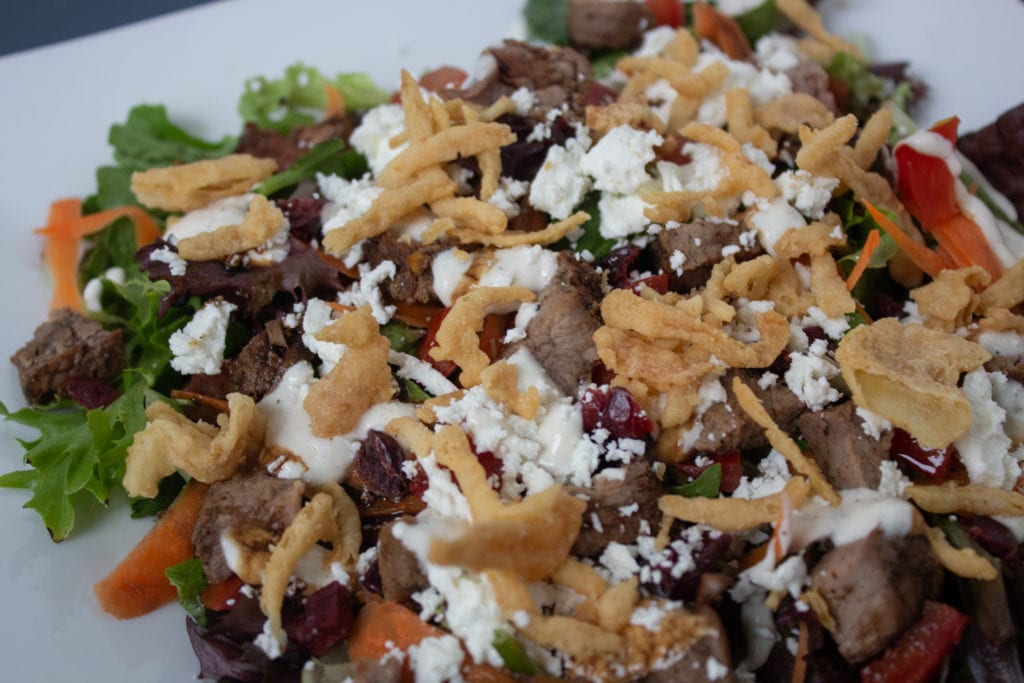 So backstory: My husband and I rarely get date nights, so whenever we go up north to visit my family, we always make sure to take advantage of the free babysitting. Almost every single time, we go to our favorite little restaurant that sits right on the shore of a beautiful lake. And every time, without fail, I order the steak salad. It is absolutely heavenly.
But since we sometimes go months without a visit, one day I decided that I had to try and make my own version. And ya'll. It did not disappoint! In fact, I've actually come to prefer my own version…especially after the restaurant changed the recipe and I just don't like it nearly as much now. Biggest upside? I pay $30 at this fancy restaurant for one giant serving. At home I pay half that for 4-6 servings (depending on what my husband decides a serving looks like that day…ha!)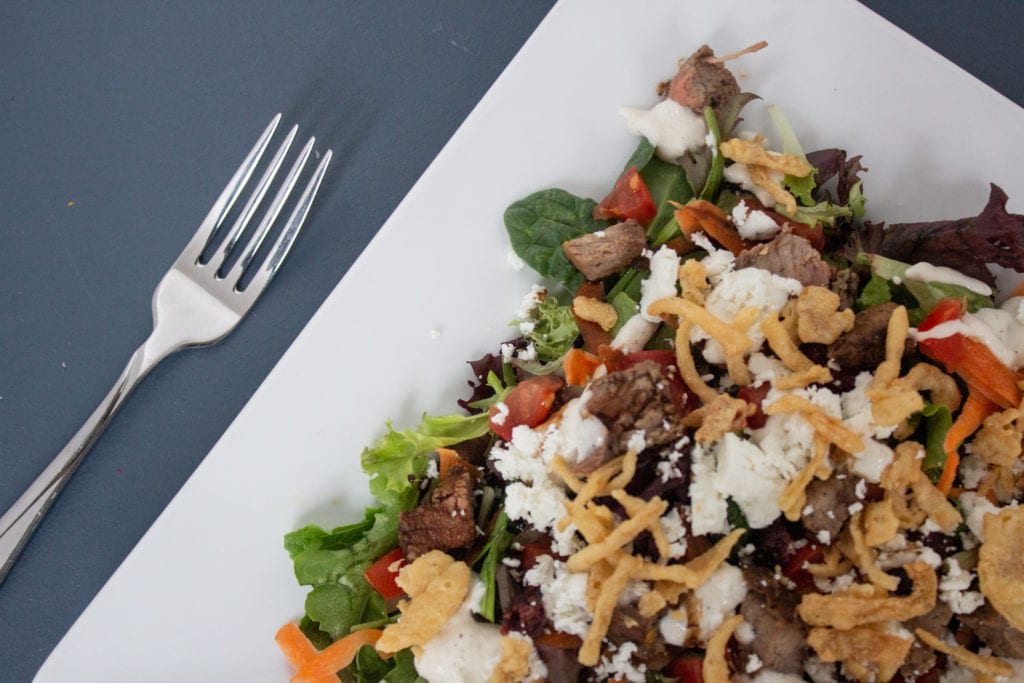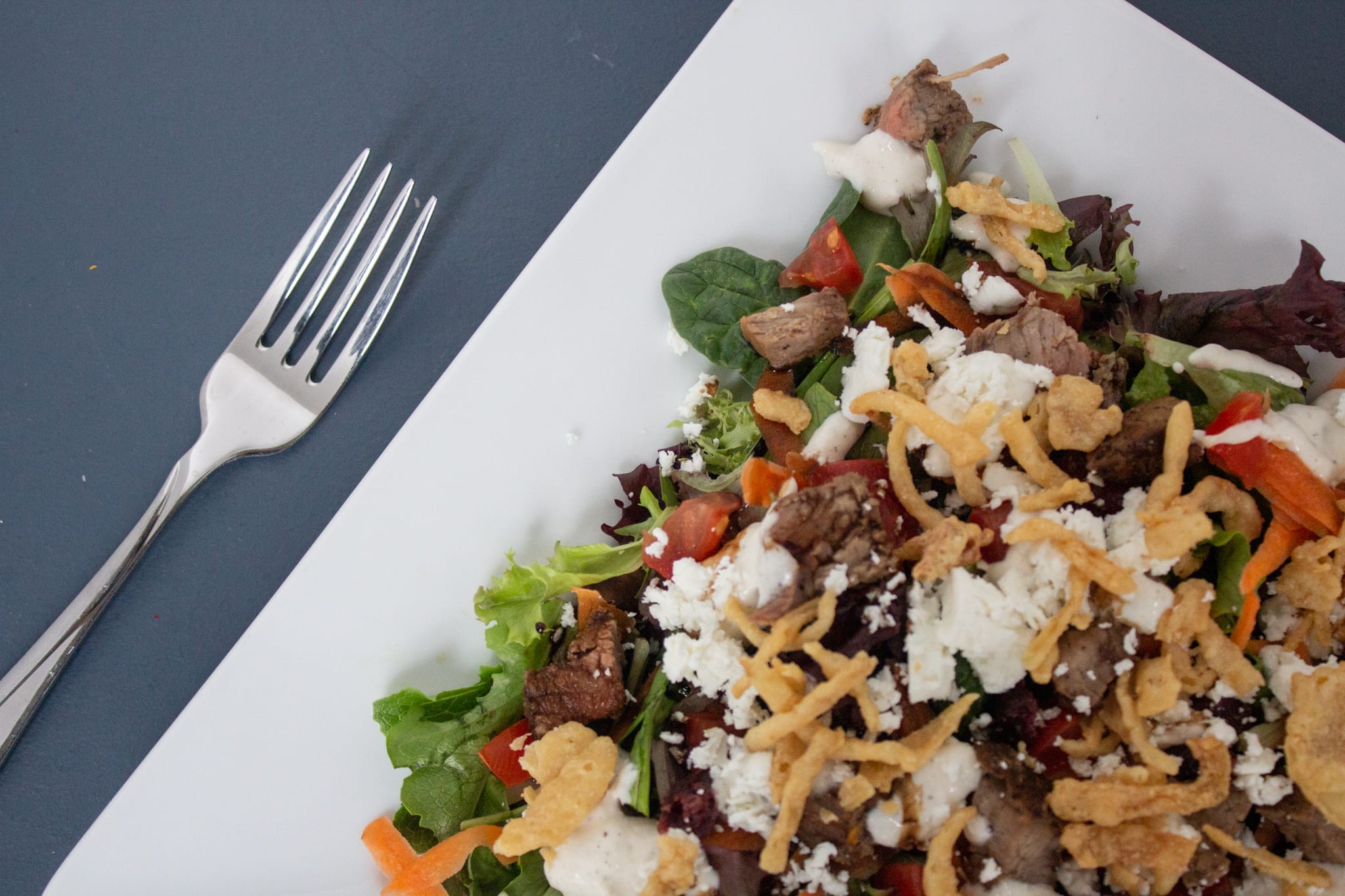 One other important thing to note about this "recipe." I really never consider a salad a recipe. Maybe the dressing if it's homemade. (This is my favorite 2-ingredient recipe for balsamic glaze.) But everything else is just sort of, toss however much you want in it to make it what you want! I've included my instructions for the horseradish aioli, but feel free to modify to your heart's content. I'm warning you though….once you have a taste, you will be addicted! Enjoy!
Balsamic Steak Salad with Horseradish Aoili
Easy and delicious steak salad. Great for leftover steak.
Ingredients
Salad Ingredients
steak

cooked and sliced or diced

mixed greens

shredded carrots

diced tomatoes

pickled red onions

dried cranberries

goat cheese

French fried onions

balsamic glaze

horseradish aoili
Horseradish Aoili Ingredients
1

tsp

horseradish cream

1

Tbsp

mayonnaise

1

Tbsp

plain Yogurt

generous squeeze of fresh lemon juice

dash of pepper
Instructions
Horseradish Aoili Instructions
Combine horseradish cream, mayonnaise, yogurt, lemon juice, and pepper in a small bowl and mix well. Serve. Refrigerate any leftovers.
Salad Instructions
In a bowl or large plate, layer your mixed greens, then add shredded carrots, tomatoes, onions, cranberries, goat cheese, and steak. Drizzle with horseradish aoili and balsamic glaze.

Sit down and enjoy!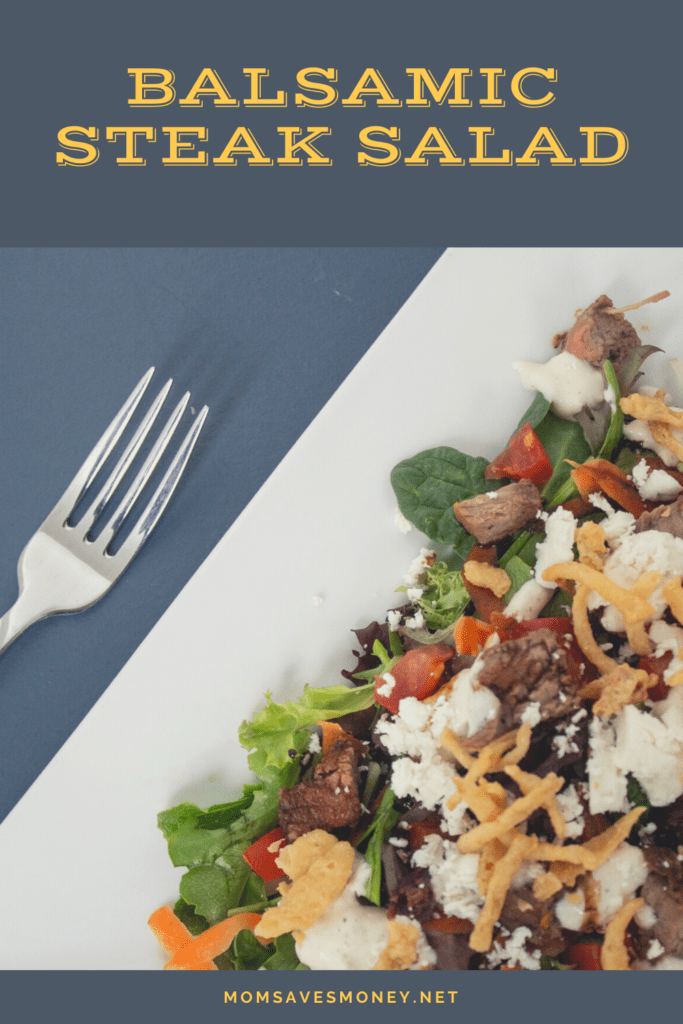 Jenny is a wife and stay at home mother of two. She loves good food, and enjoys experimenting in the kitchen. When she's not busy chasing kids, you can find her digging into a good book, enjoying the great outdoors, and trying not to kill her houseplants.