Is anyone else just living meal to meal… snack to snack these days? I mean, when you're home all day every day, everyone just wants to eat… and eat… and eat. #somucheating. At least that's how it goes at my house. I've become so weary of cooking. So enter these SUPER easy, SUPER delicious balsamic chicken wraps!
These babies were birthed after I had cooked up a large batch of homemade 2-ingredient balsamic glaze for my favorite steak salad, but I had a lot left over and was looking for ways to use it. Does anyone else ever do that? Sometimes the best meals come from throwing together random ingredients. As they say…necessity is the mother of invention. You gotta eat, so may as well make it an adventure!
Anyhow, I scoured the fridge and pantry and found some rotisserie chicken, some greens, carrots and dried cranberries. And the piece de resistance? Half a package of goat cheese! I just knew it was gonna be great. And it was. OH it was.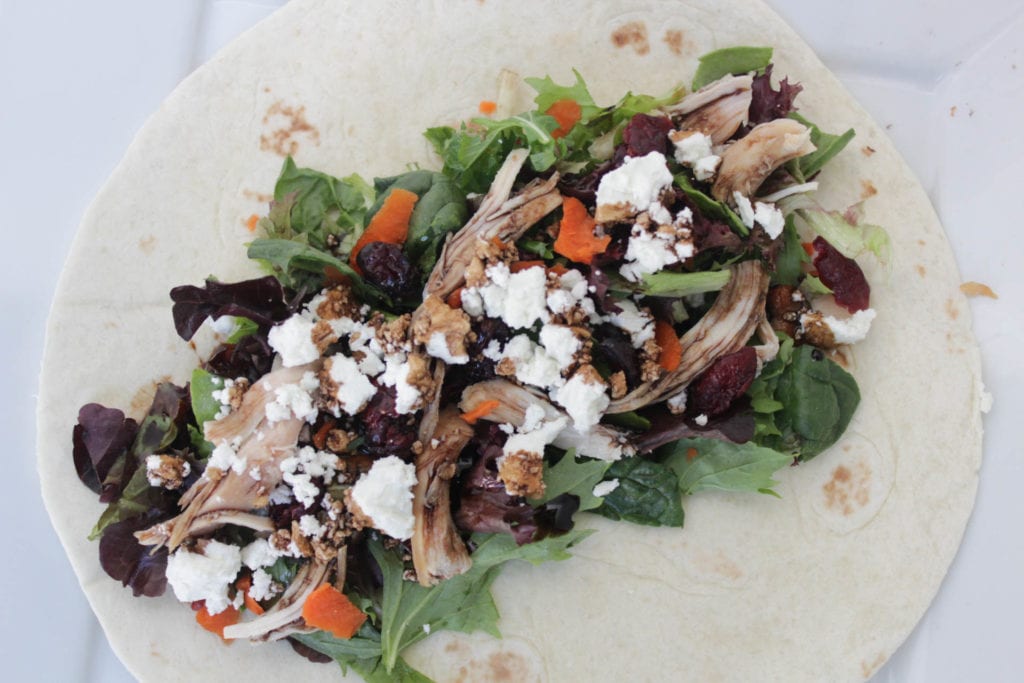 The best thing about these is that they require no measuring of any kind. You literally just throw it all together in ratios you find pleasing. So mine always have an abundance of goat cheese. My husband doesn't like it, so hurray! More for me! Unfortunately, my kids asked to try some for the first time the other day and LOVED it. So. Less for me. #shouldaseenthatcoming. It's all good though….they don't eat much. Yet. 
Anyway, I threw these ingredients inside a tortilla, because that's what I had on hand, but you could use them in any kind of wrap. Honestly it makes a great salad too if you're trying to cut carbs or just don't have any wraps on hand. I've had both and love it either way. So if you're looking for a quick and easy meal today, give this one a try!
This is a perfect recipe for leftover chicken or if you bulk cook and freeze diced chicken. Just shred or defrost the cooked chicken and add your ingredients for a quick and healthy meal!
Balsamic Chicken Wrap
A quick and healthy meal!
Ingredients
Cooked chicken

shredded

Mixed greens or spinach

Shredded carrots

Cranberries

Goat cheese

or cheese of choice

Balsamic glaze

Tortillas
Instructions
Place your tortilla on a plate, add greens, chicken, carrots, cranberries and goat cheese to taste. Drizzle with balsamic glaze, and serve. Enjoy!
Jenny is a wife and stay at home mother of two. She loves good food, and enjoys experimenting in the kitchen. When she's not busy chasing kids, you can find her digging into a good book, enjoying the great outdoors, and trying not to kill her houseplants.