Kitchen Hack (noun):  Refers to a shortcut found in the kitchen.  A tip or a technique that makes one's life easier, specifically when it comes to organizing or preparing a meal.
I think there are two kinds of people in this world: those that like shredded chicken and those that prefer diced chicken.  That might be a little unfair: I suppose there are also people who like both shredded and diced chicken.  And probably people who don't like chicken, no matter if it's shredded or diced.  Looks like we're up to at least four different kinds of people.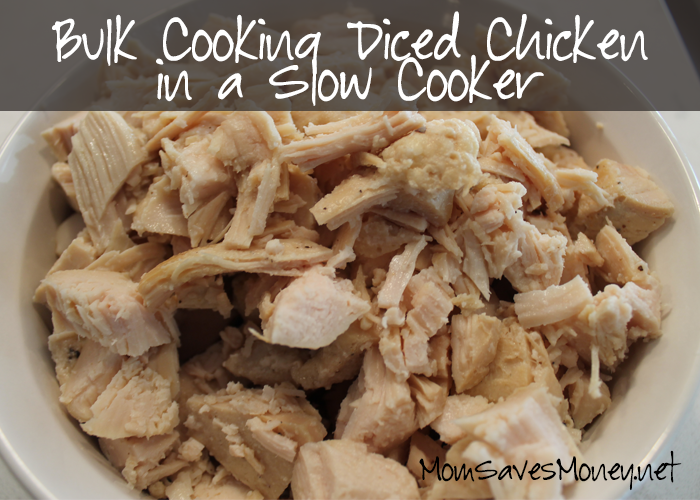 Well, I fall into the "I prefer diced chicken" group.  Why?  Doesn't it taste the same as shredded chicken?  I guess it does.  Maybe it's a texture thing?  I'm not sure of the reason, but whatever the case is, if you offer me a choice of chicken 10 times, I'm going to choose diced chicken every single time.  Every single time!
The good news is that just like you can make a bunch of shredded chicken in a slow cooker, you can also make diced chicken in the slow cooker.  And really, the cooking process is exactly the same — it's just what you do at the end that matters.  Isn't that great?  Shred some!  Dice some!  Either way, make a lot and throw it into the freezer!
I really like keeping some in the fridge for putting on top of salads.  Fast and easy!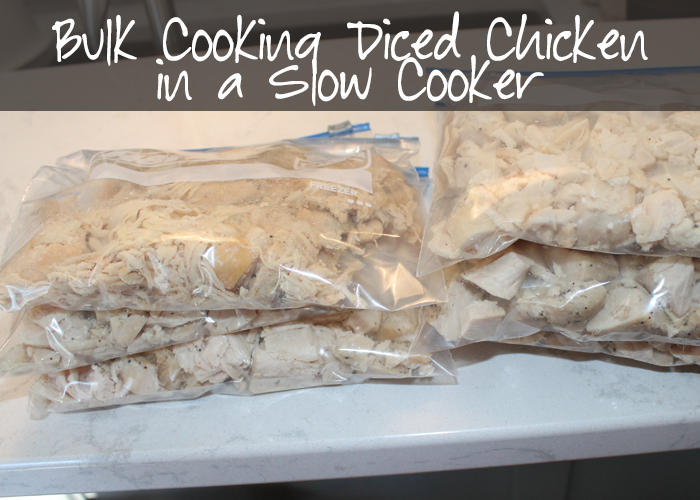 Again, use this chicken in all kinds of recipes, such as:
This is an especially great way to prepare chicken if you order from Zaycon!
Making Diced Chicken in a Slow Cooker
Ingredients
4

pounds

chicken

Seasoning (salt, pepper, garlic powder is what I use)

Dash of water or chicken broth
Instructions
Put thawed chicken in the bottom of a slow cooker, in a single layer if possible.

Sprinkle the chicken with the seasonings. Flip over and sprinkle the other side.

Put a dash of water or chicken broth in the slow cooker. Maybe just a couple of tablespoons.

Put the lid on and cook on low for 6-8 hours. I like it on the "barely done" side especially since I'm going to be re-cooking the meat later once I add it to a recipe.

You'll know it's done when it's no longer pink in the middle.

If you're dicing it, remove from slow cooker. Let it cool for a while before cutting it. Many times, I put it in the fridge overnight and cut it the next day.

Freeze in smaller portions for later use.
Jayme is a wife to 1 and a mother to three little boys (soon to be 4 this summer!). She coupons, but isn't super extreme about it. She price matches and loves it! While she likes to cook, she's in the stage of life where simple is usually better! She never knows how many hands she'll have free at dinner time! You can find her at No Regrets Living.