I don't remember when I had my first scone. I just know that when I did I fell in love. There's so many delicious options out there, but these toffee nut scones might be my new favorite. Buttery sweet, a delightful treat, especially when paired with a hot cup of coffee. They are good at any time, but reach a certain level of heavenly when consumed while still warm from the oven. Ugh….so good!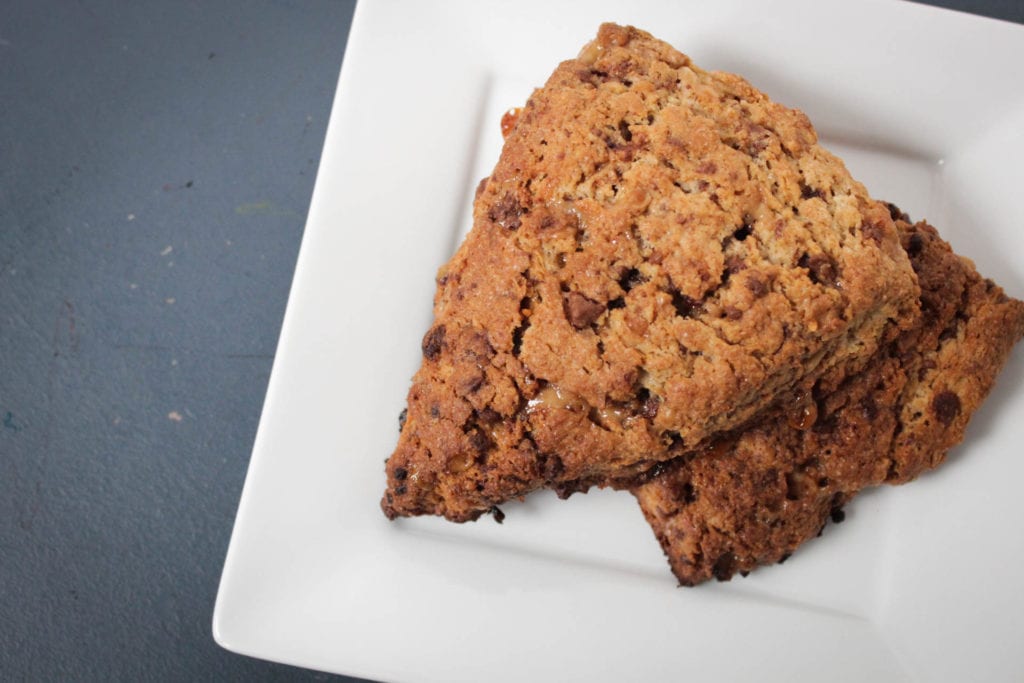 When I was newly married I found myself facing some health issues that forced me to quit my job and become a stay at home wife. With so much time on my hands, I started experimenting in the kitchen more often. I had always thought scones sounded too intimidating to make myself, but I finally decided to give them a try.
Now I'll admit….they can be a bit more work than other baked goods mostly because they require frozen butter and then you gotta crumble it with a fork into tiny pieces quickly so it doesn't get too soft. But the good news is that if you have a food processor you can get the job done with a quick pulse or two.
How to Freeze Toffee Nut Scones
For several years, it became one of our favorite Saturday morning traditions to wake up and whip up a batch of scones and sit and enjoy them with a leisurely cup of coffee. When we added kids to the family it started happening a bit less often just because I wasn't sleeping much and didn't feel like getting up and baking first thing in the morning. But, then I discovered a #gamechanger.
I started making multiple batches, and freezing them before baking. Boom! Now anytime that a craving strikes I can just pull out as many as I'd like and pop them in the oven! That's assuming you don't just want to eat the whole batch in one fell swoop like me though! Ha! Give these a try….you won't regret it.
Love baked pastries for breakfast? Try these recipes:
Toffee Nut Scones
Ingredients
2

cups

flour

2 1/2

tsp

baking soda

1/2

tsp

salt

1

tsp

cinnamon

1/4

cup

brown sugar

1

stick of butter

frozen and cut into chunks

1/2

cup

half and half

1

egg

1 1/2

tsp

vanilla extract

1

cup

Heath/toffee nut crumbles
Instructions
Combine the flour, baking soda, salt, cinnamon and brown sugar in a food processor and pulse a few times to mix.

Add the chunks of butter and pulse several times until you have pea sized crumbles. (you can also do this with a fork if you don't have a food processor.) Be careful not to pulse too much or the butter will soften/melt.

In a separate bowl mix the half and half, egg, and vanilla extract

Combine wet and dry ingredients until they make a rough looking dough. Add in the toffee nut crumbles and mix with your hands until thoroughly combined and you have a more smooth looking dough.

Shape the dough into a circle and cut into 8 Pieces for large servings. You can also make a square and then cut into smaller portions which is what I usually do for about 16 servings.

Place on a baking sheet and refrigerate for 15 minutes. The butter needs to be cold for the best consistency so don't skip this step.

Preheat oven to 350°F. Bake for 22-25 minutes. Cool and serve.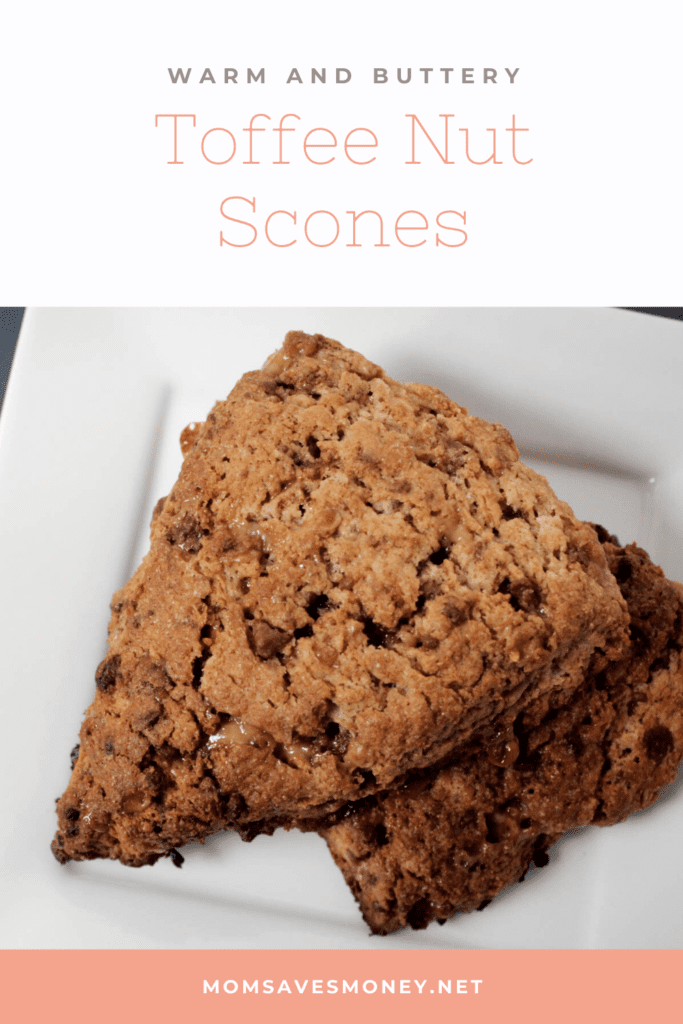 Jenny is a wife and stay at home mother of two. She loves good food, and enjoys experimenting in the kitchen. When she's not busy chasing kids, you can find her digging into a good book, enjoying the great outdoors, and trying not to kill her houseplants.