Gummies. The iconic delicacy of childhood. My family didn't buy them much growing up, and so it was always a special treat when we got to have them. Now as a parent myself I'm repeating generational cycles and my kids have only enjoyed them a handful of times. They just aren't a super filling snack, so I like to spend my money elsewhere. BUT, when I realized how easy it was to make homemade gummies with only three simple ingredients, and that you can make them much healthier that way, I was sold.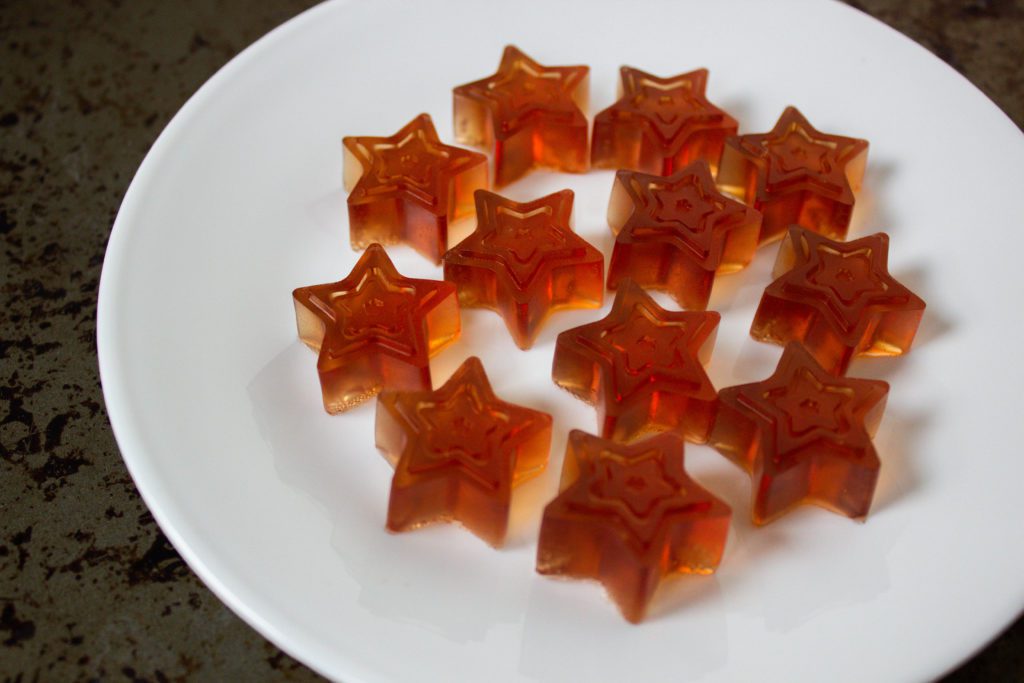 What You Need to Make Gummies
So to begin, you do need to have some silicone molds, and a medicine dropper is helpful too. I was able to source mine used from my local buy nothing page on Facebook. Also, shameless plug…you should really join your chapter…I have saved SO. Much. Money. By asking for things I need on there before buying new. Anyway, the other bonus, is that you literally only need THREE ingredients to make these. Juice, honey, and gelatin. That's it!
Flavor Options for Gummy Candy
You can pick any juice you like for your gummies, but I've read you should stay away from pineapple juice as the bromelain doesn't allow the gelatin to cure, so they won't harden. This time around we made ours with cran-raspberry juice.
How to Make Homemade Gummies
To make the gummies, you simply pour the juice into a sauce pan, add some honey and warm to mix. Do NOT bring to a boil. Then add your gelatin a little bit at a time and whisk well to make sure you don't get any big clumps. Set your gummy molds on a baking sheet, and then use your dropper to divide the liquid into each mold. Pop any bubbles if you don't like how they look because they will harden that way.
My star-shaped gummies were a bit bigger than your standard size gummy bear, so one batch only produced about 18 gummies using this mold. Definitely double the recipe if you'd like to make more. Once filled, pop the baking tray into the fridge for at least 15 minutes to allow them to harden, and then remove from the molds.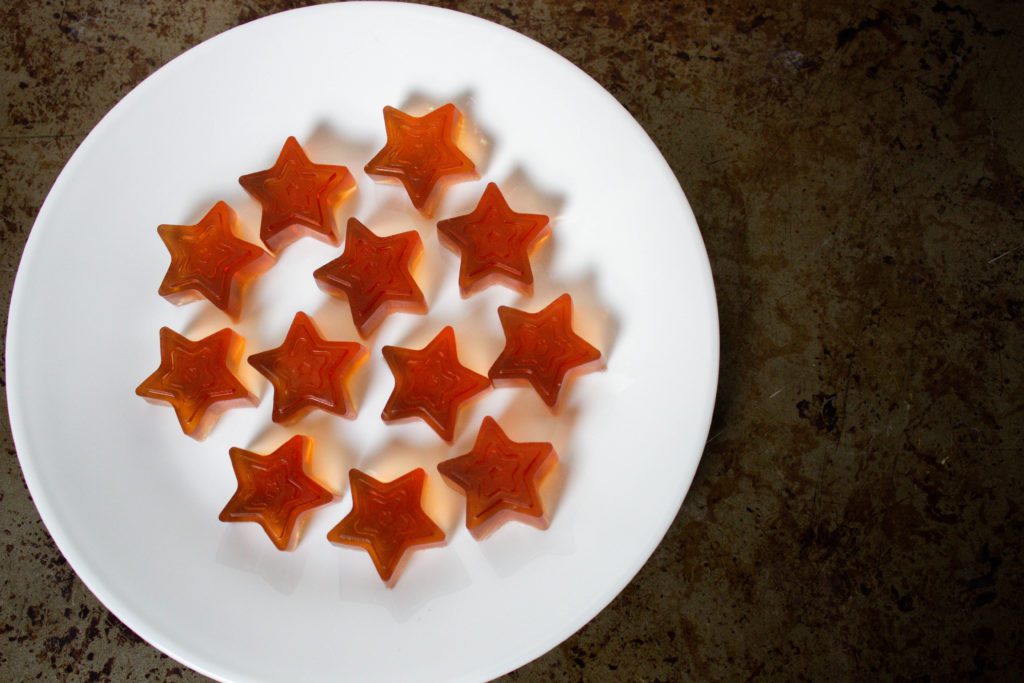 How to Store the Gummies
These will last in the fridge for about a week, but just as with store bought we are lucky to make it a few hours and still have any hanging around. These are super super easy to make, and come together super quick, so add that to the fact that you get to choose what goes in them, and we've got a real winner!
Love simple recipes? Check out our Incredibly Easy 5-Ingredient Meal Plan and Cookbook with a six-week meal plan, weekly shopping lists and 59 easy recipes.
Homemade Gummies
An easy and healthy sweet treat your whole family will love
Ingredients
1/2

cup

juice

your choice of flavor

1

Tbsp

honey

2

Tbsp

gelatin
Instructions
Pour your juice into a small saucepan over low heat. Add your honey and mix until the honey is dissolved.

Add your gelatin a little at a time and whisk continually to avoid clumps

Place your silicone gummy molds onto a baking sheet and fill the molds with the mixture using a liquid dropper. Pop any bubbles if you don't like how they look as they will harden that way.

Place gummies in the fridge for at least 15 minutes or until the gelatin is set. Remove to a sealed container. Gummies will last for about a week in the fridge.
Notes
You can use your juice flavor of choice for this recipe, but avoid pineapple as the gelatin will not set correctly.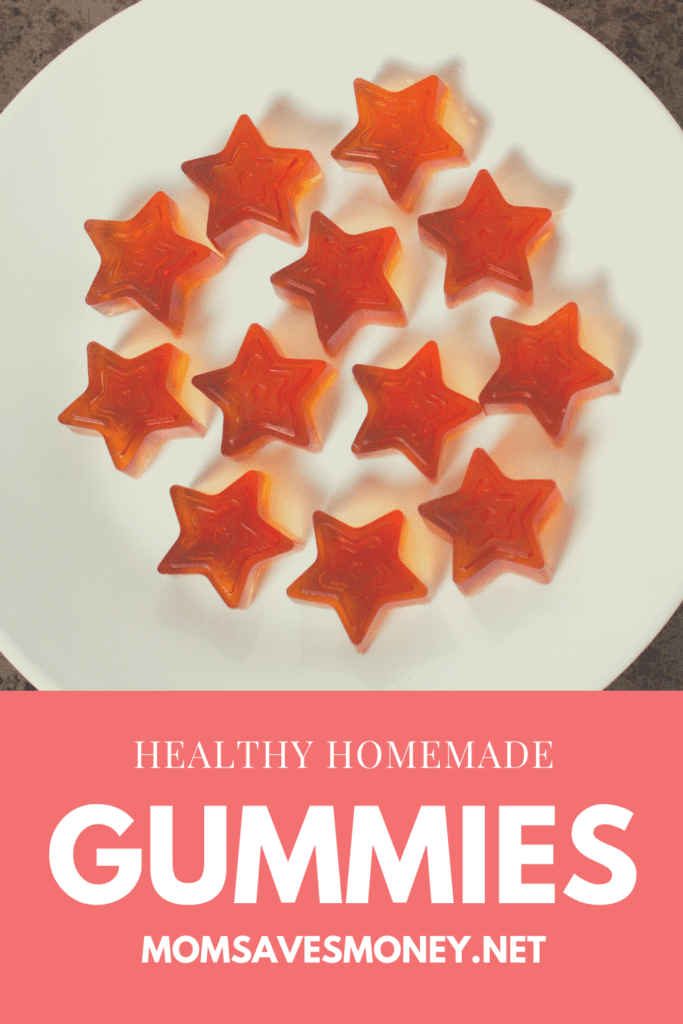 Jenny is a wife and stay at home mother of two. She loves good food, and enjoys experimenting in the kitchen. When she's not busy chasing kids, you can find her digging into a good book, enjoying the great outdoors, and trying not to kill her houseplants.