Looking for a way to mix up your breakfast routine? Look no further than these super fun gluten-free beet pancakes! These are packed full of fiber, gluten-free, and totally delicious. They are a huge hit with my kiddos thanks to their beautiful pink color (they'd be perfect for a Valentine's Day treat). I'm not sure I've ever seen a kid get more excited than my son when he sees me roasting some beets. He knows these delicious beet pancakes are about to go down.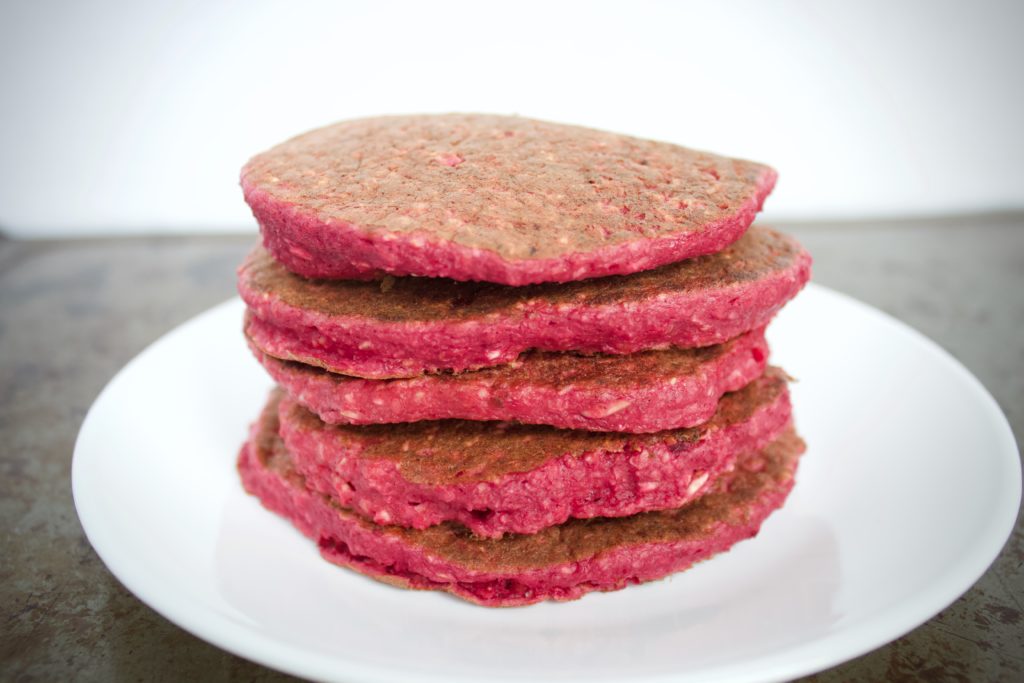 How to Prepare the Beets
So to begin, you'll need to prepare your beets. Rinse all the dirt off the beets and peel the skin, then cook until fork tender. There's several ways to do so. I've boiled and roasted and either way works fine. To roast, spread the beets in a single layer on a baking sheet and bake at 400° for approximately 40-60 minutes. To boil, immerse in boiling water and cook 20-40 minutes. You just want them to be cooked until they are fork tender so they'll pureé easily in your blender.
How to Make Gluten-Free Beet Pancakes
This recipe is SO easy because you just dump all the ingredients in the food processor or blender and you're good to go. Add your roasted beets (one medium-sized one is plenty), yogurt (I used oatmilk yogurt but any kind is fine), applesauce, eggs, and vanilla. Blend until the beet mixture is fully pureéd. Then add your two cups of gluten-free flour, baking soda, and salt, and blend again until fully incorporated. If your mixture is too thick, add a little milk to get your preferred consistency. 
Heat up your skillet over medium heat and add coconut or avocado oil (get those healthy fats in!)  Pour batter onto the hot skillet to your desired size, and cook 2-3 minutes per side. This recipe should make approximately 12 medium-sized pancakes.
How to Freeze Beet Pancakes
I usually make a double, triple, or even quadruple batch to freeze and use for later. To freeze, place room temperature pancakes in a single layer on a cookie sheet and flash freeze for 30-60 minutes. Then remove, and place in a freezer-friendly container or resealable plastic bag. This way they won't freeze together and you can easily remove them and pop one in the toaster for a quick breakfast. These are delicious and a fun way to add more veggies into your diet, so give them a try!
Want more gluten-free recipes? Try one of these 50+ gluten-free and dairy-free recipes or gluten-free pumpkin muffins.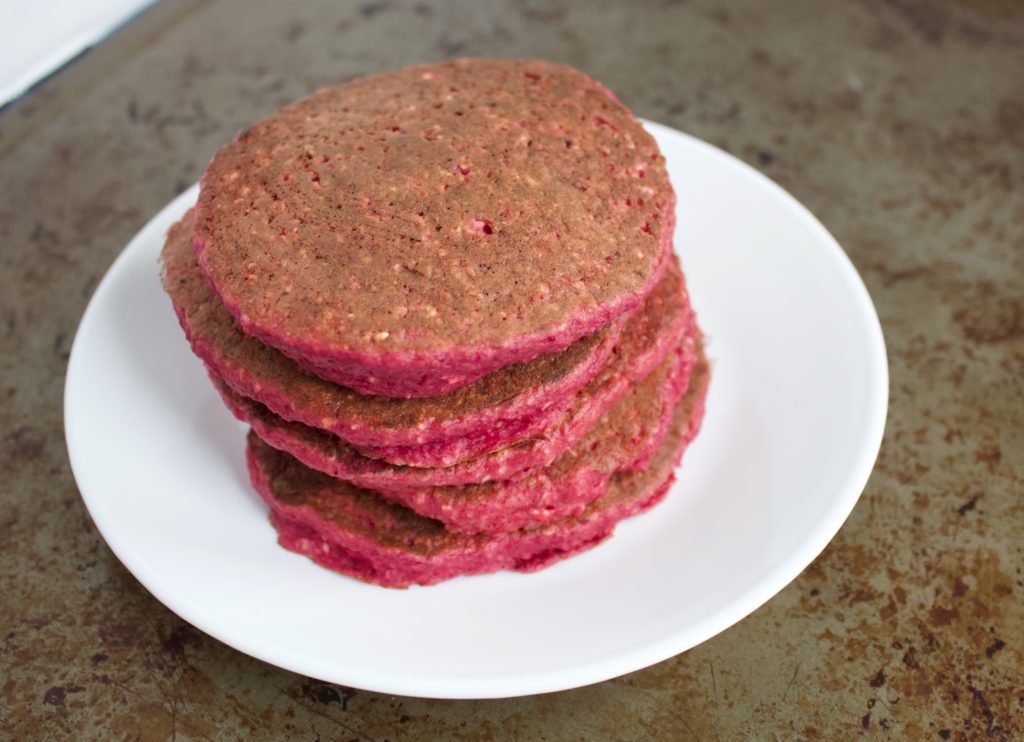 Gluten-Free Beet Pancakes
A healthy and delicious gluten-free pancake recipe
Ingredients
2

cups

gluten-free flour

1

tsp.

baking soda

1/4

tsp.

salt

1

medium beet

cooked and peeled (approximately 4oz.)

1/2

cup

yogurt

1/2

cup

applesauce

1

tsp.

vanilla

2

eggs

splash

of

milk

if necessary to thin batter
Instructions
Add your cooked and peeled beet, yogurt, applesauce, vanilla, and eggs to a blender or food processor. Pulse until smooth.

Add your gluten-free flour, baking soda, and salt and pulse again until thoroughly mixed. Add milk as necessary if your batter is too thick.

Heat a skillet over medium heat and add oil to the pan.

Pour 1/4 cup batter per pancake and fry over medium heat for 2-3 minutes per side.

Serve hot, or freeze for later. Enjoy!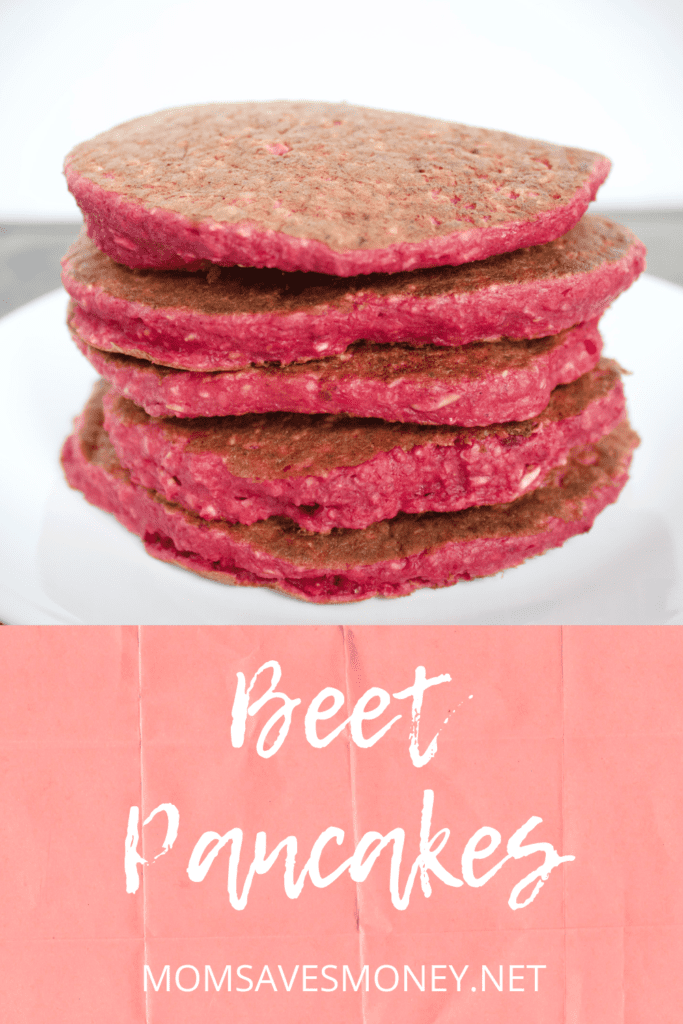 Jenny is a wife and stay at home mother of two. She loves good food, and enjoys experimenting in the kitchen. When she's not busy chasing kids, you can find her digging into a good book, enjoying the great outdoors, and trying not to kill her houseplants.