I didn't win a billion dollars last week.  So, I guess I'll still coupon and price match!  (Let's be honest: I might do it even if I was a billionaire.  I like saving those dollars!)  Looking at the sales this week, here's some ideas for your menu!
Main Dishes
Side Dishes
Last week, I said I wanted to try making brautwurst and Italian sausages in the oven.  So I did.  HOLY COW!  They were awesome.  Almost as good as being grilled, but very winter friendly!  I'll definitely do that again!  It was a little taste of summer at the end of winter.  Here's what I did: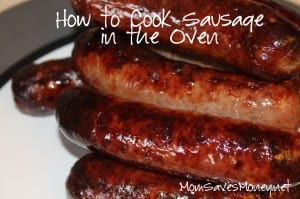 Sausages In the Oven
Cooking sausages or brautwurst in the oven is a great alternative when a grill isn't available!
Instructions
Place sausages on a roasting pan.

Bake the sausages 15 to 20 minutes, turning 1/4 turn every 4-5 minutes.

Test to make sure it's done after 15 minutes.
Jayme is a wife to 1 and, so far, a mother to two little boys. She coupons, but isn't super extreme about it. She price matches and loves it! While she likes to cook, she's in the stage of life where simple is usually better! She never knows how many hands she'll have free at dinner time! You can find her at No Regrets Living.