I love it when I have almost unlimited time to make dinner.  I can take my time, not rush and have all the ingredients for everything I ever wanted on hand.  Just kidding – I don't have many days like that.  I have days where I'm just happy that dinner isn't cereal or popcorn.  My mama said there'd be days like that, my mama said.  But most days fall somewhere in between total chaos and total luxury – I do have a plan, but I don't always have as much time or as many free hands as I'd like.
The main dish usually comes together easily for me.  I tend to keep those simple with common ingredients.  But I don't want to forget about side dishes too.  Just like main dishes, I tend towards simple side dishes with common ingredients that take little prep work.  I like feeding my family, but I also like saving my brain cells for other things!
If you're like me and also want simple, but satisfying side dishes – give some of these a try!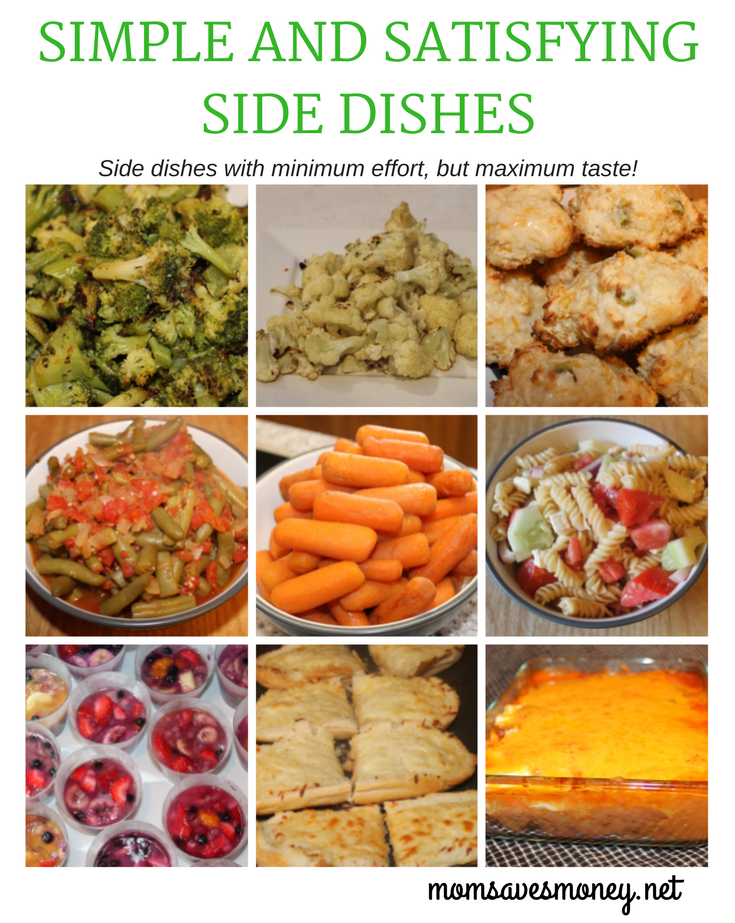 Vegetables
Vegetables are very common side dishes, but they can be kind of blah.  That is, if you stick only to the "put a steamer bag in the microwave" and 5-7 minutes later, you're done.  There is a time and place for that.  After all, it's what we do 3-4 times a week!
But, there's also a time and place for something a bit more out of the box.  A bit more fancy.  A bit more flavor.  That's the nice thing about vegetables – it's easy to add some flavor!  Here are some of my favorites:
Salads/Pastas
Carb-o-riffic
Jayme is a wife to 1 and a mother to four little boys. She coupons, price matches and meal plans. While she likes to cook, she's in the stage of life where simple is usually better – she never knows how many hands she'll have free at dinner time! You can find her at No Regrets Living.