Just a couple more posts on this series on saving money at the store!  Have you learned anything new?  I hope so!  See previous posts: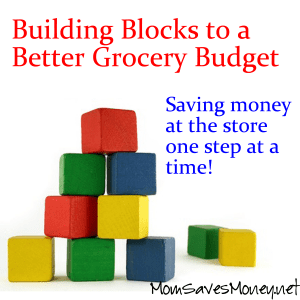 Building Block 7: Make from scratch
There are some things that are just always going to be cheaper to make them yourself. Always.  Unless you're getting pizzas for free, it's always cheaper to make your own crust than buying a pre-made one.  Some people are really interested in cooking from scratch.  But for others?  They'd rather have a root canal. Some people have more time than money and enjoy making their own bread.  Other people would never eat bread if it meant that they had to make it.  So if you aren't interested in this step, no big deal.  This is just one technique.
There are lots of tutorials out there for making things yourself.  In this Pinterest-crazy world that we have, you can find all kinds of DIY projects.  Making your own laundry detergent, shampoo, toothpaste, cleaning supplies!  Making your own pancake mix, yogurt, and ice cream.
Look at expensive items
Are there expensive items that you use often?  Maybe that's something that you should see if you can make from scratch.  It's worth putting in a few minutes of research if you can slash your grocery budget by $20/month by switching from paper napkins to cloth.  It might not be worth it if it only saves you $1/year because you don't use body wash that often.
Look at often used items
An item might be inexpensive, but if you use it often, the cost can add up.  If you're a pancake mix kind of family, that might be something that's worth making it yourself.  If you make pancakes once a year on Christmas morning, then I wouldn't sweat it.
Making from scratch isn't just a nice way to save money, but it can be a fun hobby too!  A hobby that saves you money?  Score!
Is there anything you make you from scratch?
Jayme is a wife to 1 and, so far, a mother to two little boys. She coupons, but isn't super extreme about it. She price matches and loves it! While she likes to cook, she's in the stage of life where simple is usually better! She never knows how many hands she'll have free at dinner time! You can find her at No Regrets Living.