I'm not doing very well at spending less on groceries this month – I have a weakness for buying diapers (which is part of my grocery budget).  I hope you're doing better than I am!  Looking at this week's sales, here are some menu suggestions for you.
Main Dishes 
Oven Baked Barbeque Chicken Thighs – This was on my menu plan for Monday and I was half way through baking them when my (2 month old) oven stopped working.  So sad!  But it looked like it was turning out really well.  I'll definitely try this again once the repair man gets here!
Fried Baloney Sandwiches – I haven't baloney for, oh maybe, 20 years or more?  But seeing baloney on sale this week reminded me of this "recipe" that my mom would make occasionally growing up.  If you are a baloney eater, try it!
Zuppa Tuscana – Kale is on sale this week, which made me think of Zuppa Tuscana.  The same soup that my husband gets at Olive Garden and loves!  This isn't the cheapest soup recipe since it has sausage, bacon, potatoes and kale, but it is very good!
Brautwurst – Don't have a grill?  No problem!  Bake them in the oven!  Growing up, I loved to dip my brautwurst in ranch dressing.  Try it – you'll like it!
Salsa Chicken – this recipe is meant to make chicken for chicken tacos, but really, the chicken is good in enchiladas, burritos, nachos or quesadillas too.
This past week, I made some of that salsa chicken up above and used it in quesadillas.  I had a quesadilla recipe, but I wanted to simplify it a little bit.  It turned out great!  I like this recipe because you bake them on a cookie sheet instead of frying them in a pan.  That makes it easier to make several at one time.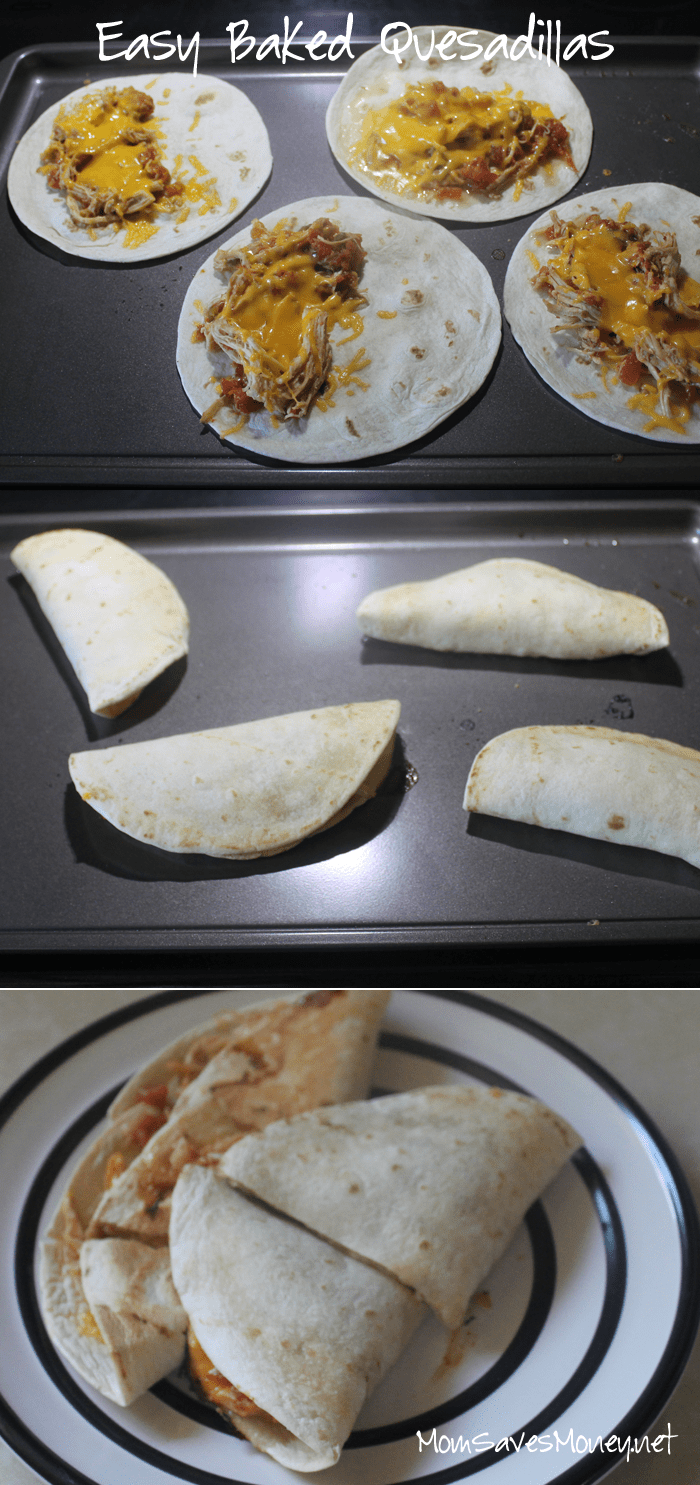 Baked Quesadillas
Ingredients
Butter

Chicken

Salsa (chunkier is better since it holds up better, but use your favorite)

Tortillas (plan on 2 per person to make 1 quesadilla. My 2 year old just ate ½.)

Cheese (cheddar, monterrey jack, colby, pick your favorite)
Instructions
Preheat oven to 350 degrees.

Lightly butter one side of each tortilla.

Place tortillas butter side down on a cookie sheet (as many as you want to make).

Mix the chicken and salsa together. Use as much salsa as you want.

Spread about ¼ - 1/3 cup of the chicken mix on half of the tortilla. Don't be too generous or it will ooze out later. Top with cheese.

Bake for 5-7 minutes just until the tortillas are soft.

Fold over the tortilla. Bake for another 5-10 minutes until all is melted.

Serve and enjoy! Dip in sour cream and more salsa, if desired.
Jayme is a wife to 1 and, so far, a mother to two little boys. She coupons, but isn't super extreme about it. She price matches and loves it! While she likes to cook, she's in the stage of life where simple is usually better! She never knows how many hands she'll have free at dinner time! You can find her at No Regrets Living.