We are fans of Mexican food in our house.  I mean, isn't almost everyone?  From beef tacos to chicken tacos to taco salad to beef enchiladas to chicken enchiladas to fajitas to fiesta chicken, we like it a lot!  In fact, one time someone asked my husband what kinds of food we usually have for dinner.  His answer?  "Mexican".  Now, I didn't think we had Mexican that much, but as I thought about it, I realized that we do have it a couple of times a week.  At least.
It's just so easy!  It's easy to cook those things.  My family loves them and eats them well.  It's easy to make a lot of it, so that it gives us leftovers (bonus!).  So I kind of backed away from Mexican food for a while to branch out into other things (which is about the same time my Instant Pot started getting some use!)  But we gradually found our way back to it.  It's just good eats.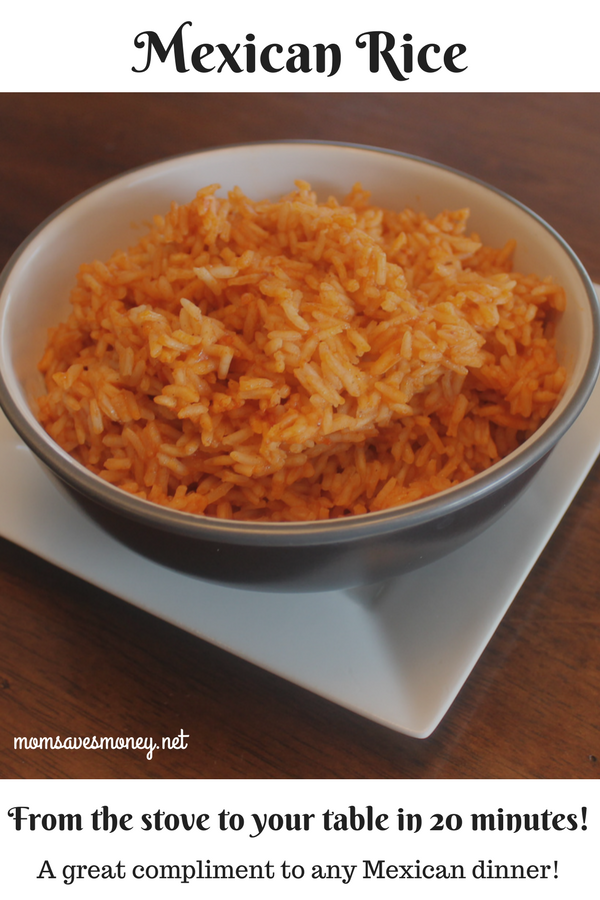 And so many Mexican dishes just feel more complete when you have a great side dish with them.  We have Bean Dip often (leftovers get made into bean burritos!).  We have Tex Mex Roasted Corn.  But we most often have this Mexican rice.  Right now, it's enough for 1 dinner and a little bit leftover for lunch the next day.  But as my boys get bigger, I'm sure I'll be doubling this recipe.  It's just simple to make.  Brown some rice and seasoning, add some tomato sauce and chicken broth and let simmer.  Boom!  Great tasting rice!
This is not a spicy rice, so if you want to amp up the heat index, add some more cumin or even cayenne pepper.  Just be careful!  A little of cayenne pepper goes a long way.  Enjoy this at your next fiesta!
Mexican Rice
Ingredients
3

tablespoons

vegetable oil, olive oil or butter

1

cup

uncooked long-grain rice

1/2

teaspoon

garlic salt

1/2

teaspoon

ground cumin

1/2

cup

tomato sauce

2

cups

chicken broth
Instructions
Heat oil/butter in a large saucepan over medium heat. Add rice, salt & cumin.

Cook, stirring constantly, until slightly golden.

Stir in tomato sauce and chicken broth and bring to a boil.

Reduce heat to low, cover and simmer for 20 minutes or until rice is done.
Notes
This reheats well the next day.  I just add a bit of water when re-heating and it's delicious!
Jayme is a wife to 1 and a mother to four little boys. She tries to coupon, builds a smart stockpile, and always meal plans. While she likes to cook, she's in the stage of life where simple is usually better – she never knows how many hands she'll have free at dinner time! You can find her at No Regrets Living.