When I was in my twenties and single, I had an obsession with crunchwraps from Taco Bell. They were just so delicious and filing and fit my meager budget. So I was honestly kind of disappointed in myself when I realized how quick and easy it was to make your own at home. It only took me like 10 years to figure it out. The best part is that you can make yourself LOTs of copycat Crunchwrap Supremes for a fraction of the price.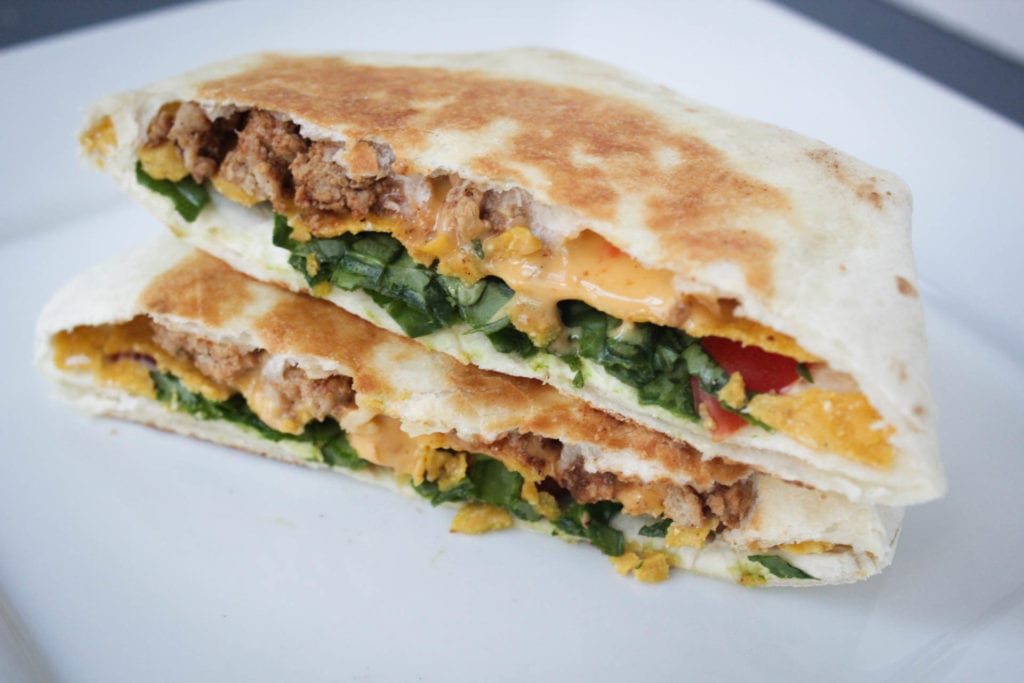 The other day I suddenly found myself craving one, and decided that it was time to try and make them from scratch. I mean, let's be honest. Taco Bell is probably the worst kind of food you can possibly eat, and yet, most of us seem unable to resist it. Theres just something about it, right?
But, I'm trying really hard to cook more meals from scratch, so I was determined to avoid the lure of that deliciously awful fast food siren. I gathered the necessary ingredients and made a few changes just for personal taste. It took a few tries to get it to look pretty, but even the ugly ones were gobbled down by my family. My husband asked why I had never made these before. Honestly I can only imagine how many more crunchwraps would have filled my life if I had known how ridiculously easy it is to make your own. These are now on a solid rotation in our meal plan…because ummm, why not?!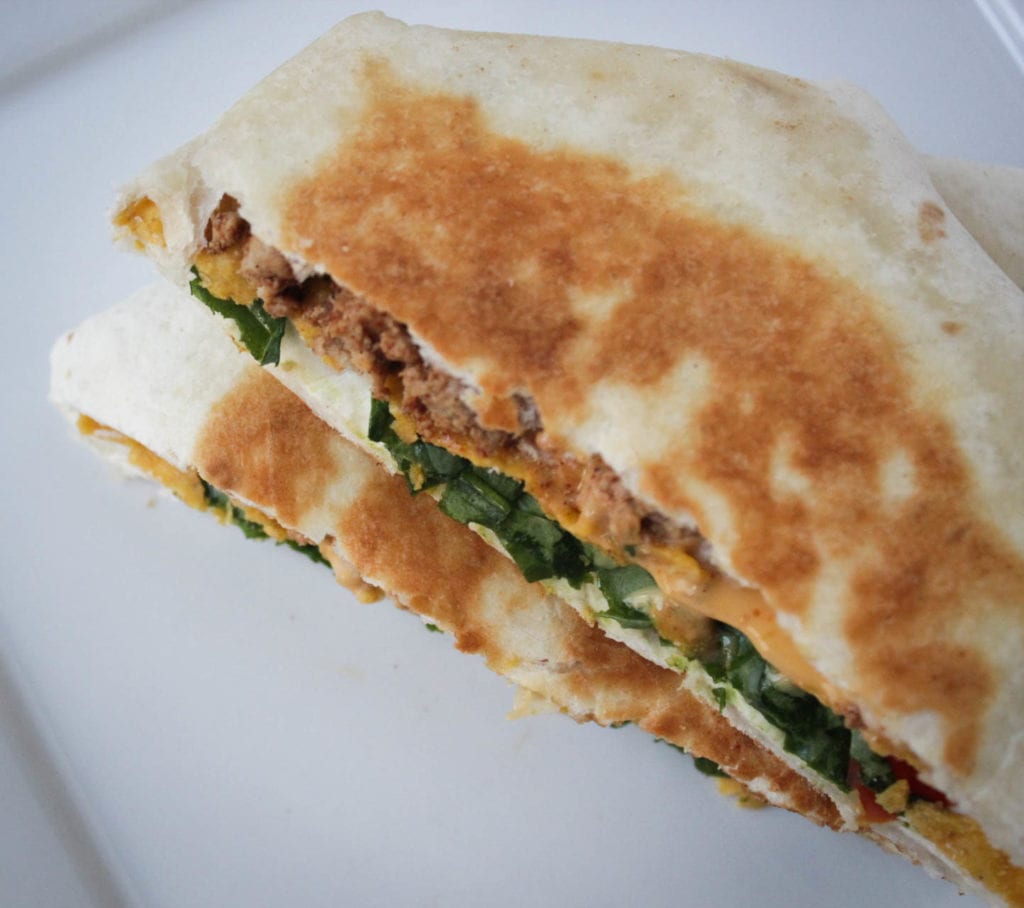 How to Make the Crunchwrap Supreme
You need burrito sized tortillas, taco meat (I keep frozen taco meat on hand for recipes), nacho cheese sauce, tostadas, sour cream, spinach (or lettuce), and tomatoes…plus a little butter. That's it! 7 ingredients….8 if you include the butter. This recipe can be adjusted to your tastes – just add as much or as little of each ingredient that you desire.
No special tools needed, just a griddle or fry pan and some heat. Preheat the pan on medium heat and add a little butter to get that classic crunch on the tortillas. If you're trying to curb your Taco Bell addiction or want to make more meals at home, this is the recipe for you!
Easy Side Dishes to Pair with Crunchwrap Supremes:
Crunchwrap Supreme
This copycat recipe is quick and easy to make whenever the craving strikes
Ingredients
Burrito sized tortillas

Taco meat

Nacho cheese sauce

Toastadas

Sour cream

Spinach

or lettuce

Tomatoes

Butter
Instructions
Lay a burrito tortilla on a plate, and add taco meat in the center about as wide as the size of your tostada.

Drizzle with nacho cheese sauce.

Spread the top of a toastada with sour cream, and place it sour cream side up on top of the meat and cheese on the tortilla.

Add spinach and tomatoes.

Spread sour cream lightly around the perimeter of the burrito that is still showing.

Take a piece of another tortilla and place it on the center of the spinach and tomato covered tostada.

Fold part of the burrito over the top of the tostada and continue folding it around the perimeter of the burrito until it is fully closed up. The sour cream should help it all stick together.

Heat a small pat of butter on a griddle over medium heat unit melted.

Place the Crunchwrap on the griddle and cook on one side until well toasted, then flip.

When Crunchwrap has been toasted well on both sides, remove from heat and serve. Enjoy!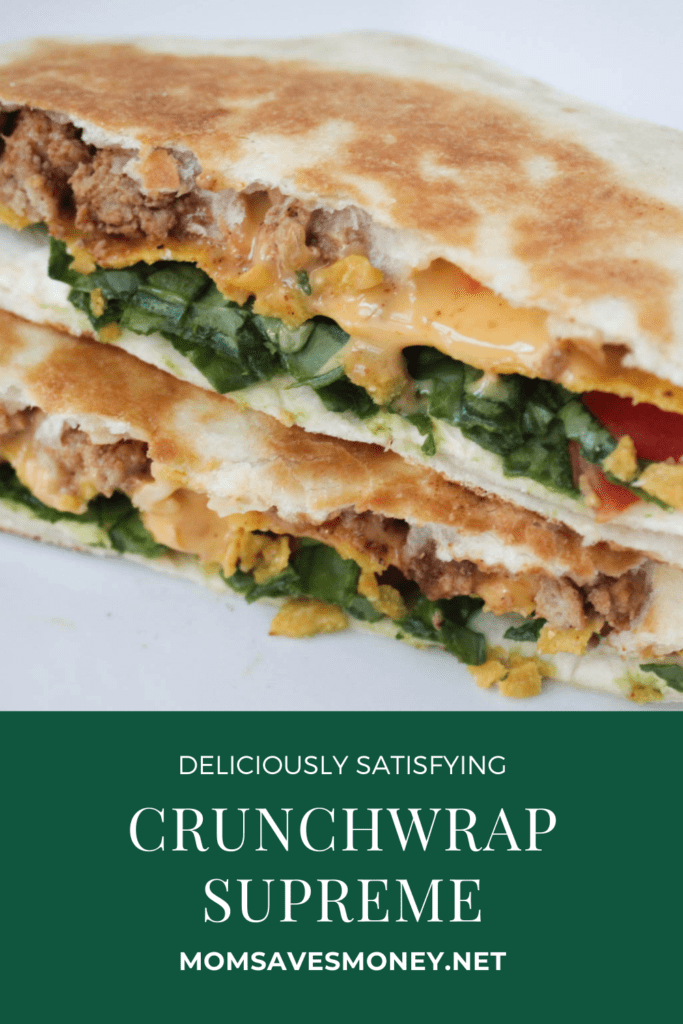 Jenny is a wife and stay at home mother of two. She loves good food, and enjoys experimenting in the kitchen. When she's not busy chasing kids, you can find her digging into a good book, enjoying the great outdoors, and trying not to kill her houseplants.