Woot!  Woot!  Go me! Go me! Go! Go! Go me!  I think I'm doing great at getting my freezer to manageable levels.  At first, I felt restricted from menu choices, but then I realized that I have at least 1 of everything in my freezer, so there aren't any limitations!  In case you're wondering what I'm up to, check out my previous weeks posts here: first week, second week and third week.
This week's goal will be to continue to eat from the freezer, but also to organize the freezer.  It's time!  It's empty enough that organizing it will be much easier than it would have been before.  And I suspect that another week or two of intentional eating will get it at time-to-start-stocking-up-again levels!
This week:
We did great!  I didn't go through many baking items like butter and chocolate chips, but I did go through lots of meats.
Here's my rough list of what we were able to eat:
o   2 pounds ground beef
o   1 pork sausage roll
o   2 pounds stew meat
o   1 package of Italian Sausage links
o   1.5 pounds boneless pork chops
o   1 bag of chocolate chips
o   1 bag of hashbrowns (made Cheesy Hashbrowns!)
o   2 bags of frozen veggies
o   1 loaf of French Bread (made French Bread pizza!)
o   1 frozen individual meal
o   1 freezer meal (a pasta dish that I had frozen from before)
o   1 frozen pizza
BUT….Here's what I added to the freezer this week:
o   3 pounds of butter
o   1 bag of chicken breasts
o   2 pounds of cooked ground beef (took the 5 pounds of ground beef and browned some of it for later)
o   2 pounds of homemade meatballs (took the 5 pounds of ground beef and made some of it in these)
That's it!  I did have help this week, if I'm honest.  I gave half of the ham that I took from the freezer last week and gave ½ of it to my sister for her family.  And I had my sister and her kids over for dinner, which helped too.  That definitely isn't cheating – I never said I'd eat it all myself!
Again this week, I feel pretty good about not adding much to the freezer.  And really, I was just converting 5 pounds of raw beef into cooked beef and homemade meatballs, so that isn't really 'adding' to the freezer.  That's a win for future meals!
So what's it look like?
Here's an updated picture!  Next week, I'm sure you'll be in awe of how organized it is.  (Okay, probably not in awe – I need to develop a good system that will work for me first.)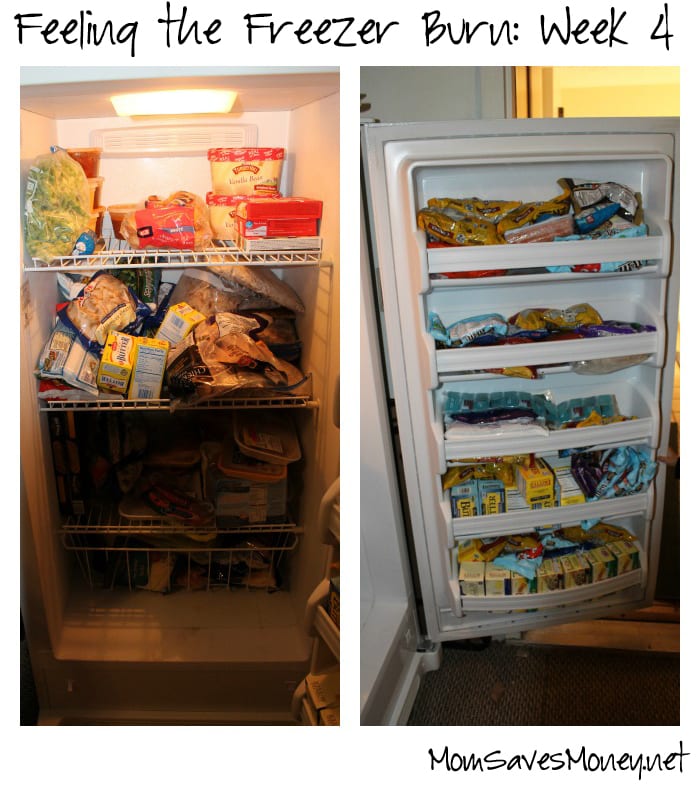 How are you doing on your goals this month?
Jayme is a wife to 1 and a mother to two little boys and a third boy due in April 2015. She coupons, but isn't super extreme about it. She price matches and loves it! While she likes to cook, she's in the stage of life where simple is usually better! She never knows how many hands she'll have free at dinner time! You can find her at No Regrets Living.